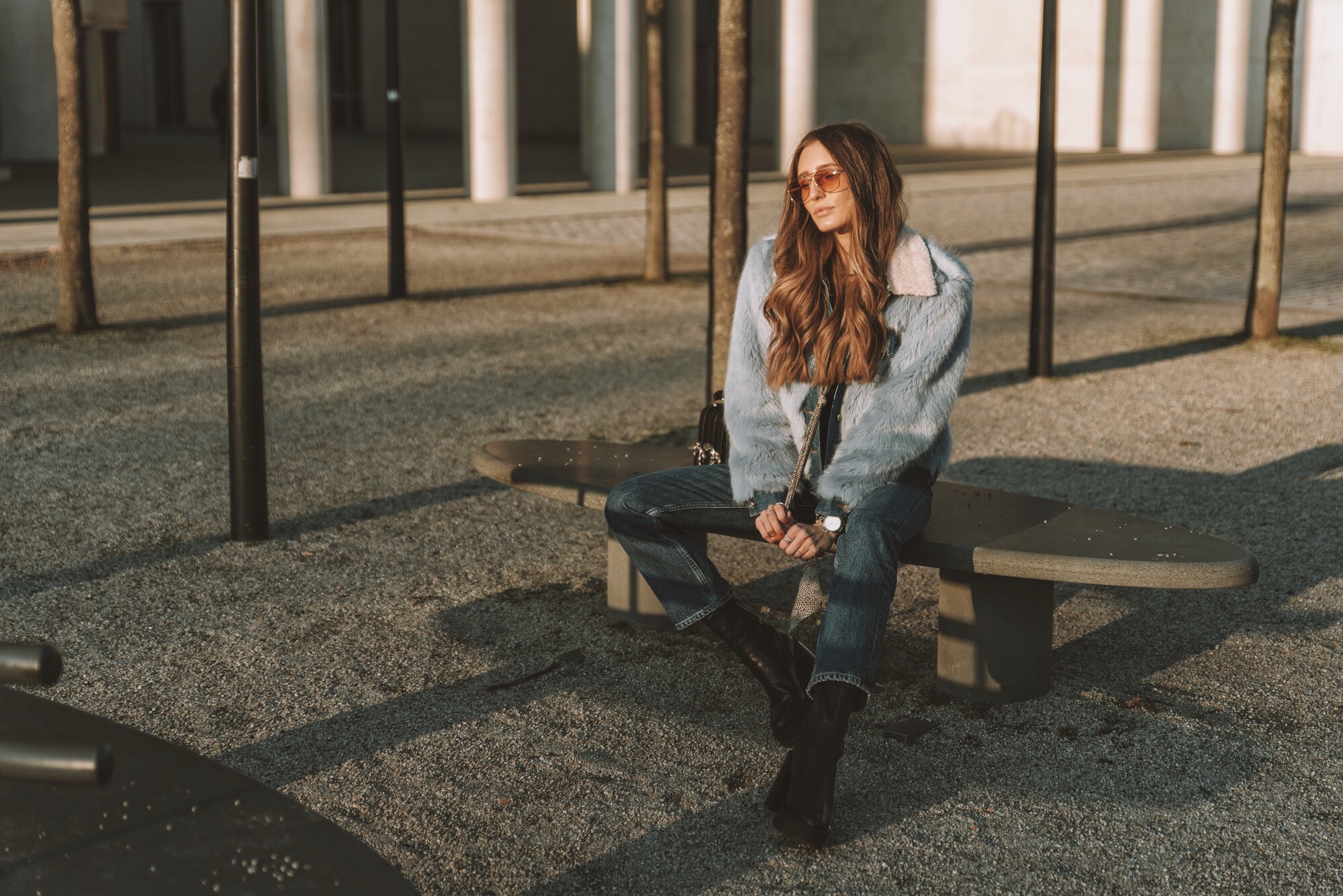 [one-half-first]Of course I come around with one of my last Winter looks when we skipped Spring and straight going to summer with sunshine and 27 degrees. But we shot this look before Vietnam and never had the time to publish it. Since I love this outfit so much and well we have April, it could snow again next week, I'm just going to share it with you.[/one-half-first]
[one-half]Natürlich komme ich dann mit einem meiner letzten Winter Looks an, wenn wir den Frühling einfach überspringen und mit 27 Grad direkt an den Sommer anknüpfen. Der Look ist noch Pre-Vietnam und wie so oft, hatte ich einfach noch nicht die Zeit diesen zu veröffentlichen. Aber da das Outfit zu meinen Favoriten zählt und wir einfach noch April haben, keine Garantie, dass es nächste Woche nicht wieder schneit, bekommt ihr jetzt noch einen Winter Look serviert.[/one-half]
---
I'M WEARING
Weekday Voyage Jeans, Buffalo Shoes, Zara Jacket
Vintage Sunglasses, Sacred Hawk Bag, Vintage Shirt
---
After all the Vietnam madness and another exciting trip ahead next week, currently everything feels like a complete blur. I'm beyond thankful for all the opportunities, but I'm also looking forward to normal days, where we just go outside and be able shoot looks in a complete relaxed way, I'm living for these moments.
I'm usually not the biggest Denim Fan (yes I just said that), but I immediately felt in love with the Weekday Voyage jeans. They come in a lot of washes and colors and I think the cut is just so unique and retro. And for sure 'man reppeling', but that's actually always the look I'm going for 😉
Talking about retro looks (and more styles not loved by men), cropped Faux Fur Jackets were my one true last the past winter season. Not ideal for 0 degrees, but oh so stylish on warmer days and the perfect addition for high-waisted Pants or Skirts.
Ich muss gestehen, dass ich nach all den unglaublichen Vietnam Momenten immer noch nicht so ganz im Alltag angekommen bin. Ich hatte auch nicht wirklich die Chance dazu, denn nächste Woche steht schon die nächste aufregende Reise an. Ich bin unfassbar dankbar für all diese Erfahrungen und Möglichkeiten, aber ich freue mich auch schon riesig auf ganz normale (und langweilige) Alltagsmomente, in denen wir ganz entspannt solche Looks shooten können.
Vorwort zu diesem Look, ich bin nicht der größte Denim Fan (ja das habe ich grad gesagt), aber es war Liebe auf den ersten Blick als ich die Weekday Voyage Jeans im Store entdeckt habe. Die Jeans mit denen viele wahrscheinlich schon unbewusst auf einigen Streetstyle Shots geliebäugelt haben. Der Schnitt ist einfach sehr retro, naja außergewöhnlich, der Typ Kleidungsstück bei denen Männer eher die Stirn runzeln, was für mich allein schon eine Kaufentscheidung ist. Stichwort retro (und ebenfalls Männerabschreckend), cropped Faux Fur Jacken, meine einzig wahre (Kleidungs-) Liebe diesen Winter. Nicht unbedingt ideal für Temperaturen um die 0 Grad ('Kind zieh dir was an die Lenden'), aber oh so stylisch an wärmeren Tagen und die perfekte Ergänzung zu high-waisted Jeans.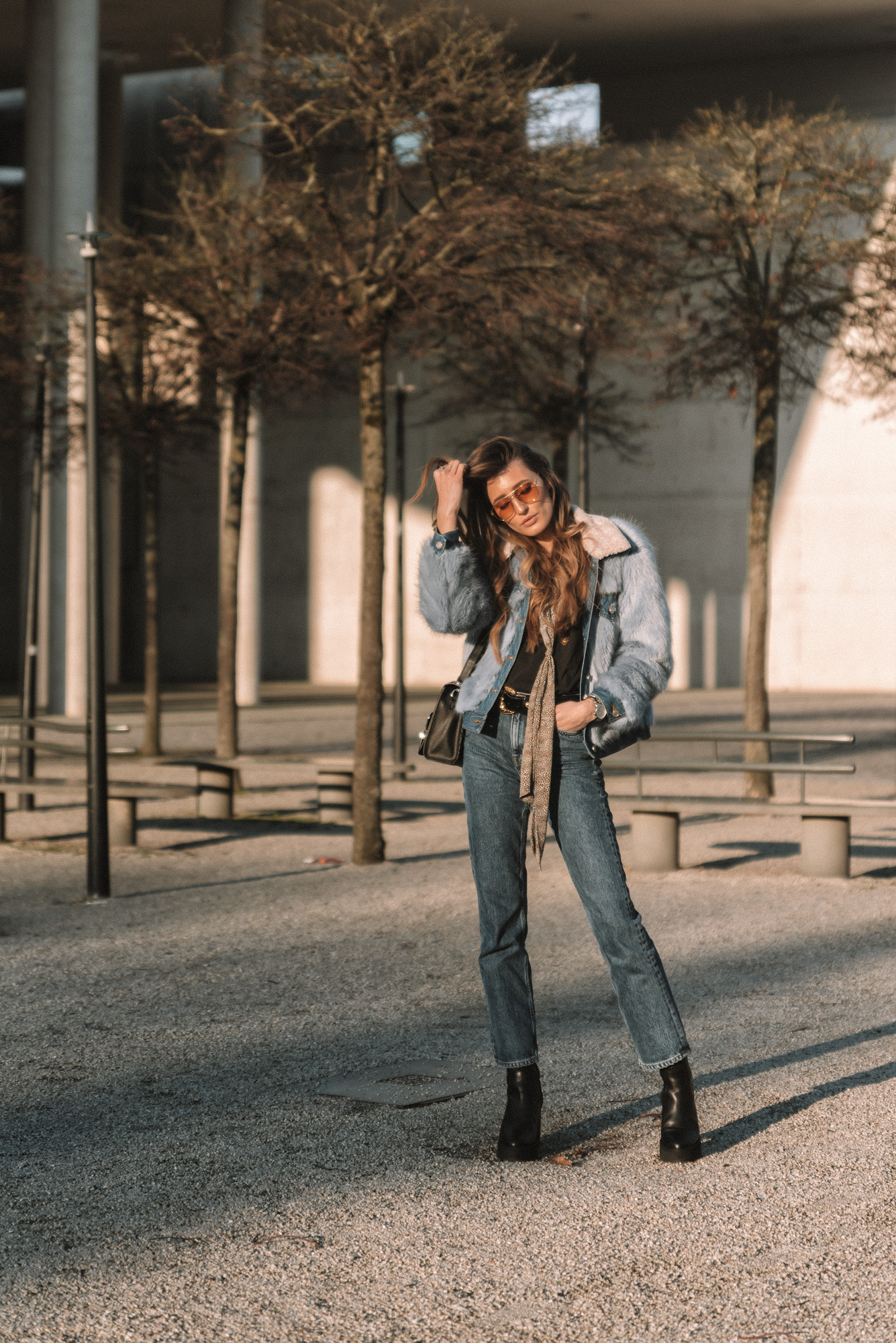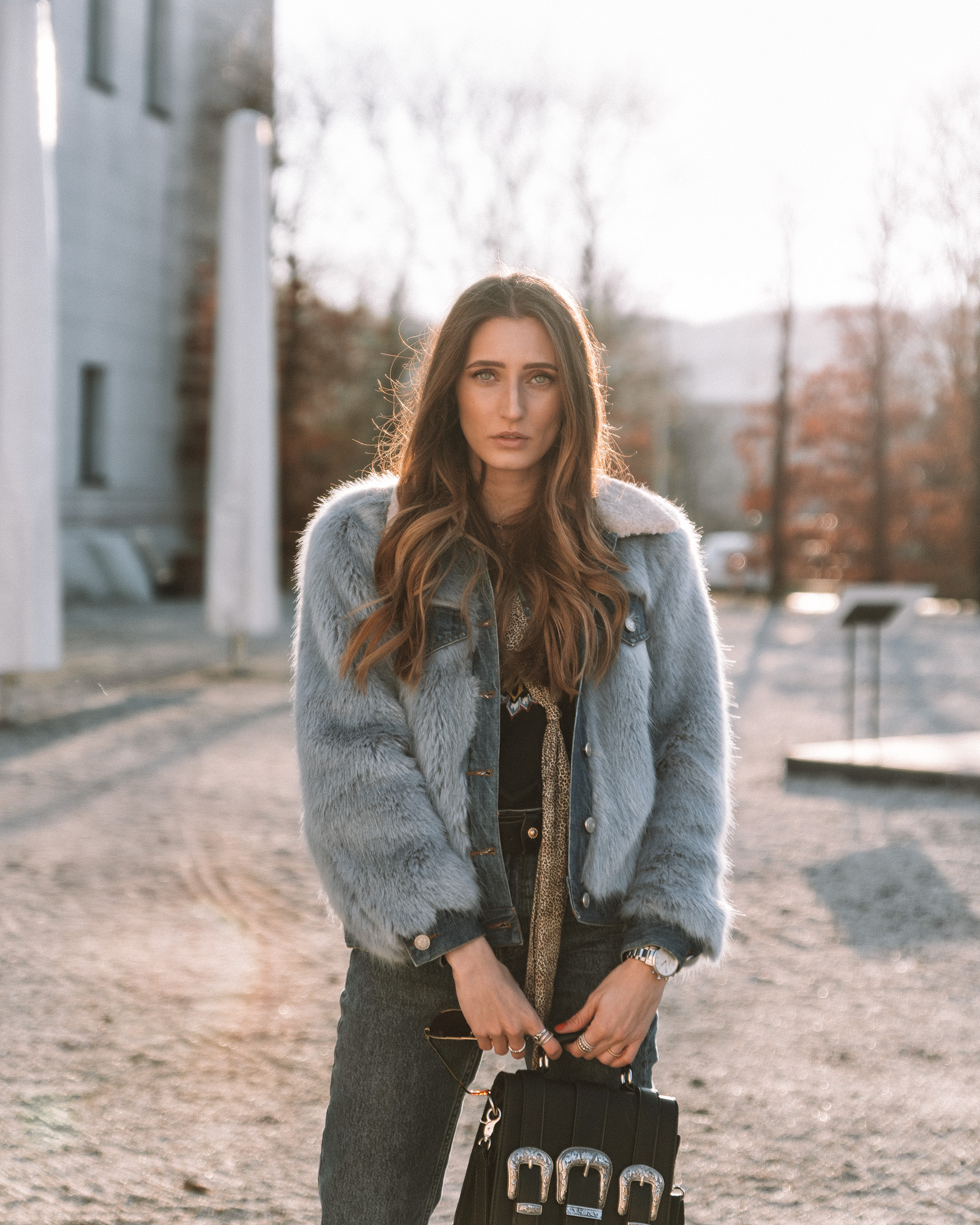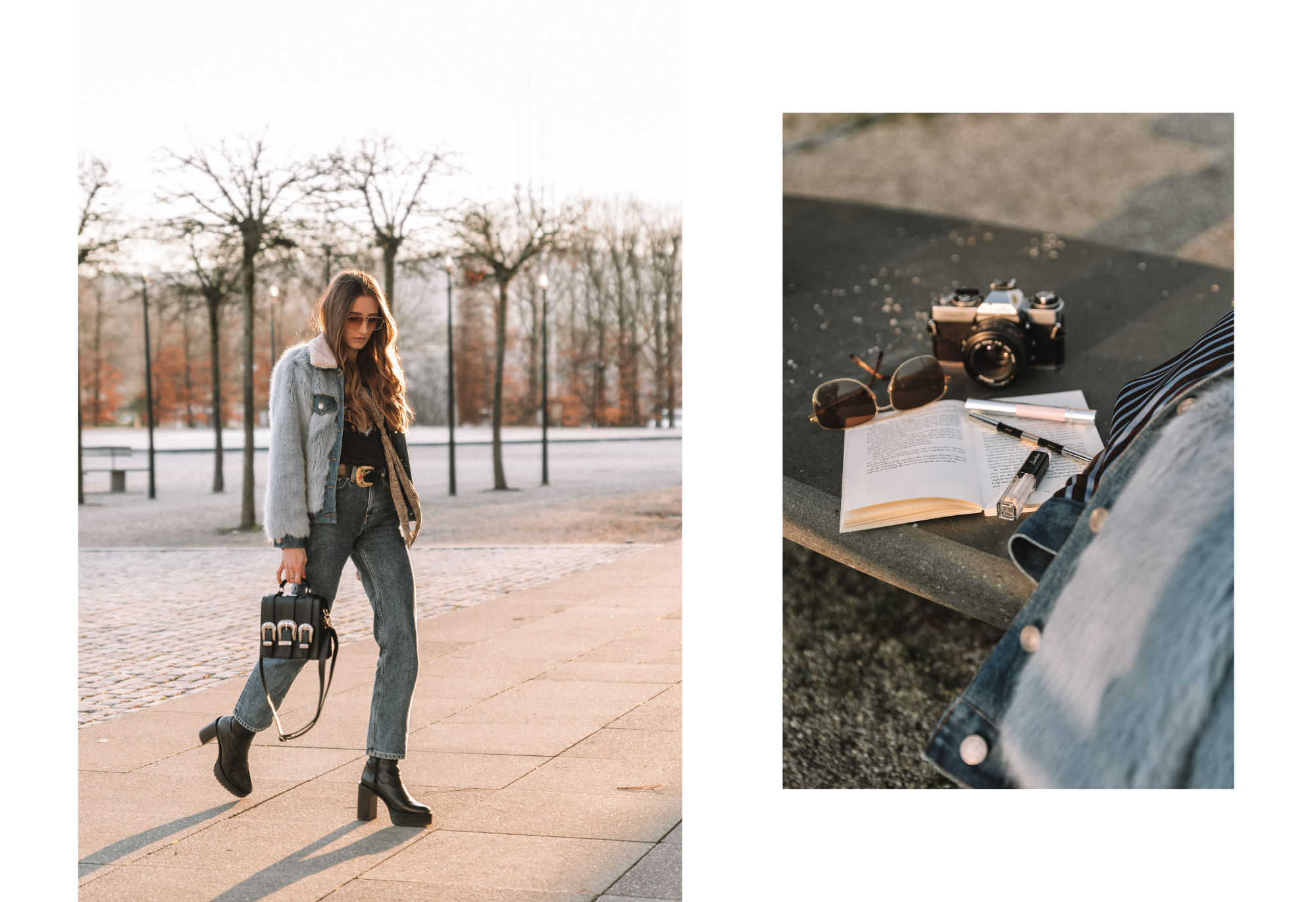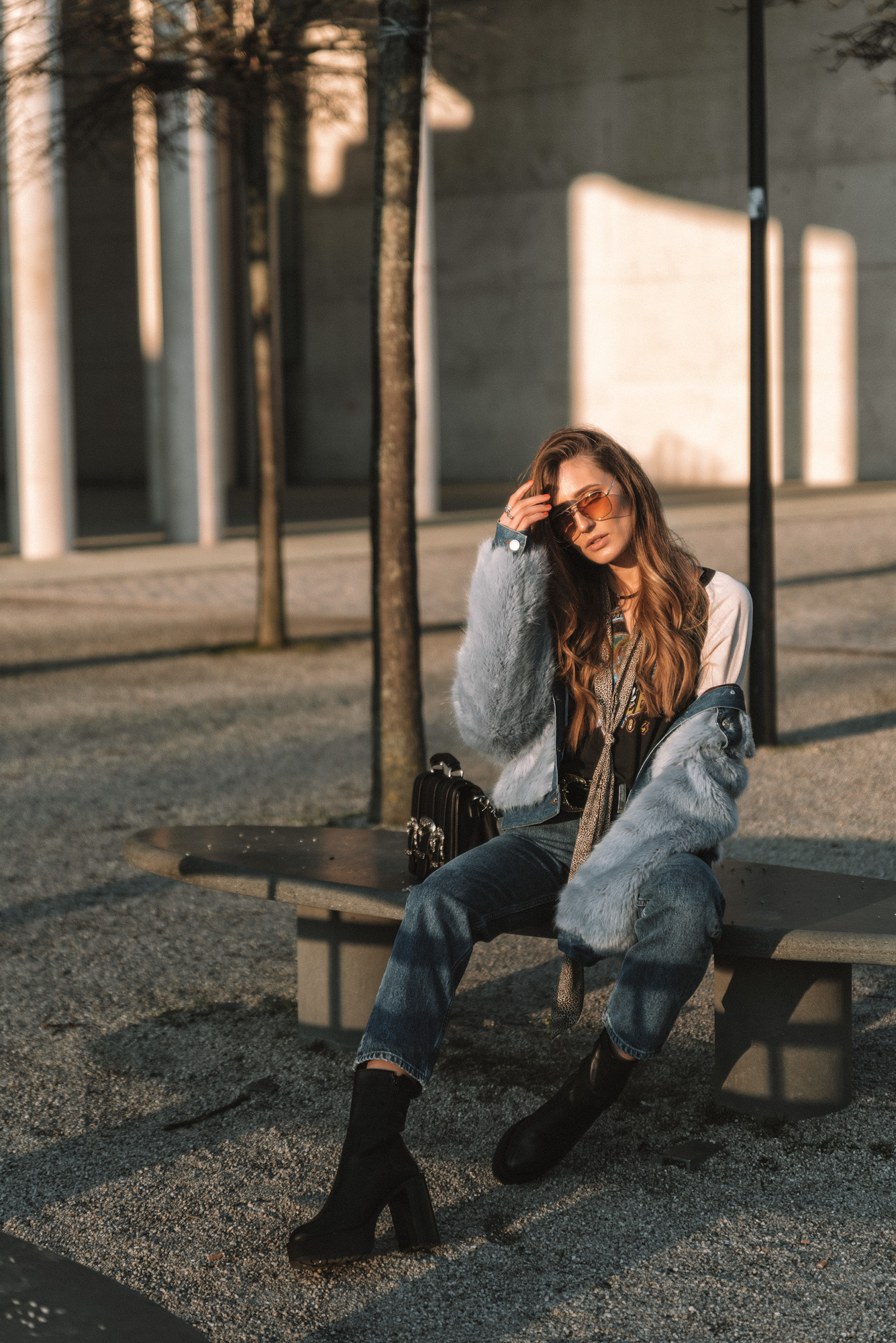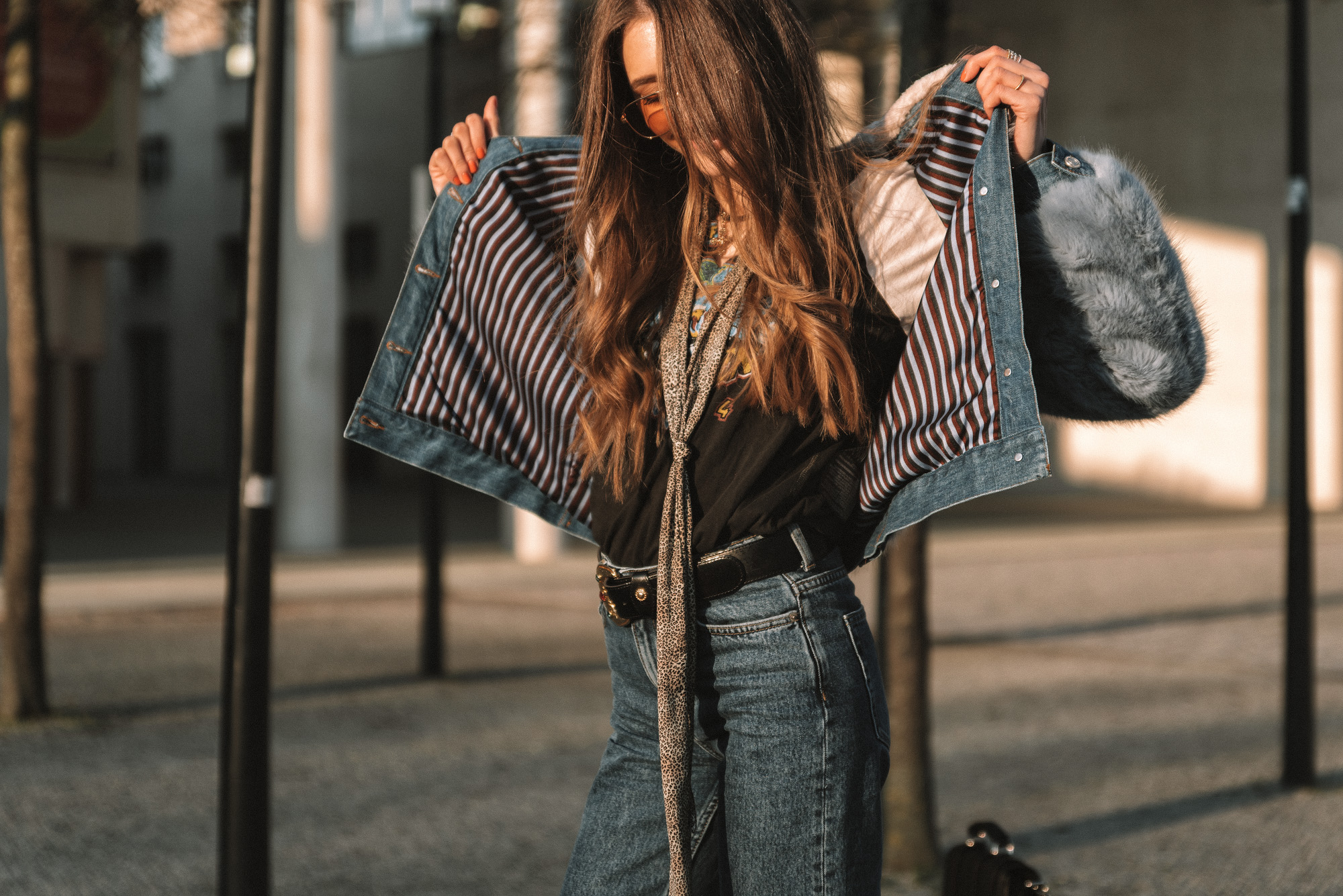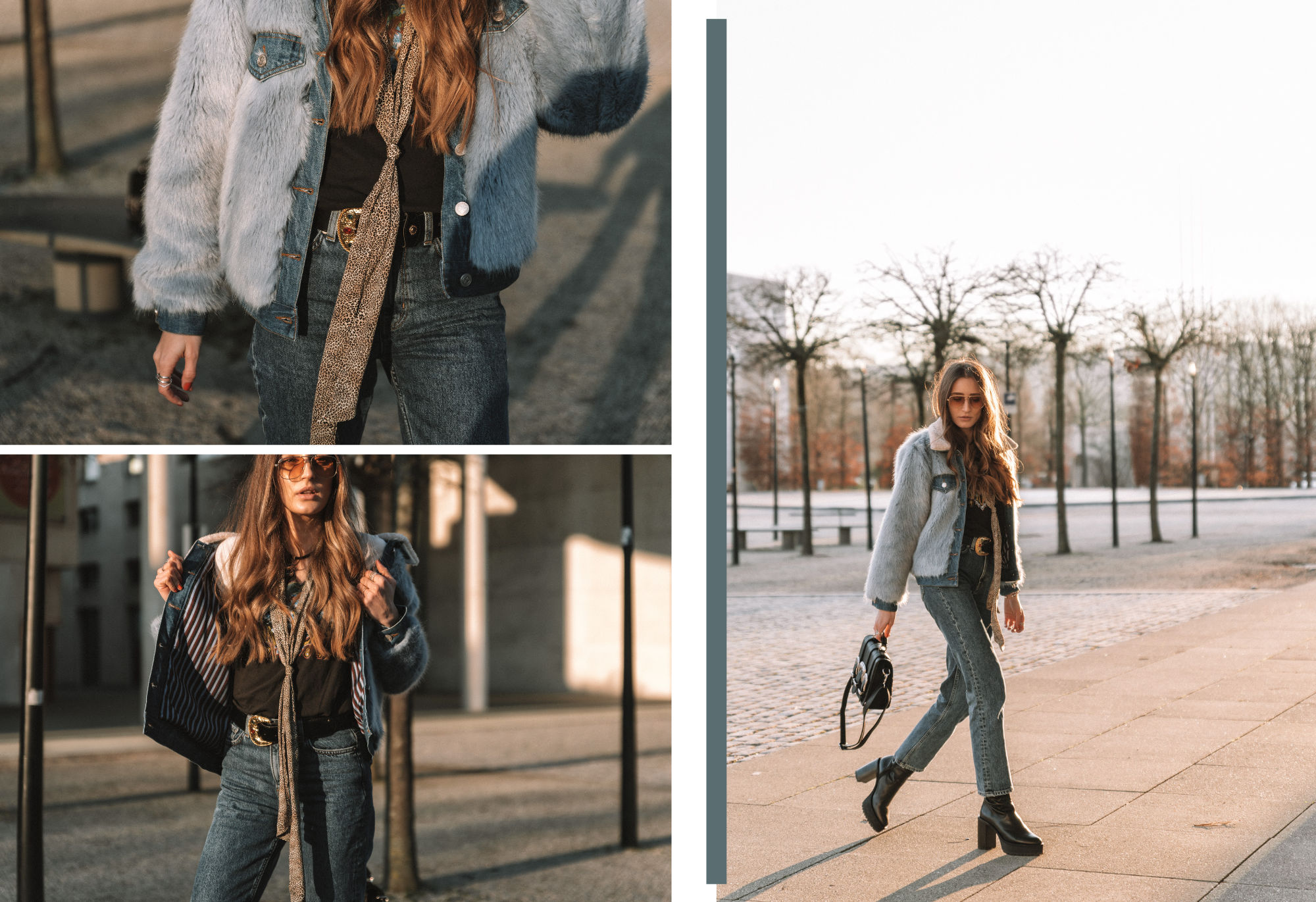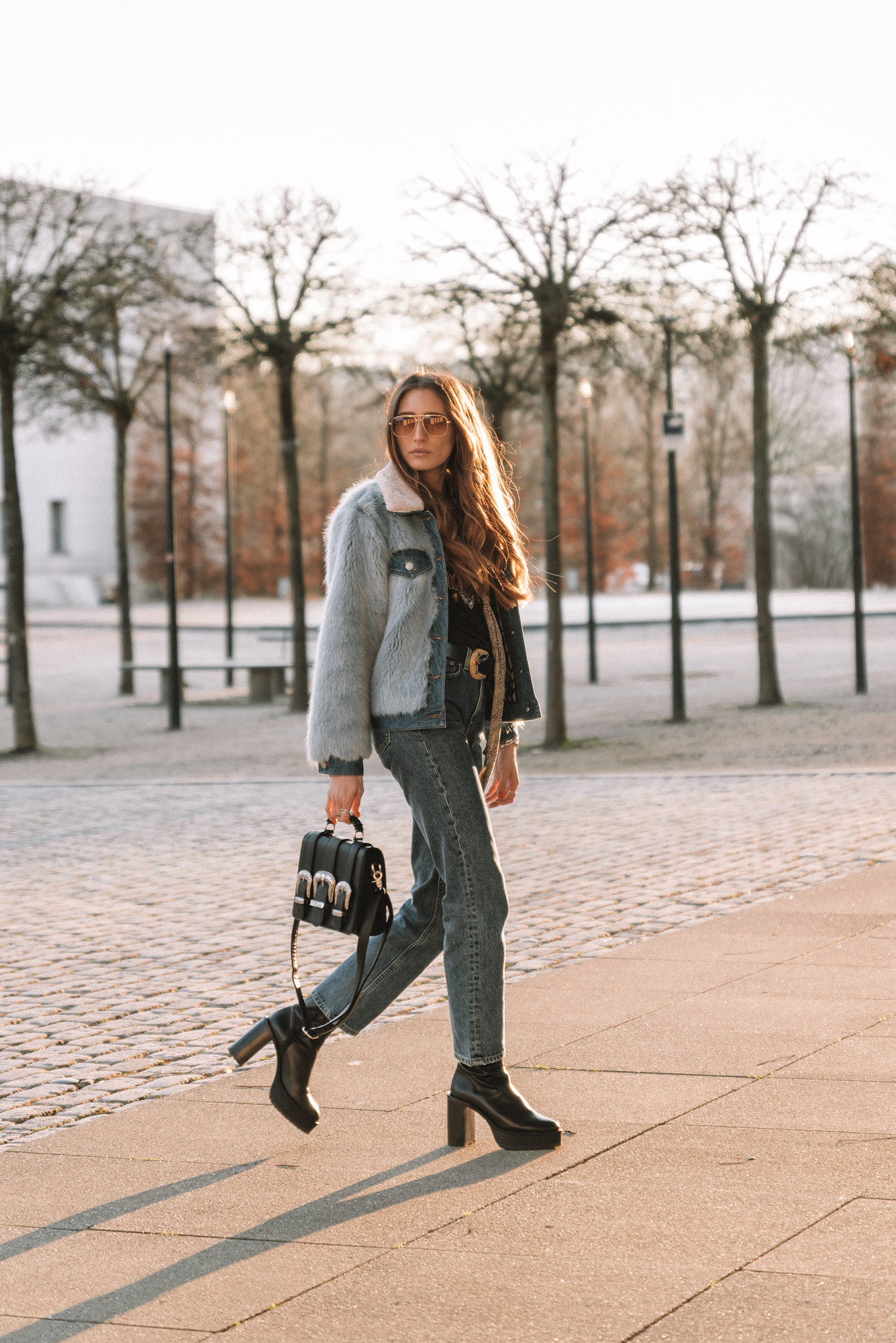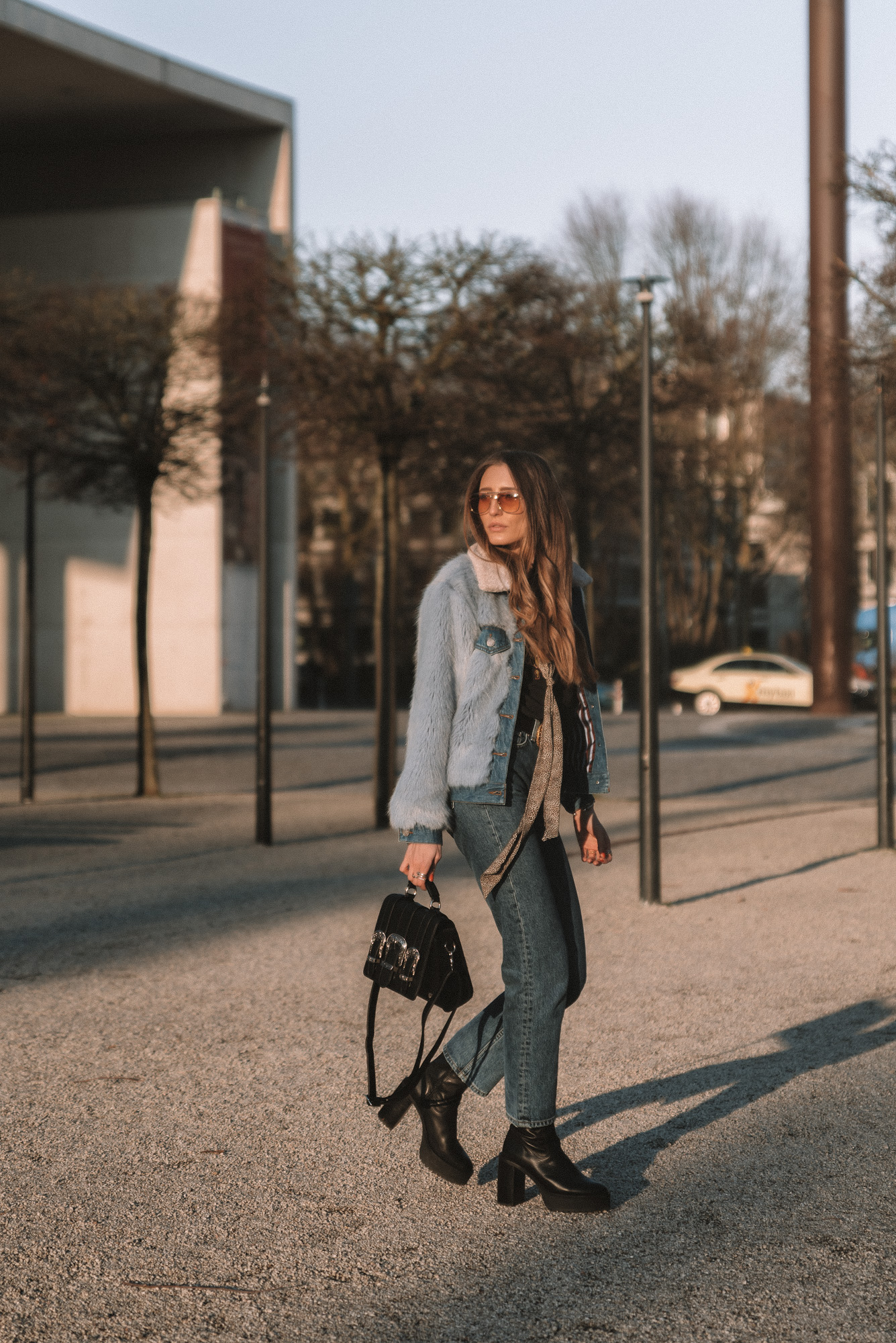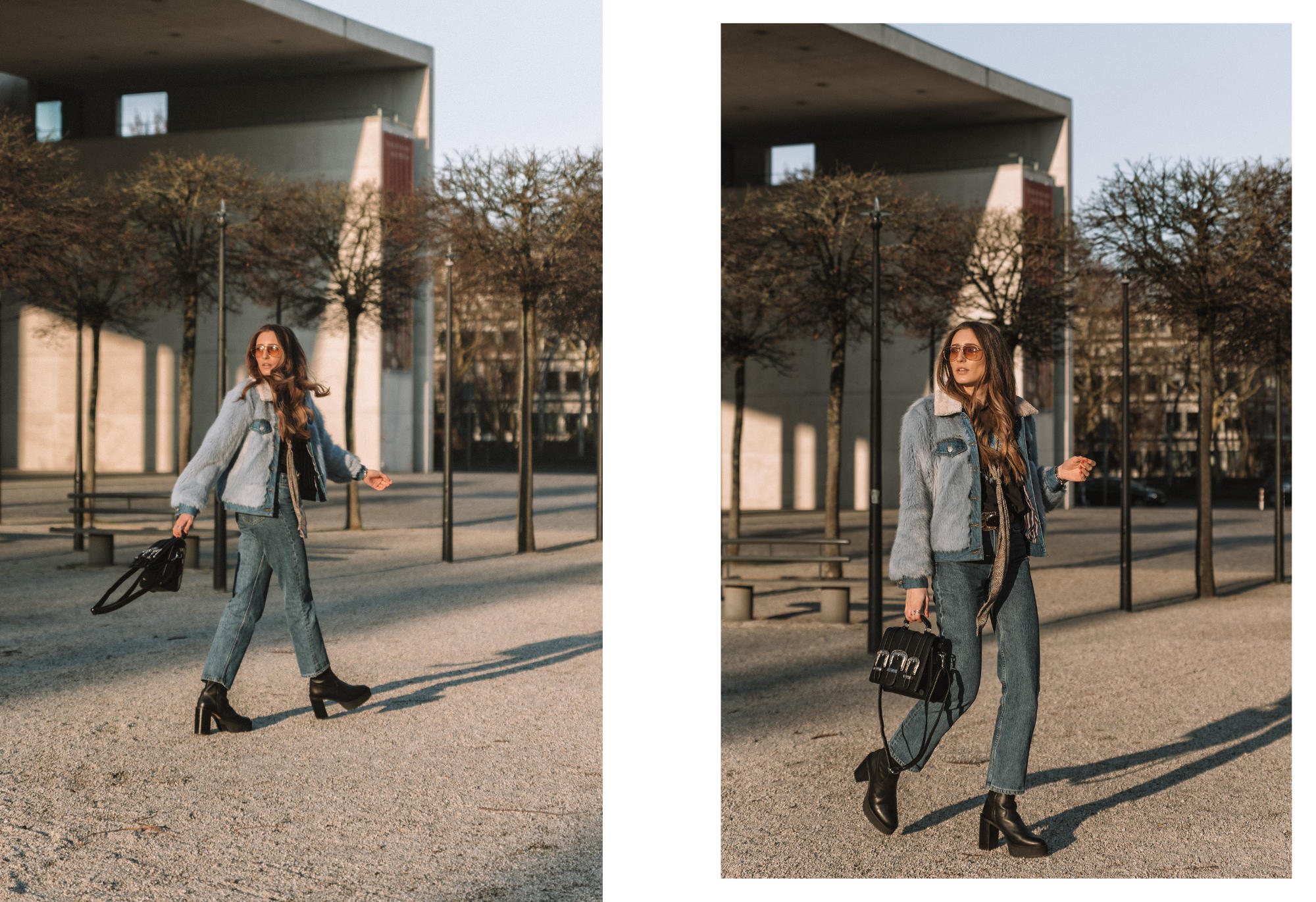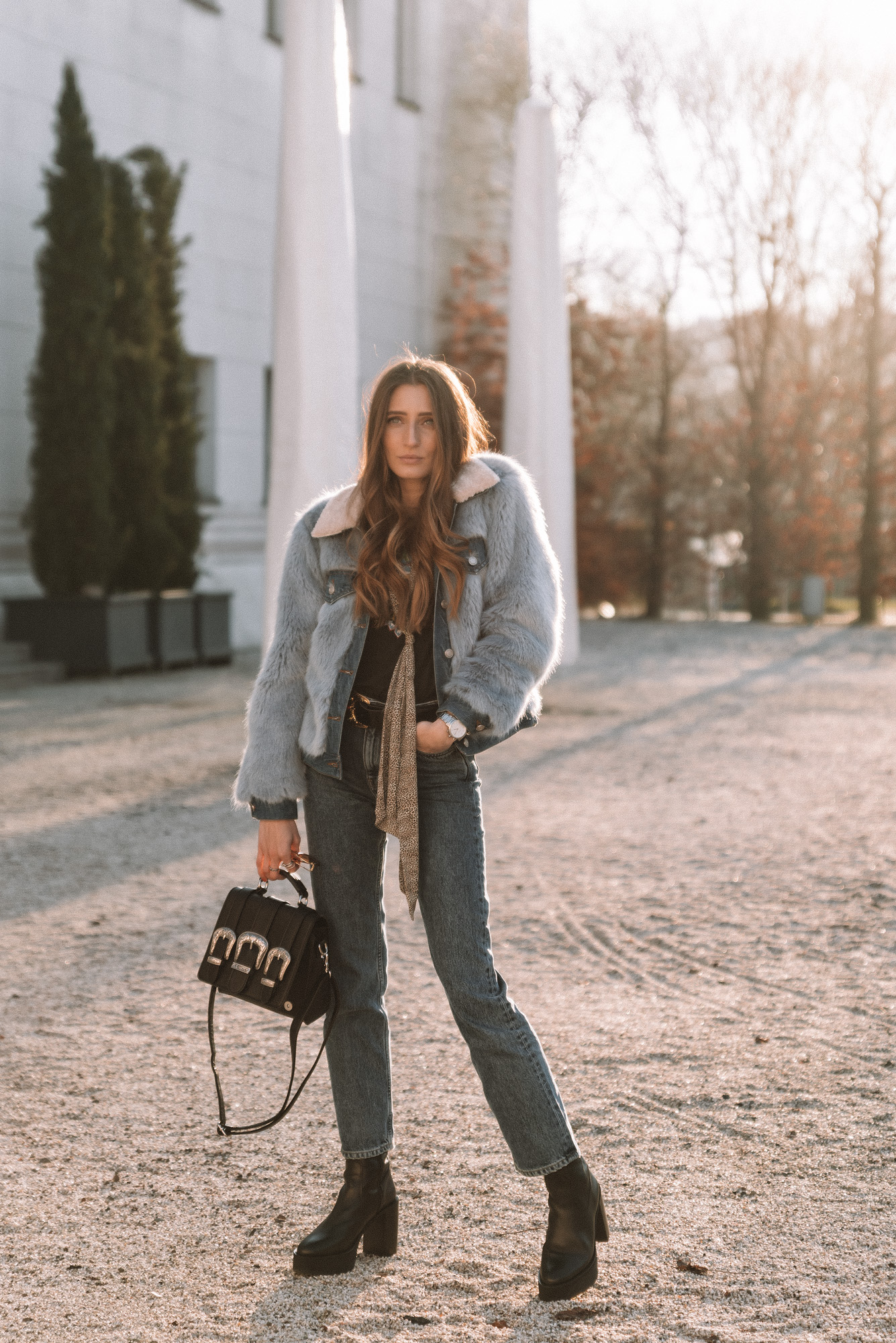 GET THE LOOK
---
Weekday Voyage Jeans, Buffalo Shoes, Zara Jacket
Vintage Sunglasses, Sacred Hawk Bag, Vintage Shirt
---
• not sponsored (duh), just a post about my current favorite things •
MerkenMerkenMerkenMerken
MerkenMerken