CULOTTES : Asos (here and here)
VEST : Zara (here)
SWEATER : Zara (here and here)
BOOTS : Peter Kaiser (here and here)
BAG : Buffalo Boots (here and here)
HAT : H&M (here and here)
So lately I'm doing a lot of research about the upcoming spring trends…
What a week, it's actually so surreal what happens to me lately and I'm so thankful for it. I definitely have a lot to tell you and update you on, but today I want to show you a new outfit, which is the reason why you're here right?
So lately I'm doing a lot of research about the upcoming spring trends (I can't wait for the new season to arrive) to plan my outfits ahead. One thing that is going to be huge are long blazer vests (I found mine at the Zara sale, but you can get a really similar here) and I already love this item, since you can style it with so many looks, especially when it comes to layering. I just wore it like a cape over a big cosy sweater, but I can't wait to wear it over light summer dresses and with damn tanned legs. With rising temperatures, ok actually it's a lie, it's freezing cold I decided to get my beloved culottes out of my clothes, since 80% of my pants are culottes. I don't know I think they just add that chic touch to every look without looking to elegant, you know just way more stylish than with 'normal' pants. But always wear them with high heels since culottes make you appear a bit smaller, but I think it's no problem for us to wear high heels right?
Oh last but not least I decided to give one of my other big passions a go, the hats. Actually I just wear them when my hair looks let's say a bit shitty, because I try to wash them only 2-3 times a week, which is really hard, but hey nothing a cute hat can't fix. So if you want to know how I did my hair in this post, just don't wash them for three days, that's all.
---
In letzter Zeit habe ich mich verstärkt mit den kommenden Trends auseinander gesetzt…
Grundgütiger, diese Woche war mehr als nur aufregend und es ist schon fast surreal was in letzter Zeit alles so passiert (Dorfkind in der Modewelt und so), aber ich könnte nicht dankbarer dafür sein. Ich habe auf jeden Fall eine Menge zu berichten, aber ich dachte mir, dass ich heute noch mal einen neuen Look dazwischenschiebe, da dies ja wahrscheinlich der Grund ist warum die meisten hier sind.
In letzter Zeit habe ich mich verstärkt mit den kommenden Trends auseinander gesetzt, da ich meine Outfits gerne etwas vorausplane (ich bin nämlich richtig mies darin mich spontan vor dem Kleiderschrank zu entscheiden, mies, wirklich mies). Ein wie sagt man so schön 'It-Piece' im Frühling werden auf jeden Fall die langen Blazerwesten sein (ich habe meine im Zara Sale ergattert, aber so ziemlich genau die gleiche gibt es hier), da sie einfach perfekt zum Schichten an kälteren Tagen sind und man sie vielseitig in verschiedenste Look integrieren kann (blättert auf jeden Fall mal die neue InStyle für ein paar Stylingideen durch). Und hallelujah mit den steigenden Temperaturen, die ich mir wahrscheinlich lediglich einbilde, habe ich auch endlich wieder meine geliebten Culottes aus der Versenkung gekramt. Ok Versenkung ist gelogen, da geschätzt 80% meiner Hosen Culottes sind. Was soll ich sagen, sie machen einfach jedes Outfit diesen gewissen Tick schicker, aber vergesst die High Heels nicht, mit flachen Schuhen machen sie euch optisch kleiner.
Zu guter Letzt habe ich meine Liebe für Hüte wieder entdeckt, ok ich muss gestehen, eigentlich sind Hüte bei mir eher Mittel zum Zweck anstatt Dekoration, in meinem Fall den platten Haaransatz zu verstecken. Ich versuche nämlich meine Haare so wenig zu waschen wie möglich und während meine Haarlängen dadurch immer besser aussehen, lässt der Ansatz dann doch etwas zu wünschen übrig, also her mit der Hut-Tarnung. Falls ihr euch jetzt fragen solltet, hast du mit deinen Haaren was anders gemacht, dann lediglich, ja seit 2-3 Tagen nicht gewaschen (gedachtes Äffchen das sich die Augen zuhält Smiley einfügen).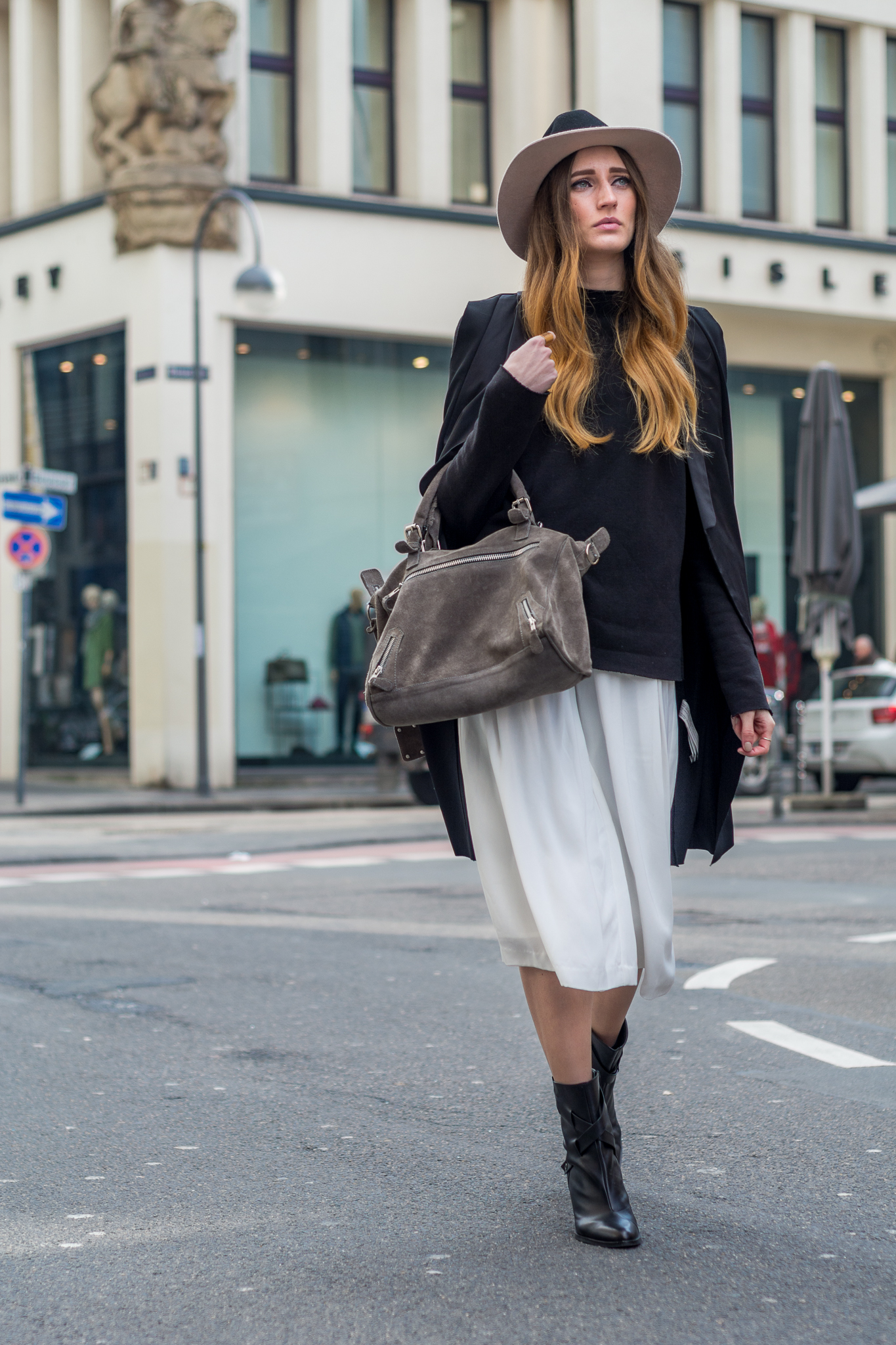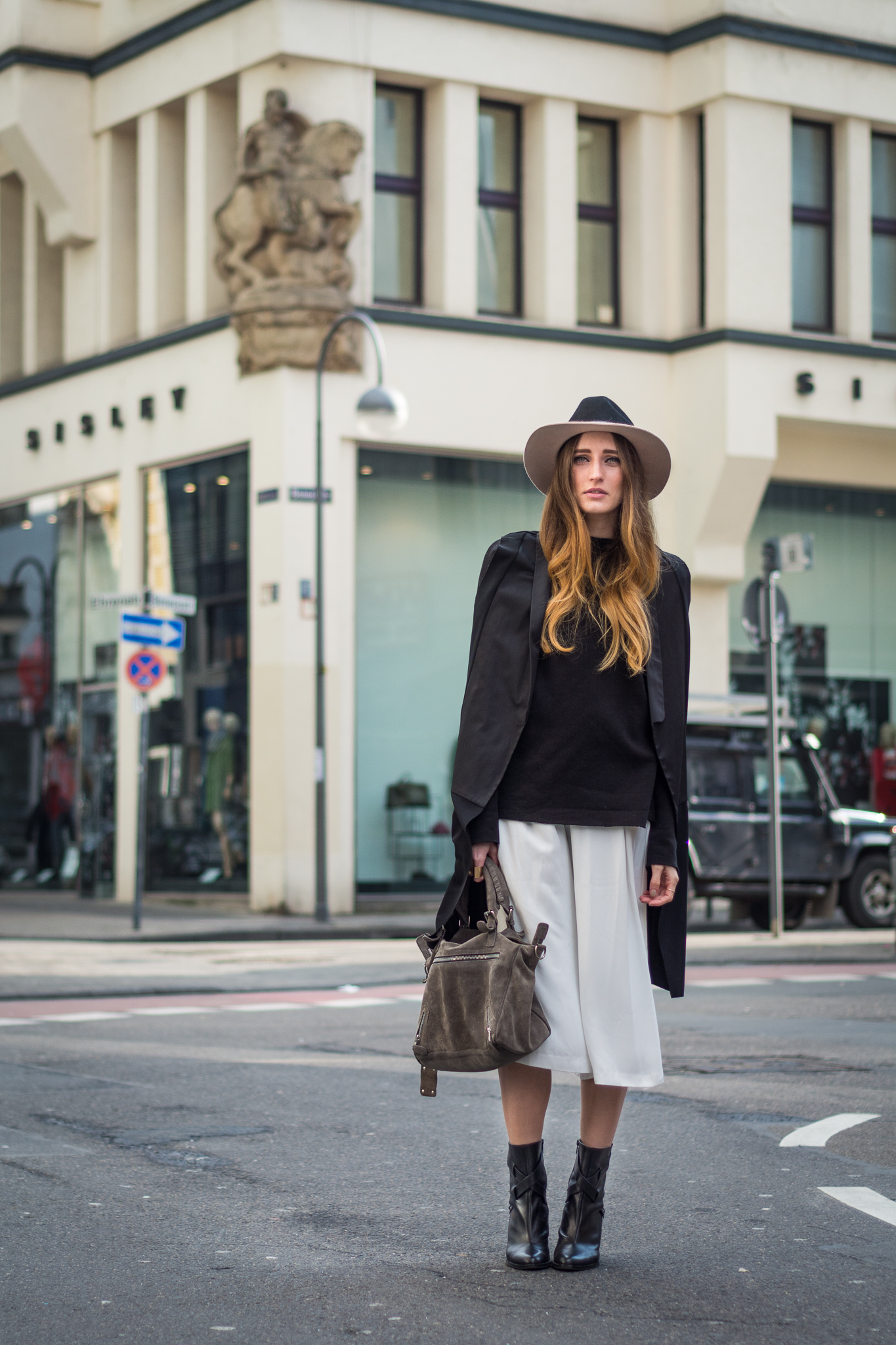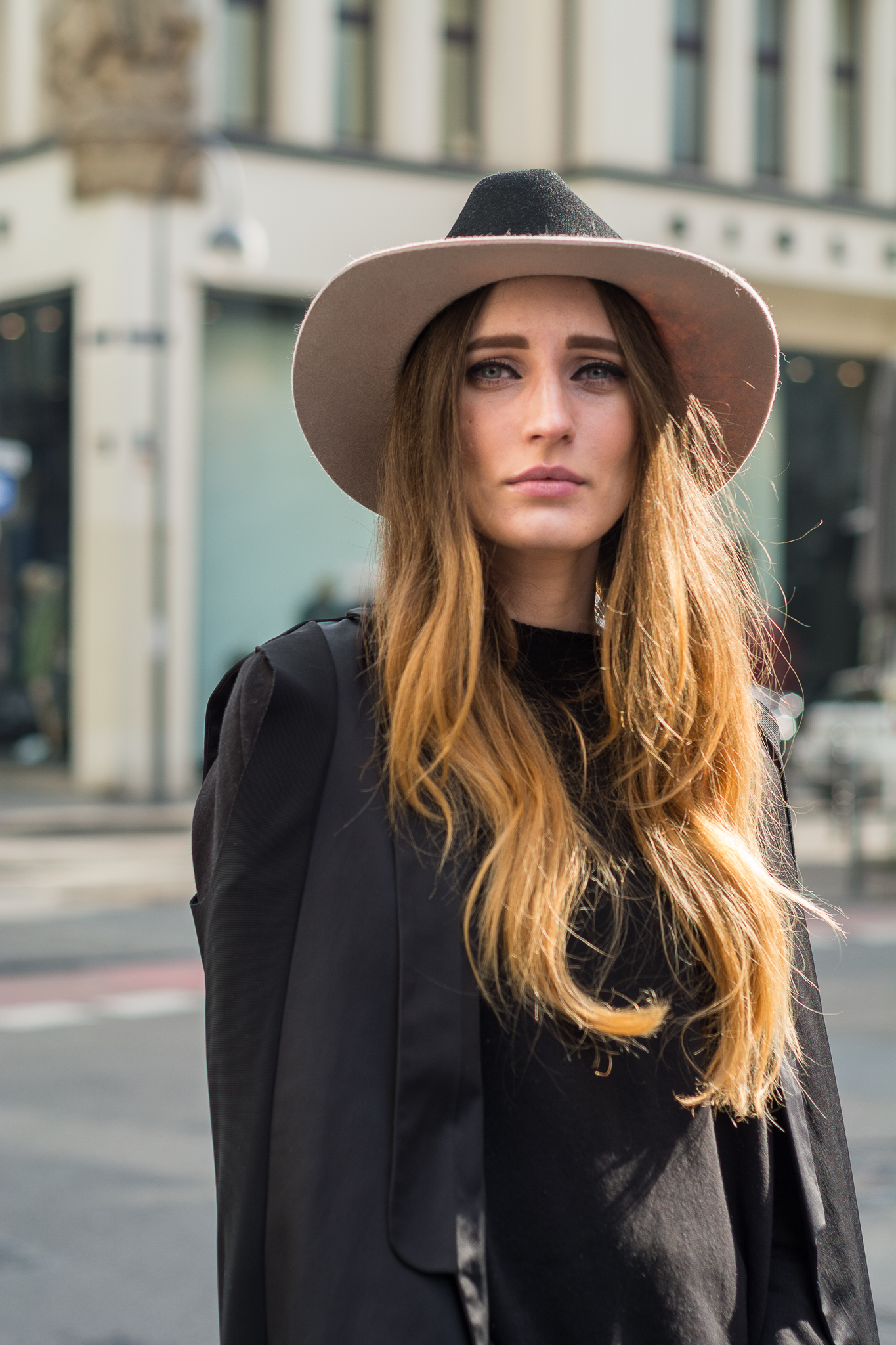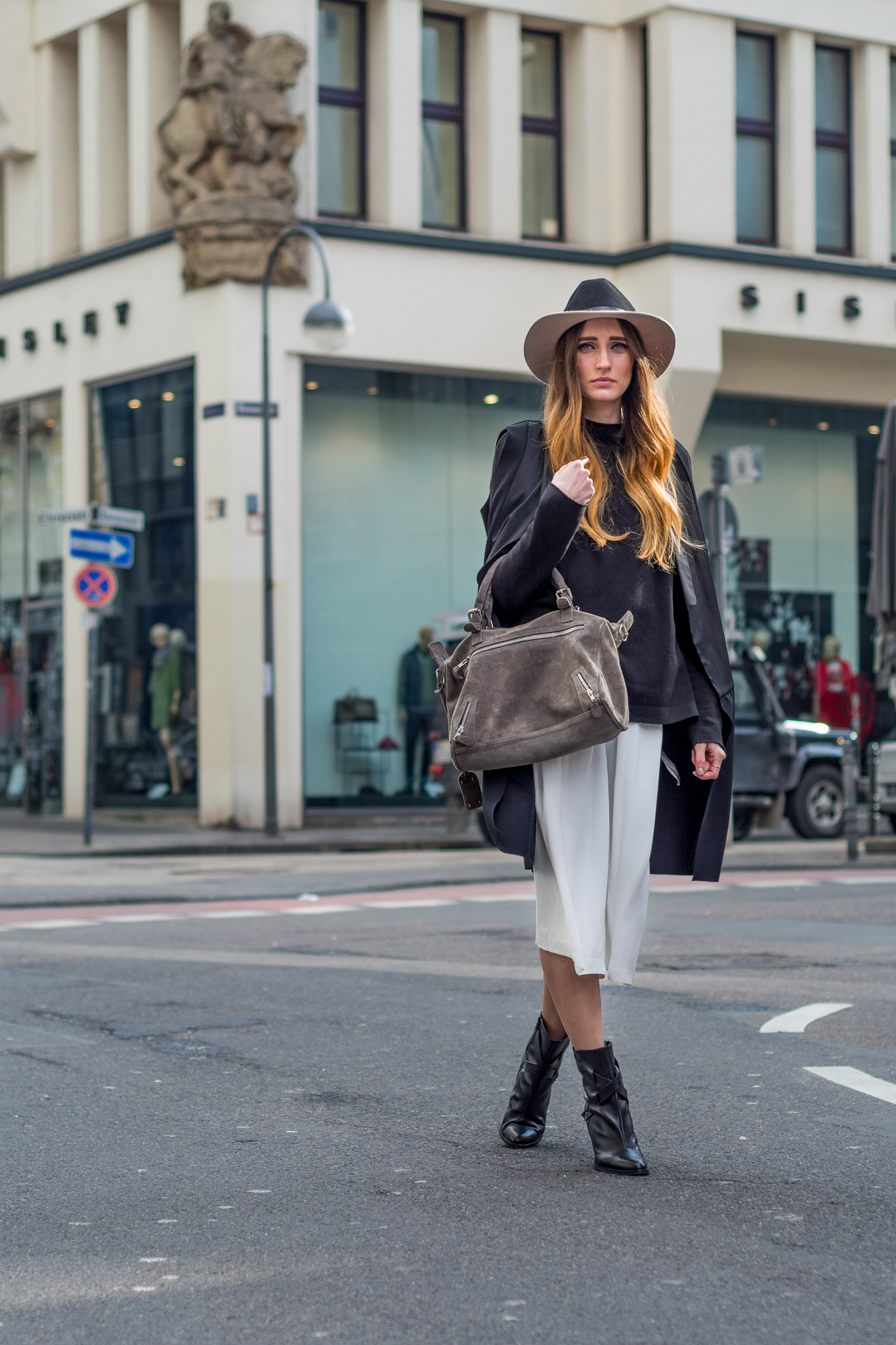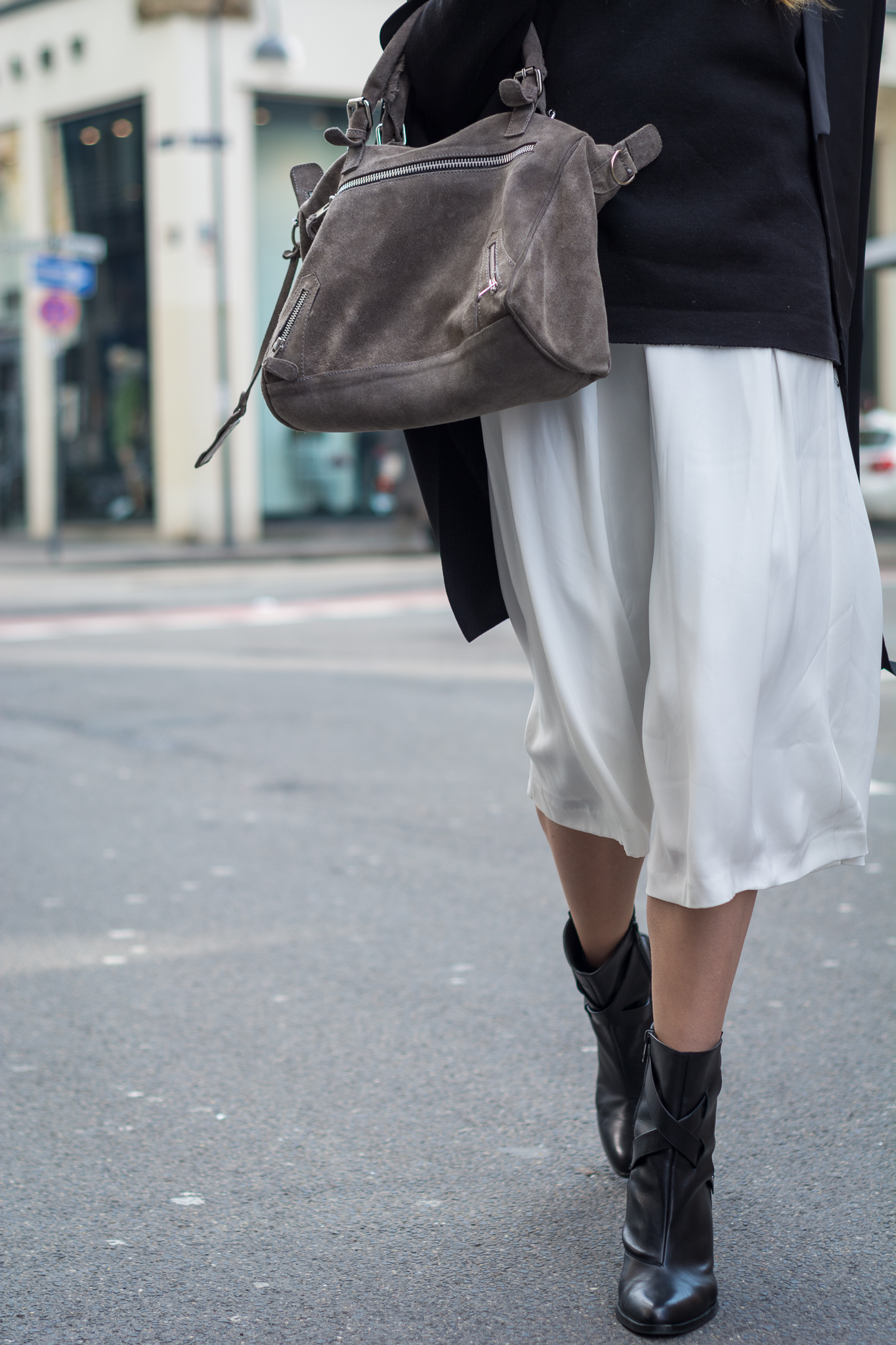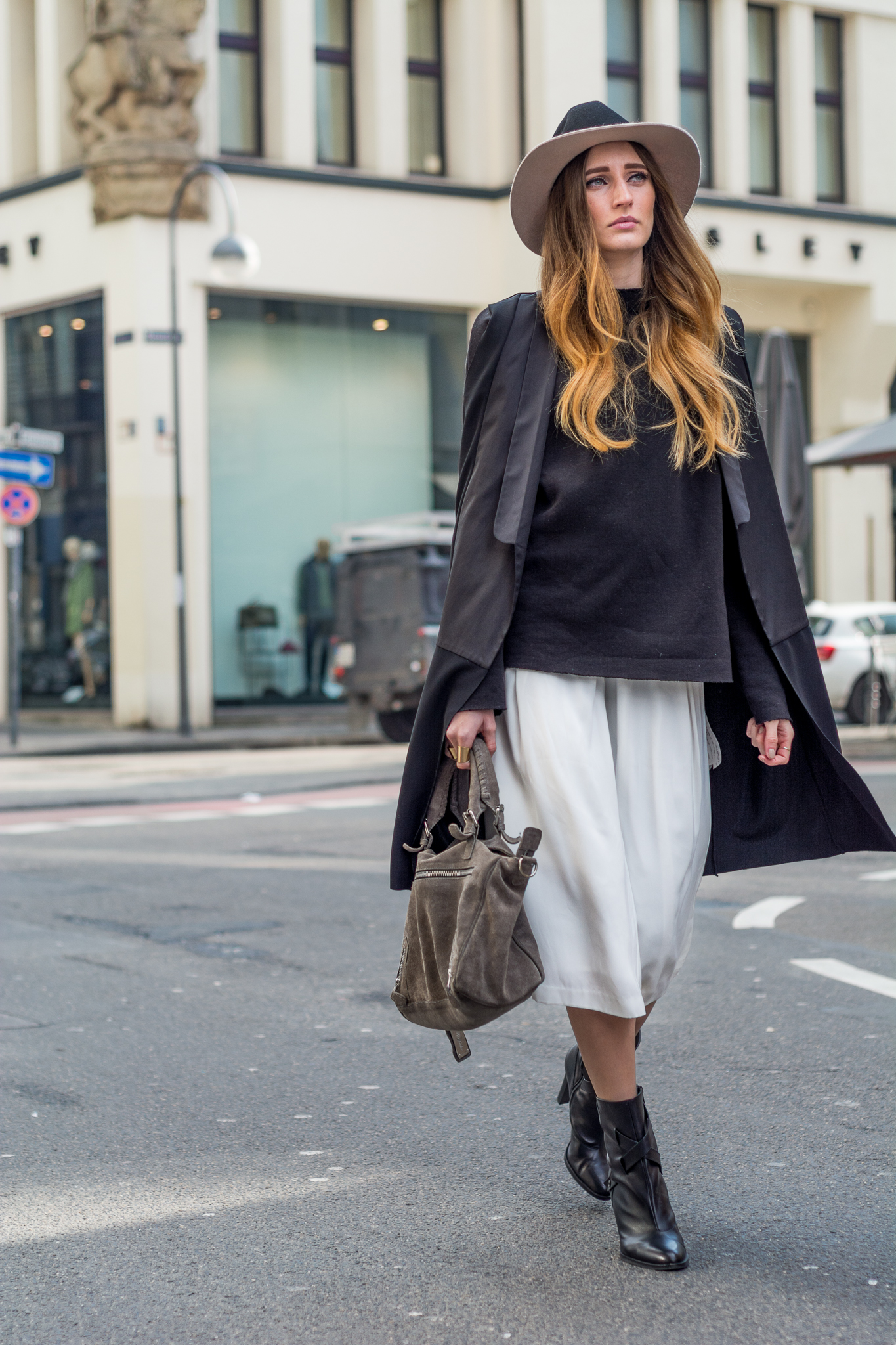 OUTFIT OF THE DAY
CULOTTES : Asos (here and here)
VEST : Zara (here)
SWEATER : Zara (here and here)
BOOTS : Peter Kaiser (here and here)
BAG : Buffalo Boots (here and here)
HAT : H&M (here and here)