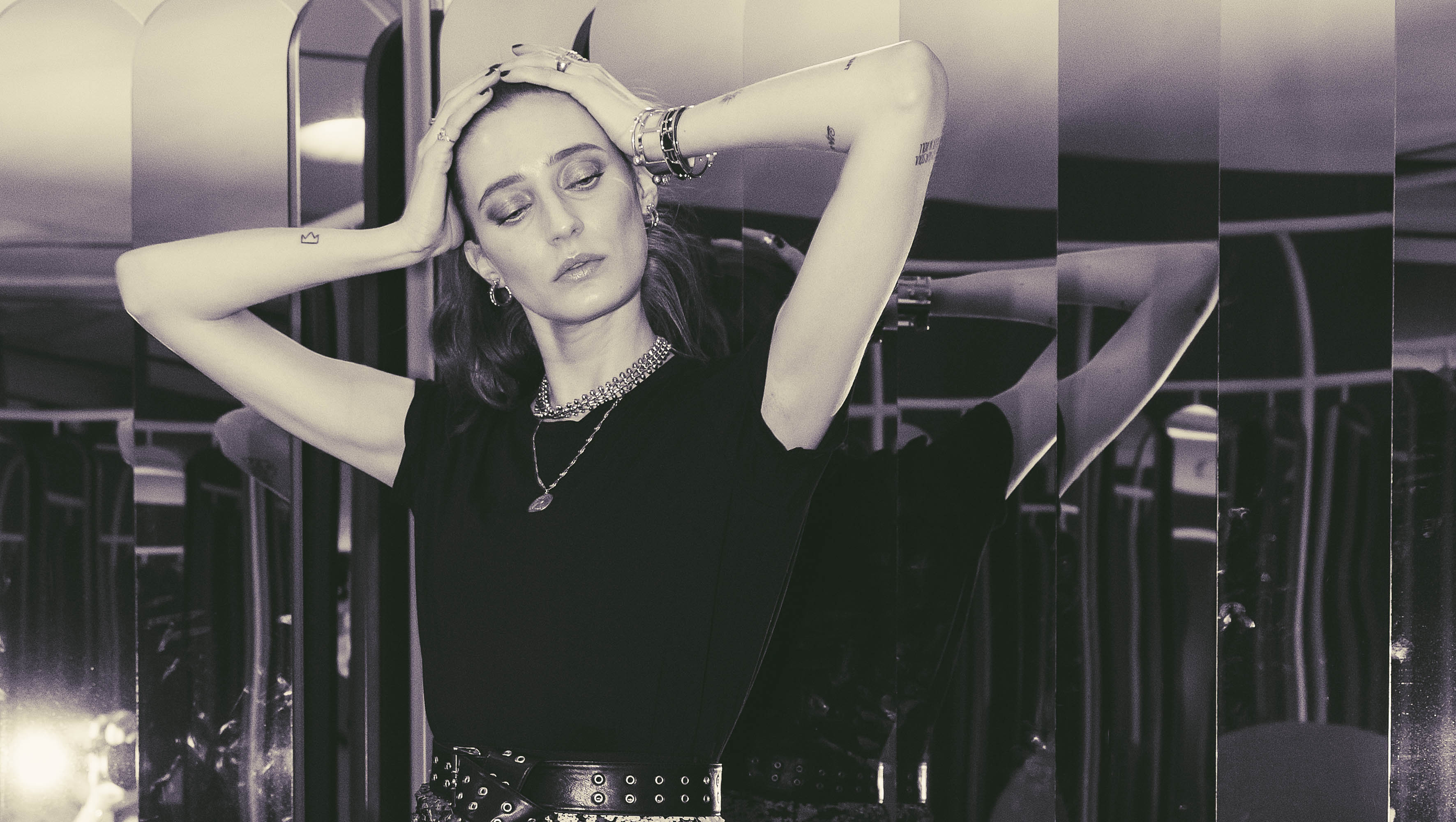 • ANZEIGE | AD •
Stars fill my dream.
I'm a traveler of both time and space.
(Kashmir – Led Zeppelin)
One of my favorite Led Zeppelin songs. Probably because other 'galaxies' have always fascinated me. Blame it on my preferences for Harrison Ford as Han Solo, my boyfriend the hobby astrologer or the breathtaking NASA Instagram Account (highly recommended).
As Peek & Cloppenburg (There are two independent companies Peek & Cloppenburg (There are two independent companies Peek & Cloppenburg in Germany with their headquarters in Düsseldorf and Hamburg. This is a blog post released in cooperation with Peek & Cloppenburg KG, Düsseldorf. Its store locations can be found on www.peek-cloppenburg.de.) invited me to a photo shoot under the topic 'Stardust' I immediately had a lot of ideas. The background of this photoshooting was to style the current occasion fashion for the festive season.
Admittedly, occasional fashion is a topic that is a bit strange to me at first. My looks are rarely classically chic or even girly. Therefore it was nice that Peek & Cloppenburg wanted exactly this attitude for the shooting and styling. An individual reinterpretation of classic occasion fashion. Nowadays, individuality is often forgotten in the blogger cosmos, so it was refreshing to start a cooperation on such a basis.
---
I'M WEARING
Essential Skirt, Jake*s T-Shirt, Dr. Martens Boots
Jake*s Blazer, Buffalo Glitter Boots
---
Wohl einer meiner liebsten Led Zeppelin Songs. Wahrscheinlich weil mich andere 'Galaxien' schon immer fasziniert haben. Schiebt es auf meine Vorliebe für Harrison Ford als Han Solo, meinen Freund, den Hobby Astrologen oder den atemberaubenden NASA Instagram Account (sehr empfehlenswert).
Als mich Peek & Cloppenburg (Es gibt zwei unabhängige Unternehmen Peek & Cloppenburg mit ihren Hauptsitzen in Düsseldorf und Hamburg. Dieser Artikel beruht auf einer Kooperation mit der Peek & Cloppenburg KG, Düsseldorf, deren Häuserstandorte ihr unter www.peek-cloppenburg.de findet.) zu einem Photoshooting unter dem Thema 'Stardust' eingeladen hat, konnte ich dementsprechend mit dieser Idee direkt etwas anfangen. Hintergrund des Shootings war es, die aktuelle Anlassmode für die festliche Saison zu stylen.
Zugegeben ist Anlassmode ein Thema, dass mir im ersten Augenblick (und auch im zweiten) etwas fremd ist. Meine Looks sind selten klassisch schick oder gar girly. Deswegen war es schön, dass Peek & Cloppenburg genau diese Einstellung für das Shooting und Styling wollte. Eine individuelle Neuinterpretation von klassischer Anlassmode. Individualität wird im Blogger Kosmos heutzutage gerne einmal vergessen, deswegen war es erfrischend eine Kooperation auf einer solchen Basis anzugehen.
A LITTLE PRE-CHRISTMAS TREAT FOR YOU
GET 15% OFF EVERYTHING ON PEEK & CLOPPENBURG WITH THE CODE THELFASHION15 (BIS 23.11. GÜLTIG)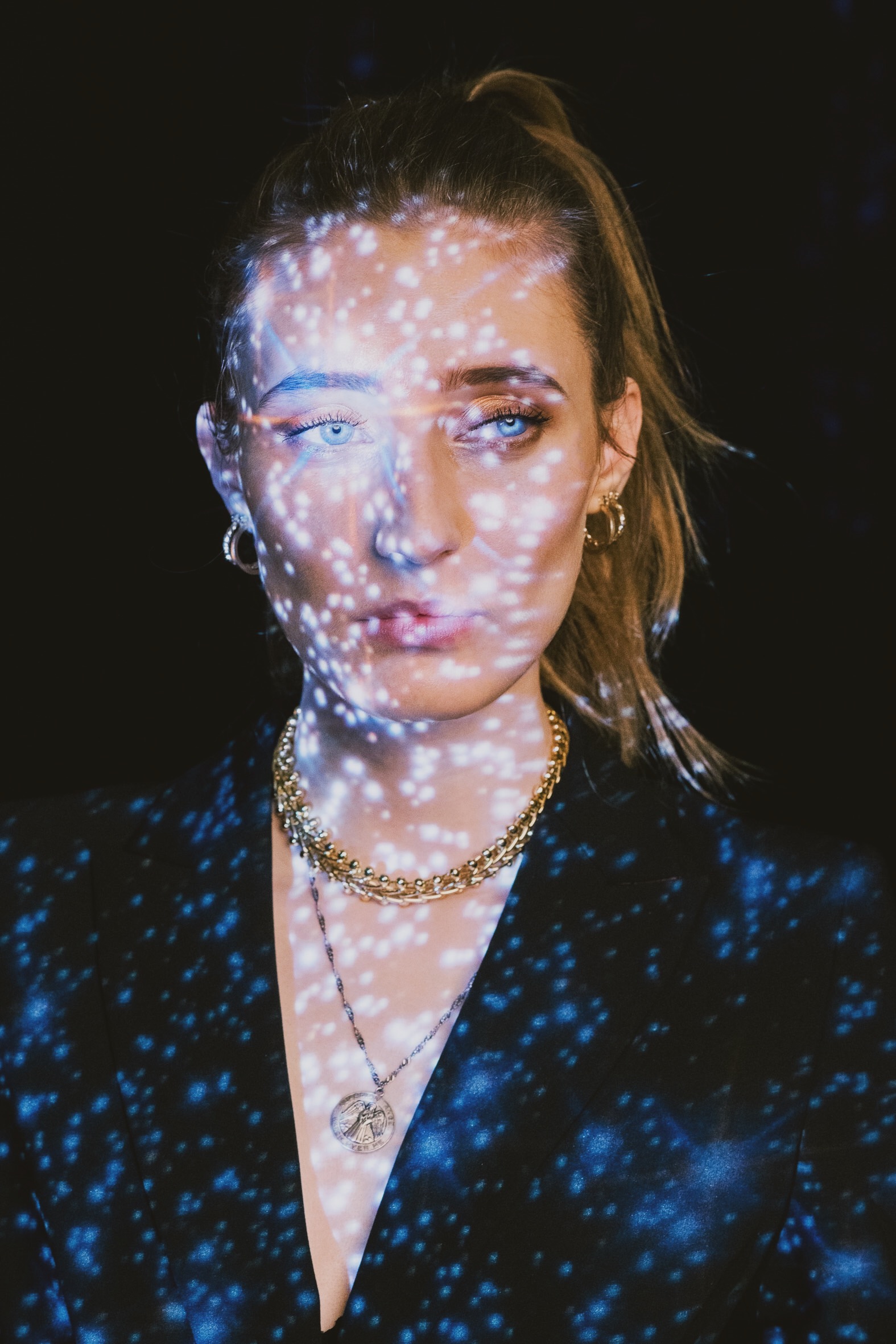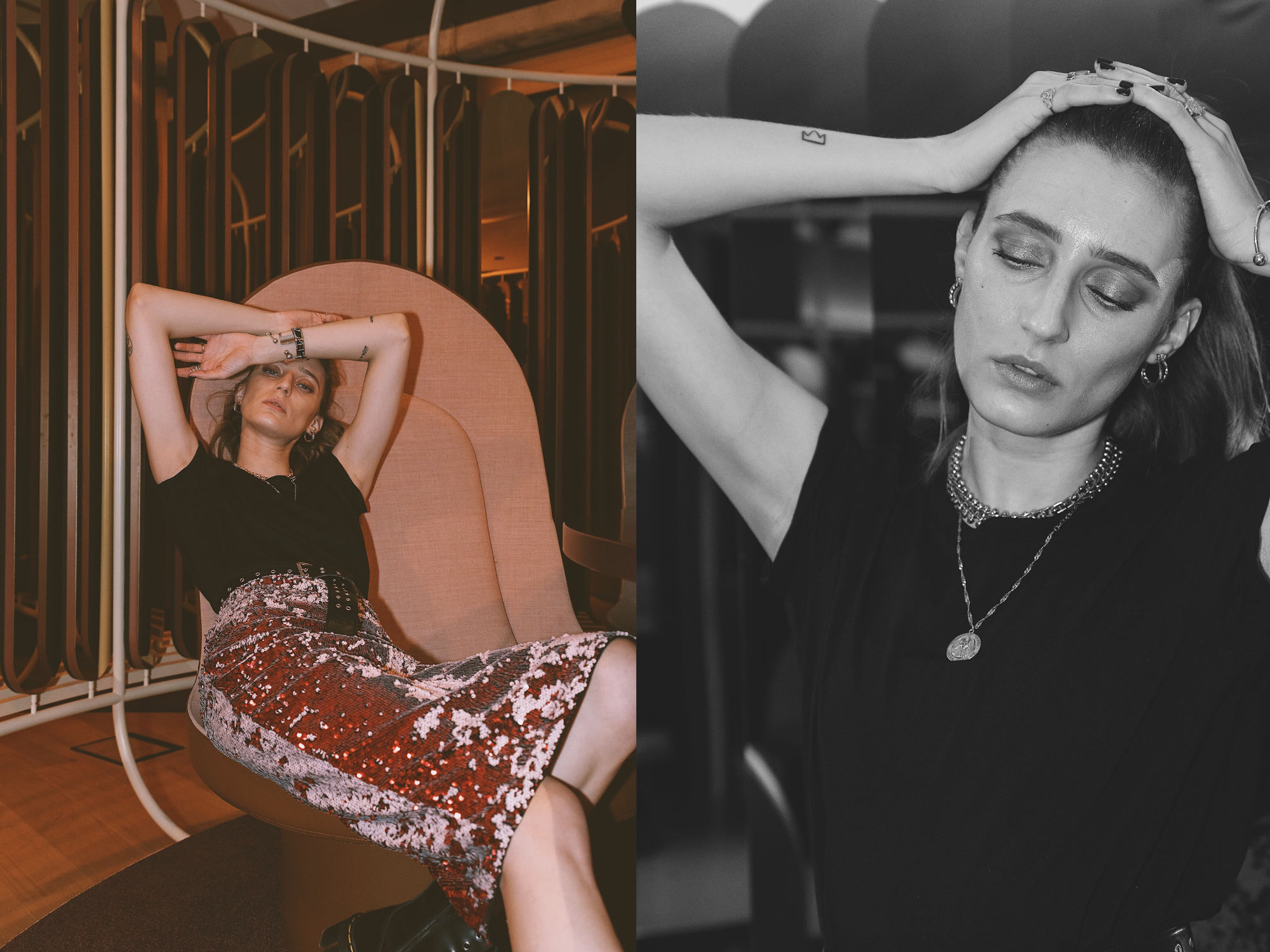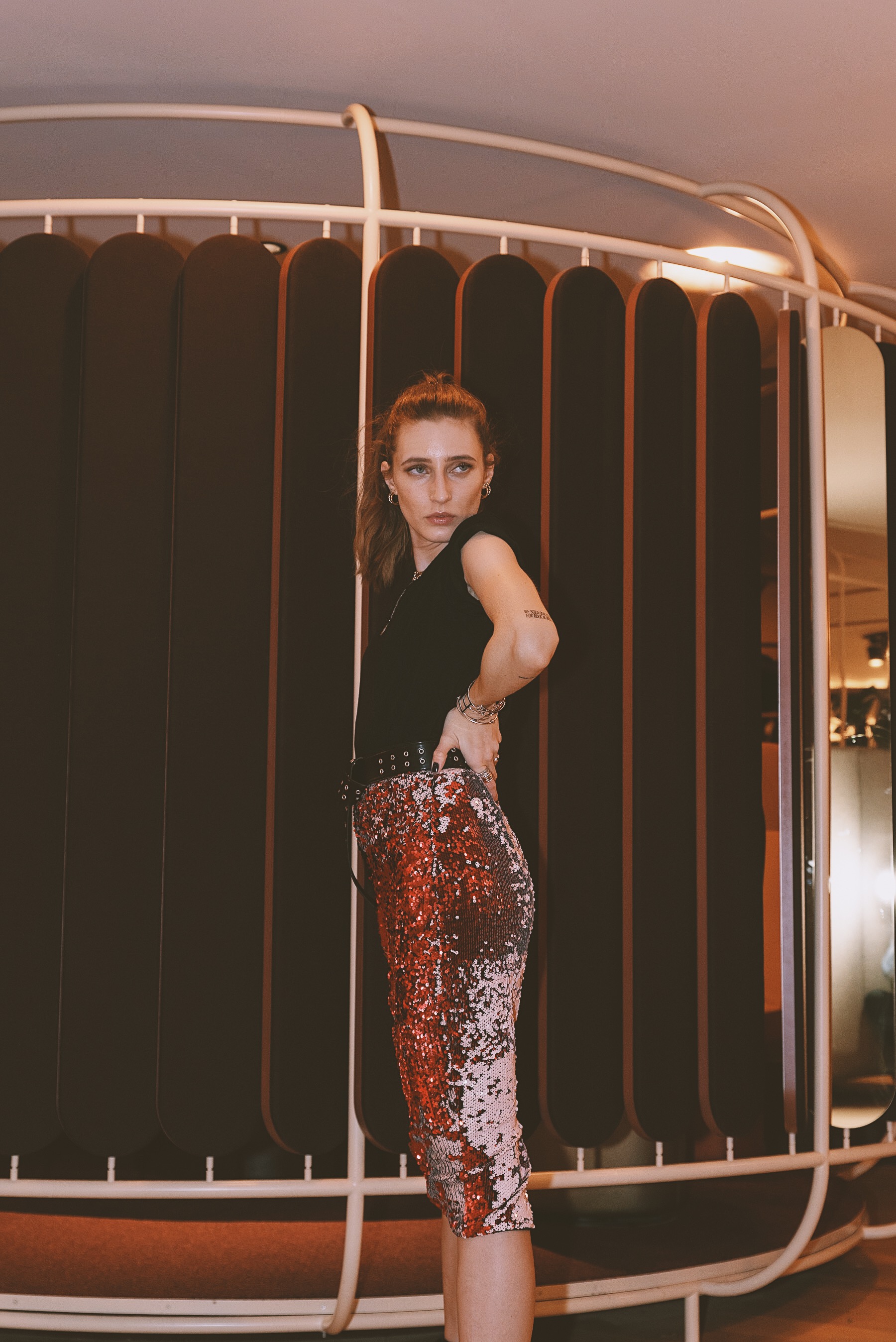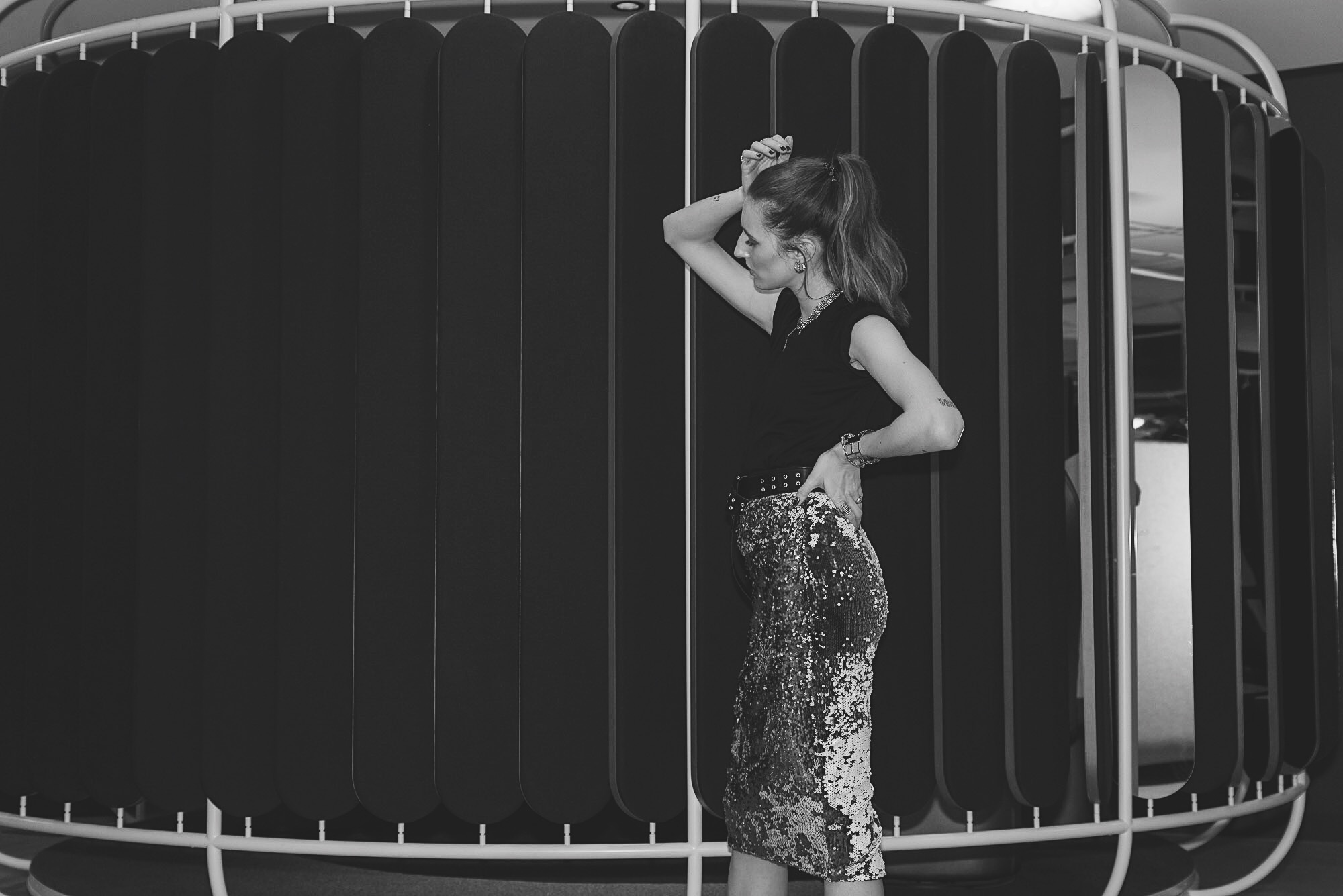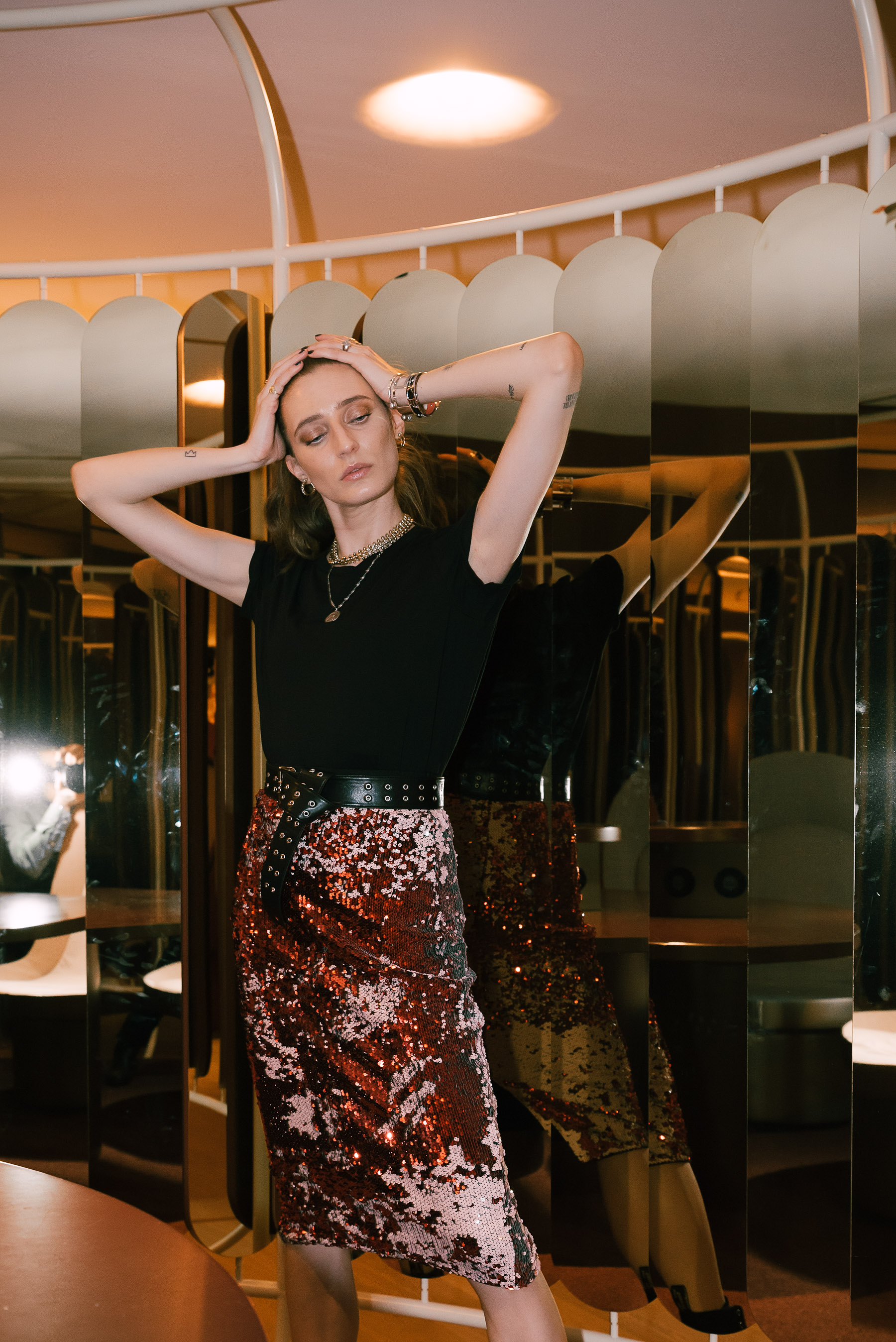 S P A C E I N V A D E R S
It wasn't just a photo shooting, it was a whole event about 'Stardust'. And so I was more than thrilled when we first went to the planetarium in Bochum. Far away from the fashion world, well, strictly speaking far away from everything. Because the next 60 minutes gave us an insight into distant galaxies. And believe me, it's breathtaking and just makes you more aware of how small we are and how we should think about the planet we live on.
Es handelte sich auch nicht einfach nur um ein Photoshooting, sondern um ganzes Event zum Thema 'Stardust'. Und so war ich mehr als begeistert, als es für uns zu Beginn ins Planetarium nach Bochum ging. Fern ab der Modewelt, naja streng genommen fern ab von allem. Denn die nächsten 60 Minuten ermöglichten uns einen Einblick in ferne Galaxien. Und glaubt mir, es ist atemberaubend und macht einem nur noch mehr bewusst, wie klein wir hier eigentlich sind und dringend überdenken sollten, wie wir mit dem Planeten umgehen, auf dem wir leben (dürfen).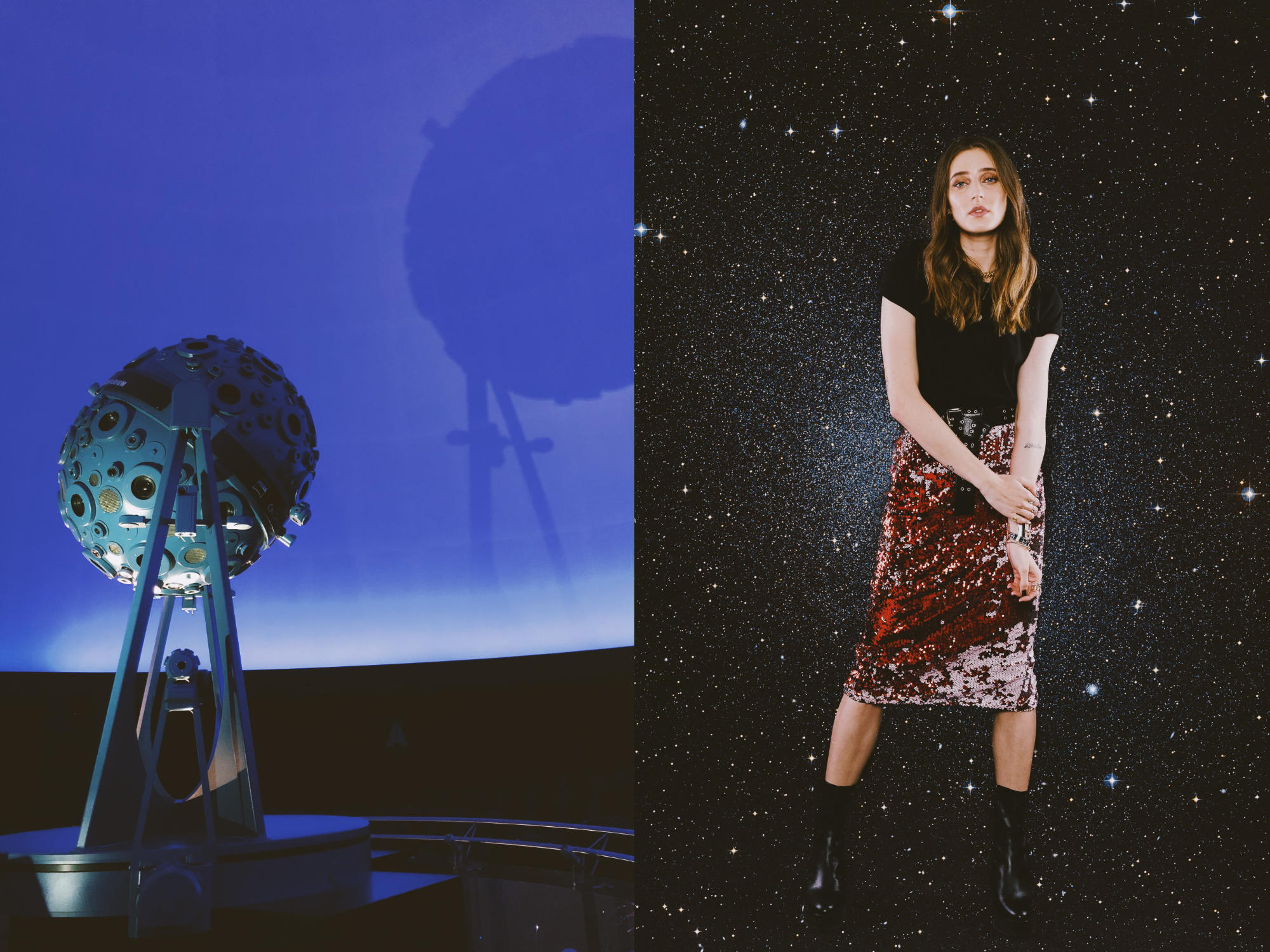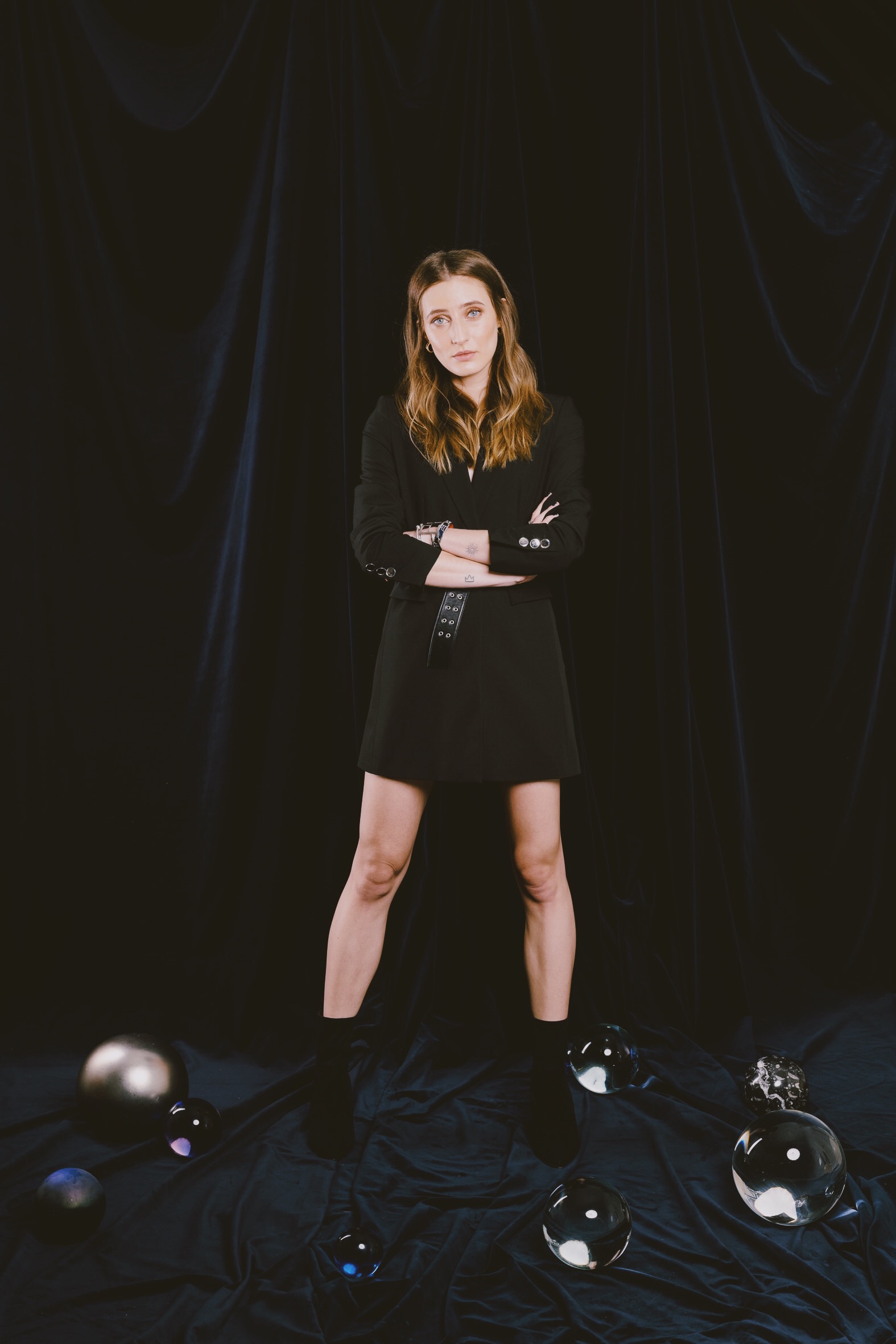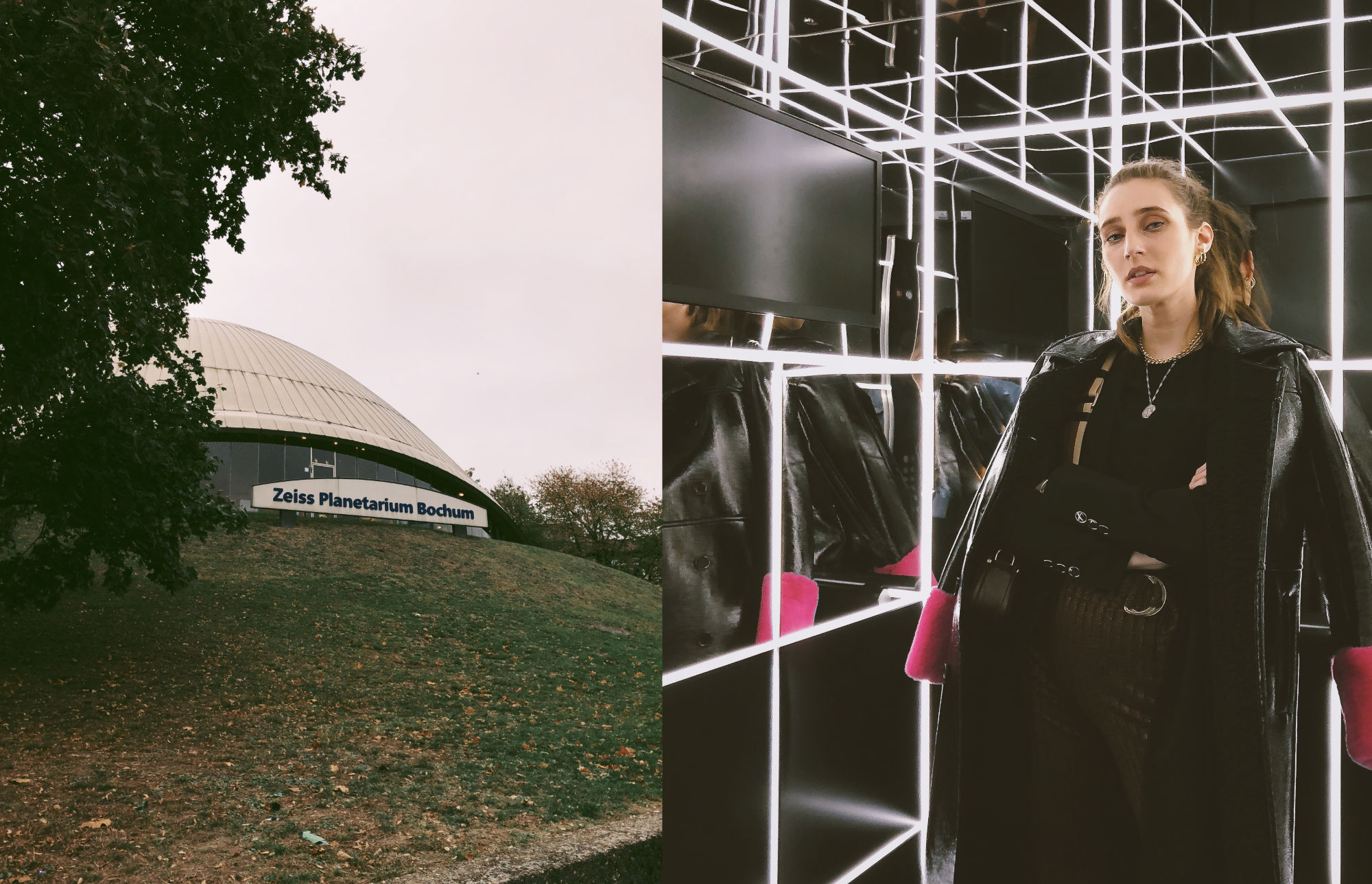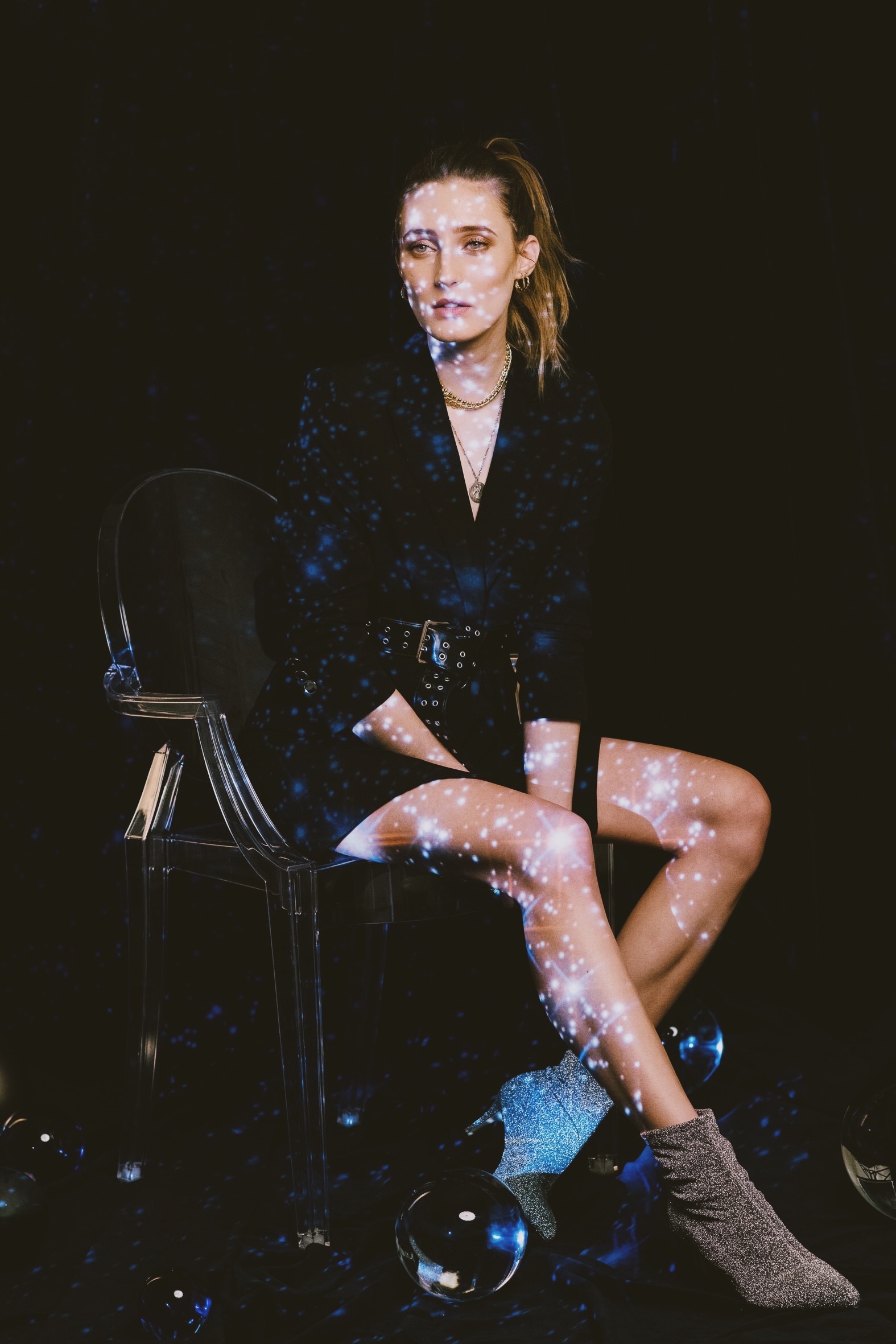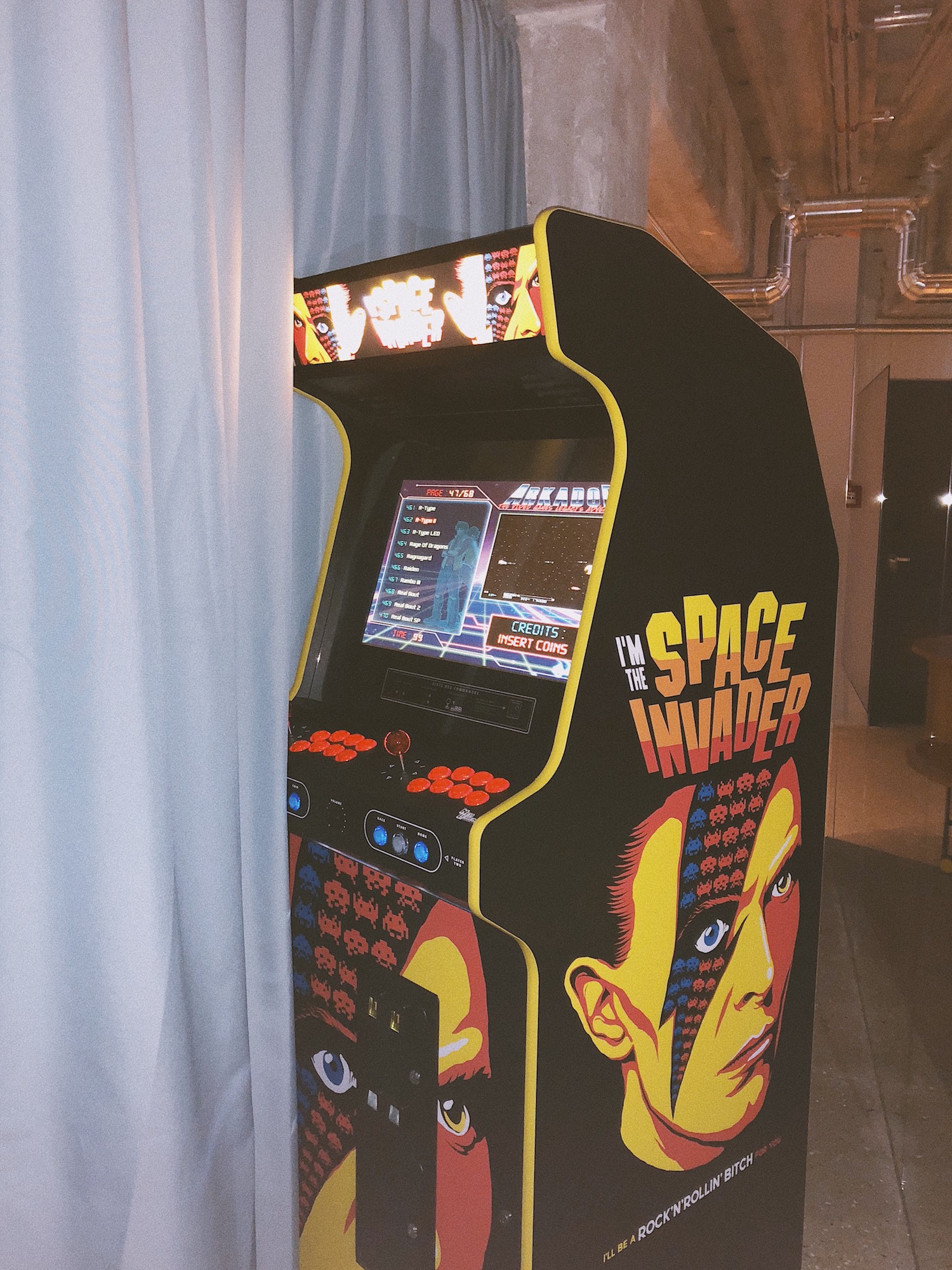 M Y K I N D O F G L A M
I'm not a fan of rules when it comes to fashion. Because here it's much more about creativity and personality. But what always works for me are contrasts. In my opinion every look becomes more interesting with chunky shoes and edgy accessories. The red sequined skirt immediately appealed to me. Statement Pieces always work perfectly with a black basic t-shirt and masculine boots.
So why not just wear a long blazer as a dress? Studded belts and metallic booties turn the classic Blazer into the perfect night out look. It is mostly the at first sight unusual combinations that make an outfit more interesting. Fashion has become more expressive and individual. Just look beyond the edge of your plate.
---
Ich halte nicht viel von Regeln, wenn es um Mode geht. Denn hier geht es viel mehr um Kreativität und Persönlichkeit. Was für mich jedoch immer funktioniert sind Kontraste. Ich bin der Meinung, dass grundsätzlich absolut jeder Look mit klobigen Schuhen und edgy Accessoires interessanter wird. Der rote Pailletten Rock hatte es mir sofort angetan. Statement Pieces funktionieren übrigens immer perfekt mit einem schwarzen Basic T-Shirt und maskulinen Stiefeln. Anlassmode bedeutet schon lange nicht mehr Abendkleid und Pumps. Mode ist ausdruckstärker und individueller geworden.
Also warum nicht einfach mal einen lang geschnittenen Blazer als Kleid tragen? Nietengürtel und Metallic Stiefeletten machen aus dem eigentlich klassischen Blazer den perfekten Ausgehlook. Ich bin mir auch ziemlich sicher, dass besagter Pailletten Rock mit oversized Lederjacke und Sneakers bei mir auch im Alltag zum Einsatz kommt. Es sind meist die auf den ersten Blick ungewöhnlichen Kombinationen, die ein Outfit interessanter machen. Einfach mal über den Tellerrand schauen. Ich erspare mir jetzt sämtliche 'ferne Galaxien' Wortspiele 😉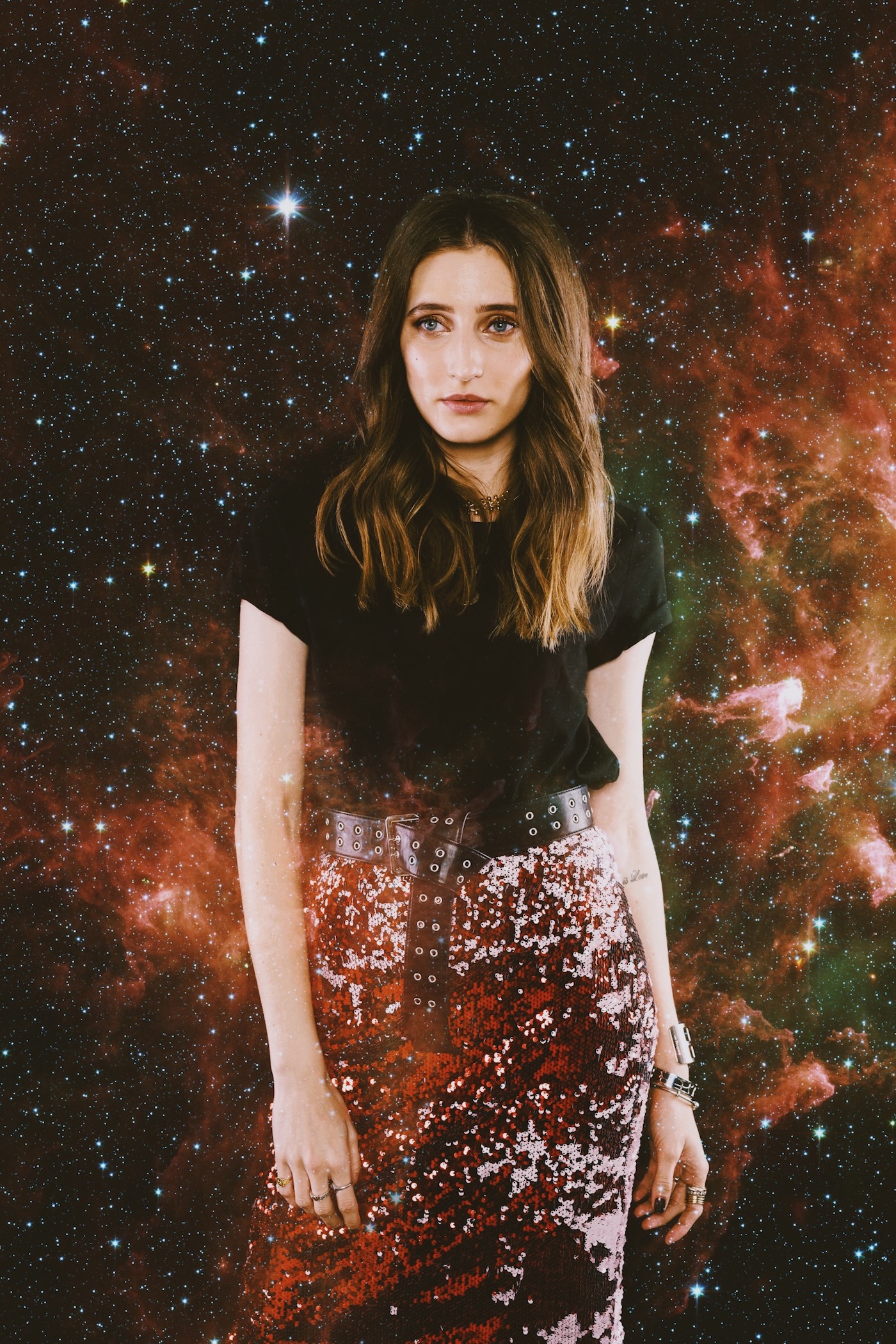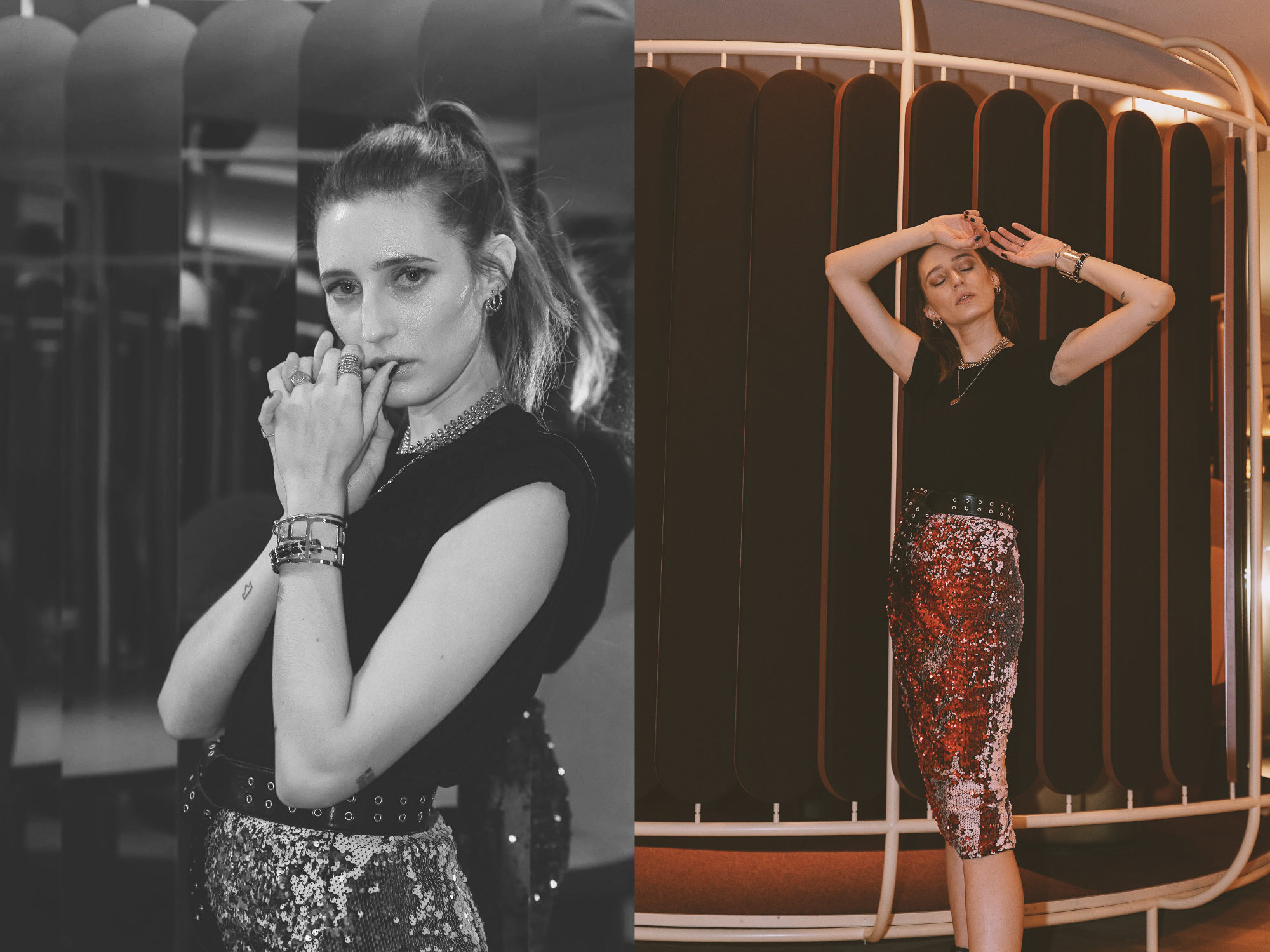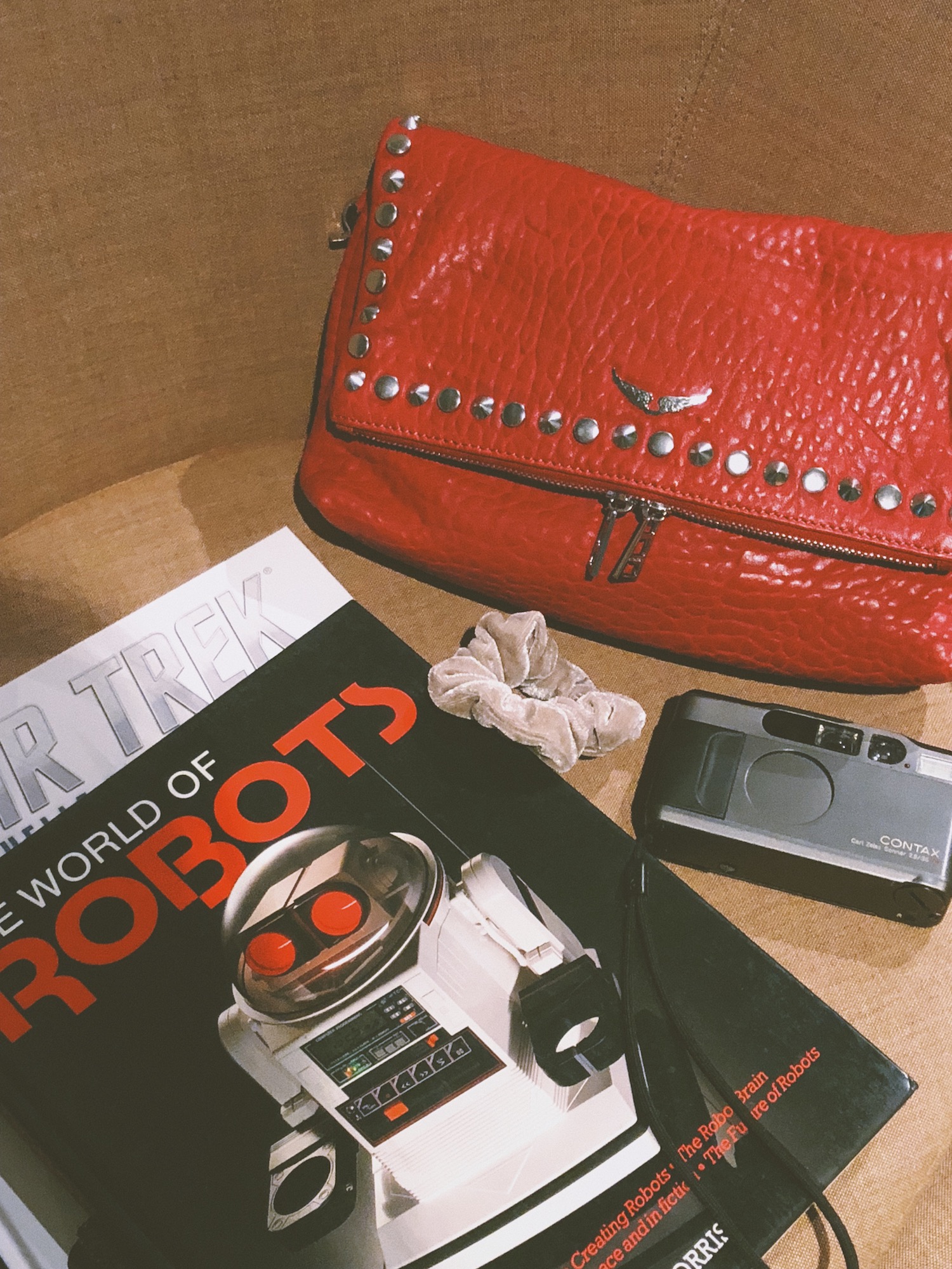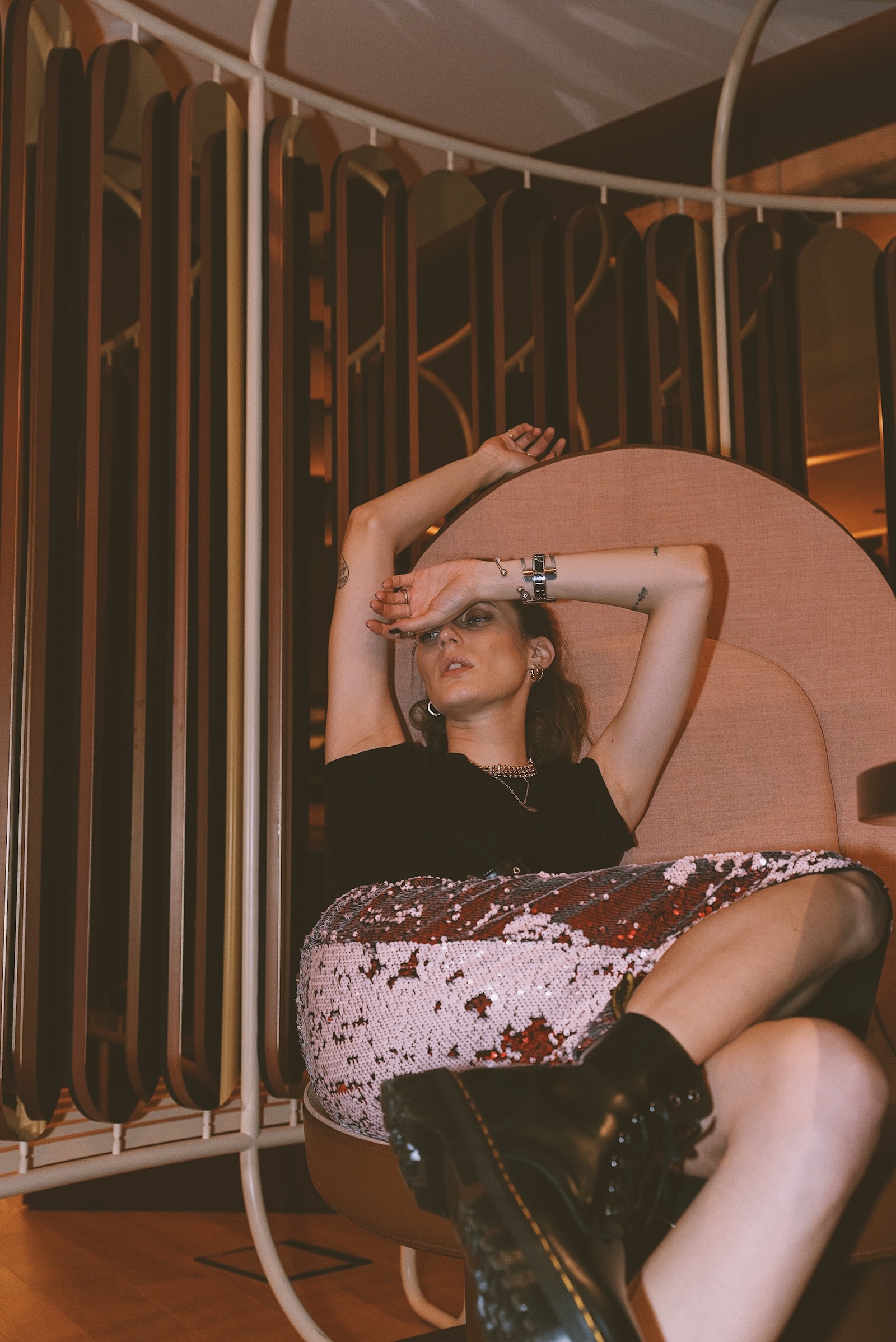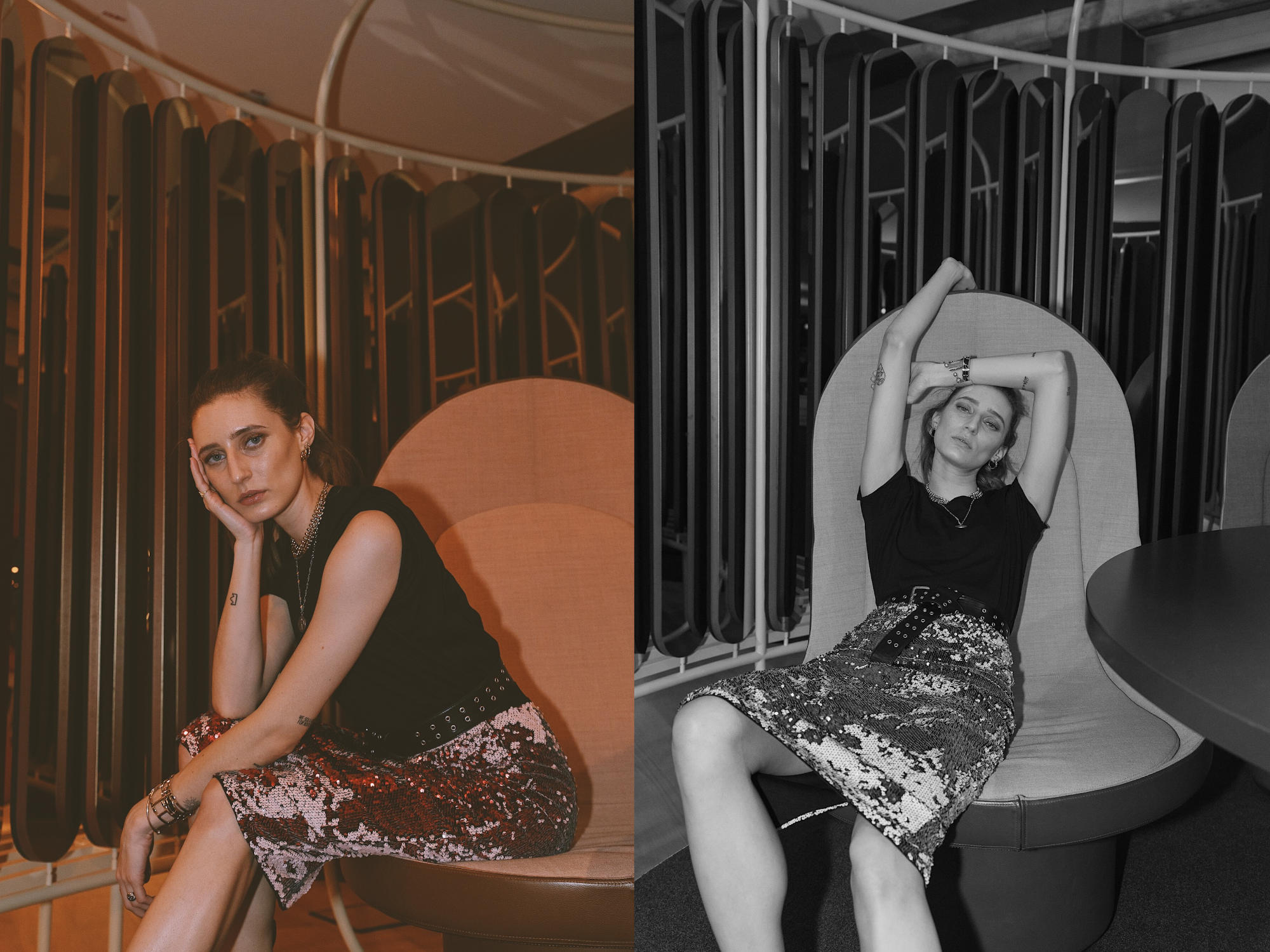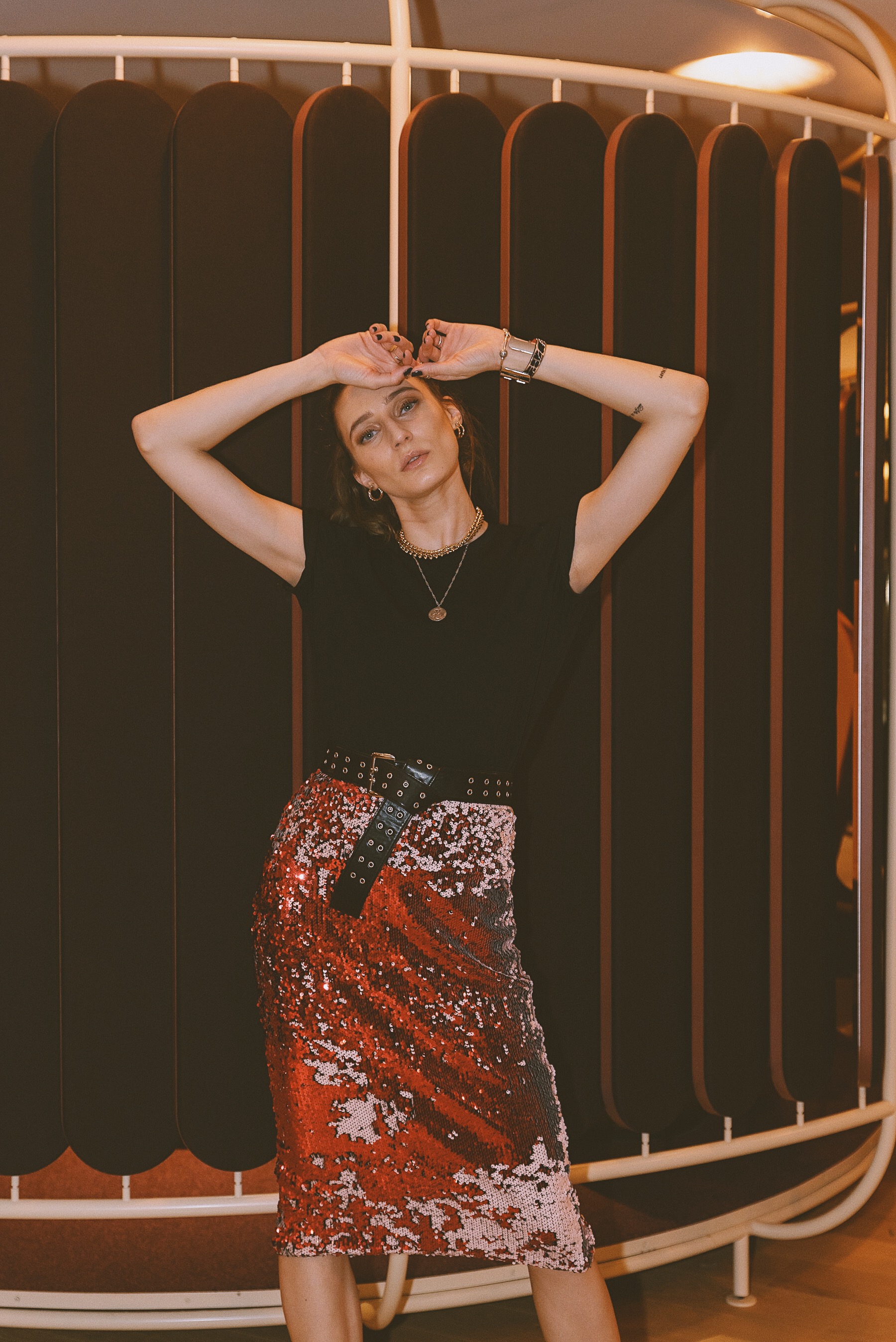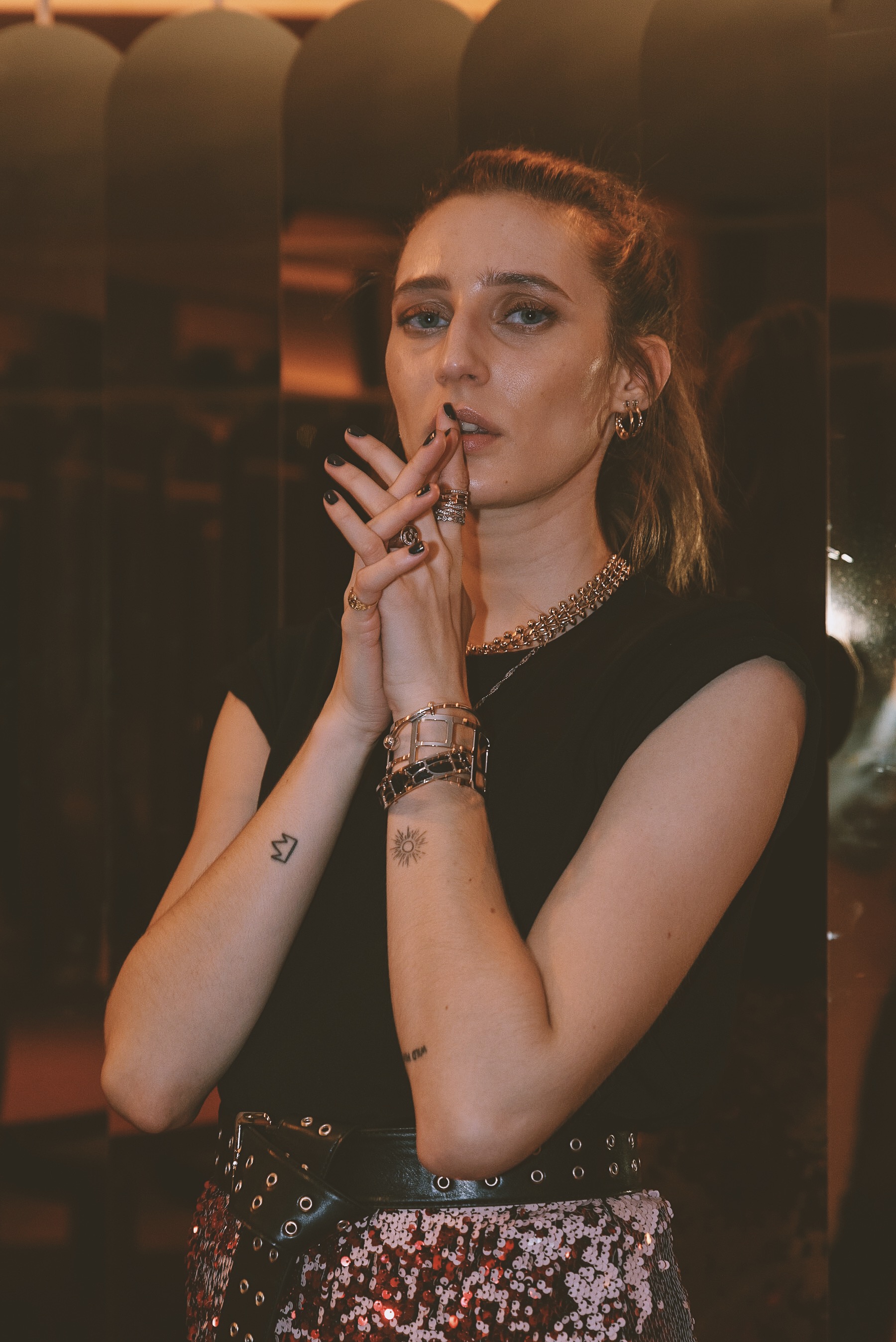 GET THE LOOK
GET 15% OFF EVERYTHING ON PEEK & CLOPPENBURG WITH THE CODE THELFASHION15 (BIS 23.11. GÜLTIG)
Skirt : Essentiel (here)
T-Shirt : Jake*s (here)
Boots : Dr. Martens (here)
Blazer : Jake*s (here)
Booties : Buffalo (here)
• in freundlicher Zusammenarbeit mit Peek & Cloppenburg •