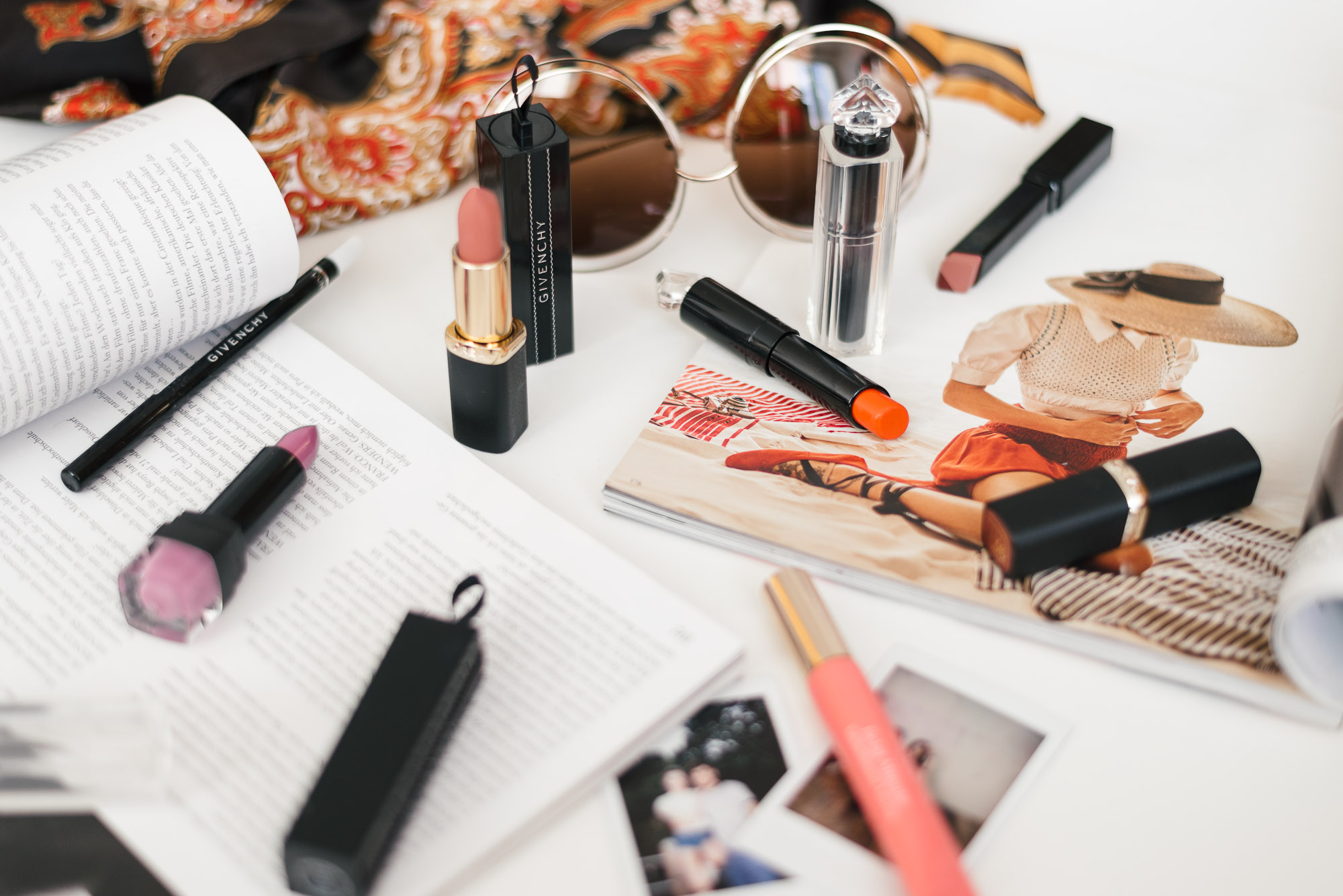 Since spring is in full swing and we can finally swap faux fur coats with light leather jackets, I decided to share my favorite Spring Lipstick choices with you. From everyday colors to bright shades for special occasions.
Da sich der Frühling ja dann auch mal dazu herabgelassen hat sich zu zeigen und ich meine Wintermäntel außer Reichweite gehängt habe, wurde es auch an der Zeit in meinem Make-up Fundus mal nach angebrachteren Tönen zu kramen.
1. Quick & Easy Colors
Probably my favorite category, since it's simple and you don't need a mirror to apply these products. The Clarins Instant Light Natural Lip Perfector in 01 is actually always in my handbag, since it's like a lip balm with a really pretty nude tint.
If you're already blessed with tanned skin (or like to use self-tanner like me), I can highly recommend you a peachy gloss like the Benefit Coralista Lip Gloss, it's not sticky at all and give your lips a nice tint.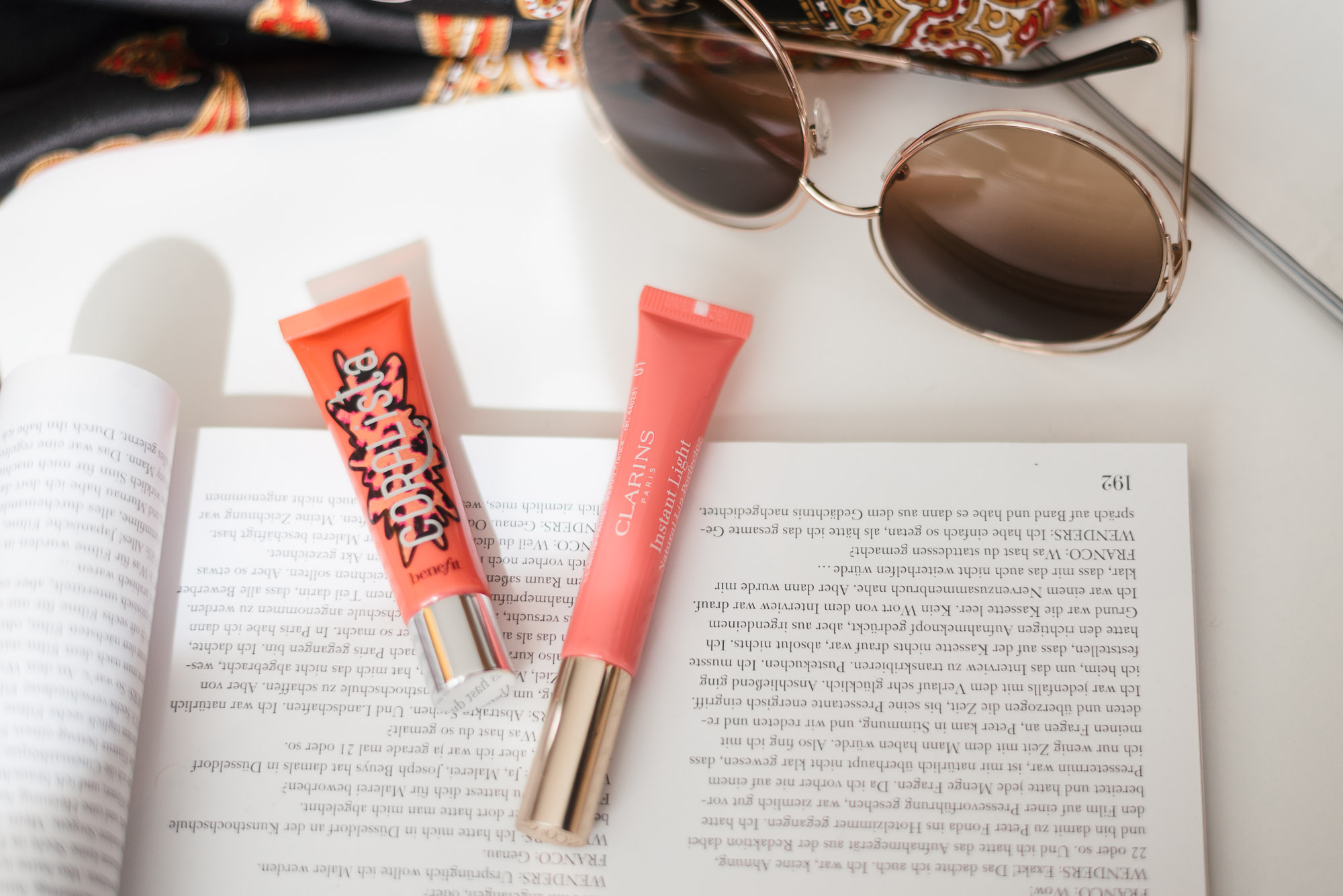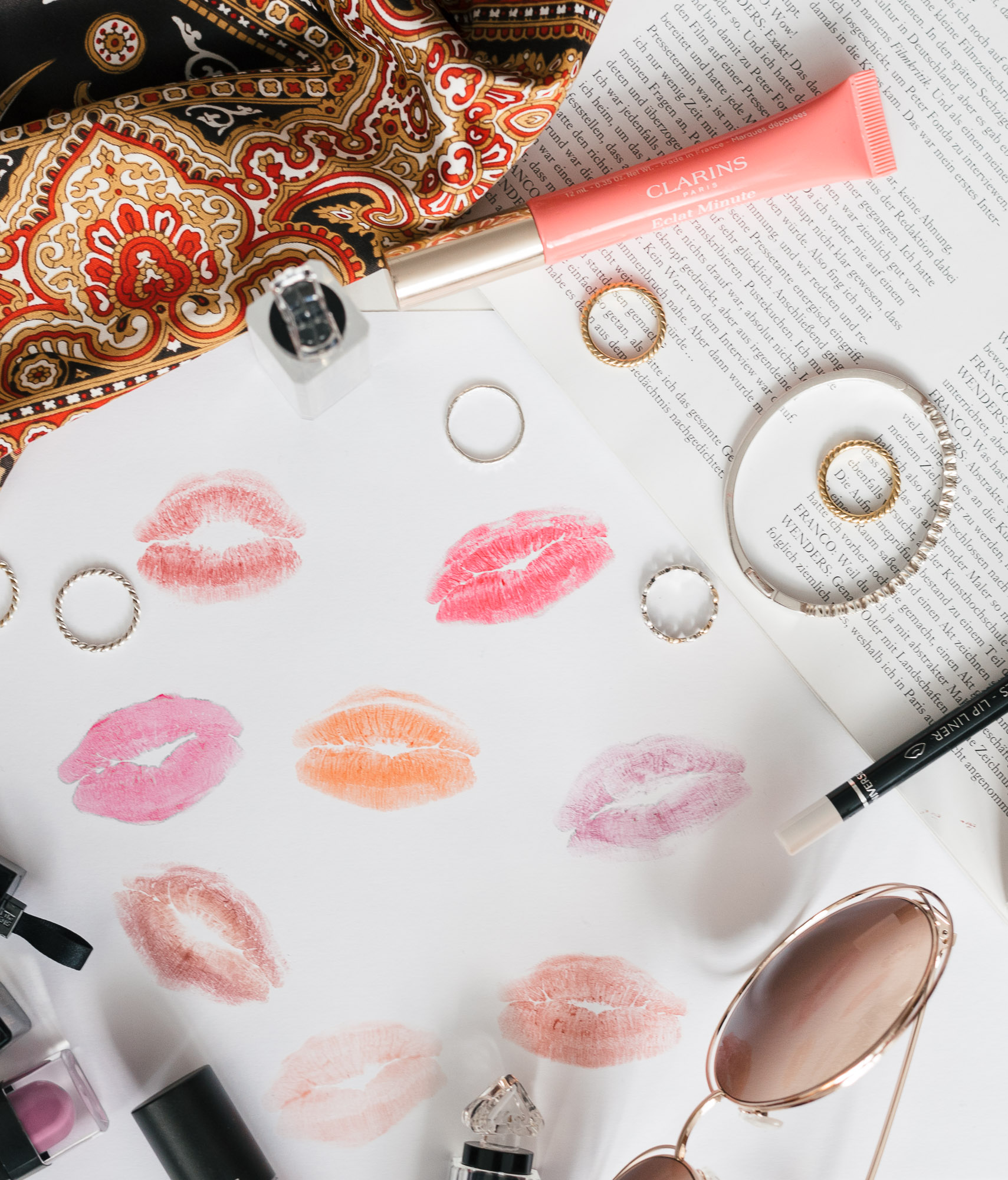 2. Spring Red
Now to the full on lipsticks and of course everyone needs the perfect red shade. We all love to wear the berry tones during the colder seasons, but for spring I love to get out a really bright red shade. My favorite lipstick (in general as well by the way), is the Givenchy Rouge Interdit Lipstick in 13, the texture is so creamy and lovely to wear and it's moisturizing as well.
Who likes to bring even more attention to the lips, well the MAC Versicolour Stain in Resilient Rouge is made for you. This Lipstain is slightly glossy and lasts for a very long time.
3. Perfect Nudes
A category we all love, so it's perfect that L'oréal came out with a lot of new matte nude lipsticks. My favorite is L'Oréal Paris Color Riche Matte in 633 Moka Chic, a not drying texture in a perfect nude.
And yep, see another Givenchy Rouge Interdit Lipstick in 6 Rose Nocturne, they're just beyond good and feel like a lip balm, but with a great color payoff. This shade is also always in my handbag.
4. Add some Color
Sometimes I really love to wear a bright color on my lips, because it can add the perfect something to an outfit. If you want to be really on trend, give a purple lipstick a go. I know it can be quite terrifying, but the Sleek Semi Matte Lipstick in Steal the Limelight is actually a really wearable color.
My favorite bright lipstick color is definitely orange, since it's a perfect addition to some of my Rock'n'Roll inspired outfits. The Guerlain La petite Robe Noire Lip Color in 043 Sun-Glasses isn't a full on lipstick color, it's quite sheer and super easy to wear (no lipliner needed).
5. Special Forces
Talking about lipliner, I think it's quite annoying to always buy new matching lipliners for your lipstick, so the Givenchy Lip Liner in Transparent is quite genius, because you can use it with all of your lipsticks.
Another big Make-up trend of the season are Ombre Lips and with the Catrice Ombré Two Tone Lipstick in '020 Nude York City Style' you can achieve this look with only one product and the effect is just stunning.
What are your favorite lipsticks?