… it's just the perfect location for some really urban vibes.
Scarf: Zara (here | here)
Dress : Zara (here | here)
Shoes : Zara (here | here)
Blazer : Free People (here | here)
Sunglasses : Ray Ban (here | budget version)
The first words when we arrived in the streets of New York's district SoHo: 'we're definitely coming back tomorrow to shoot some more photos'. Because right besides China Town is my new favorite place on earth, SoHo (from South of Housten Street), a city district of New York, located Downtown Manhattan. Probably because all the messy cobbles reminded me of my hometown Cologne. Well that's the only resemblance, because with all the old and industrial looking buildings it's just the perfect location for some really urban vibes.
SoHo is also the perfect location for some shopping, because you can find everything here, big Vintage Shops, smaller boutiques and of course the classic Fashion stores. And the best part, you see the best streetstyle inspirations everywhere, because everyone is dressed so unique. On another note, we just had the best pizza of our lifes in SoHo, but I'm going to tell you everything about it in my New York Food post.
---
Die ersten Worte die wir wohl beide fast gleichzeitig ausgesprochen haben, als wir in den Straßen von SoHo angekommen sind: 'wir kommen auf jeden Fall morgen wieder, um mehr Fotos zu machen'. Denn direkt neben China Town liegt wohl der in meinen Augen schönste (urbane) Ort auf Erden, SoHo (von South of Housten Street), ein in Downtown Manhattan gelegener Stadtteil von New York. Wahrscheinlich weil es mich durch die 'wilden' Kopfsteinplasterstraßen an mein geliebtes Köln erinnert. Das ist aber auch leider schon die einzige Ähnlichkeit, denn mit all den alten und industriellen Gebäuden herrscht eine wunderschöne urbane Atmosphäre.
SoHo ist zudem der perfekte Ort zum Shoppen, von großen Vintage Shops, kleineren Boutiquen bis hin zu den klassischen Modeketten (ebenfalls verpackt in wunderschöne Gebäude) ist hier alles zu finden. Und Streetstyle Inspirationen finden sich hier an jeder Ecke. Und ganz nebenbei hatten wir auch noch die beste Pizza unseres Lebens in SoHo, aber darüber werde ich dann in meinem New York Food Post berichten.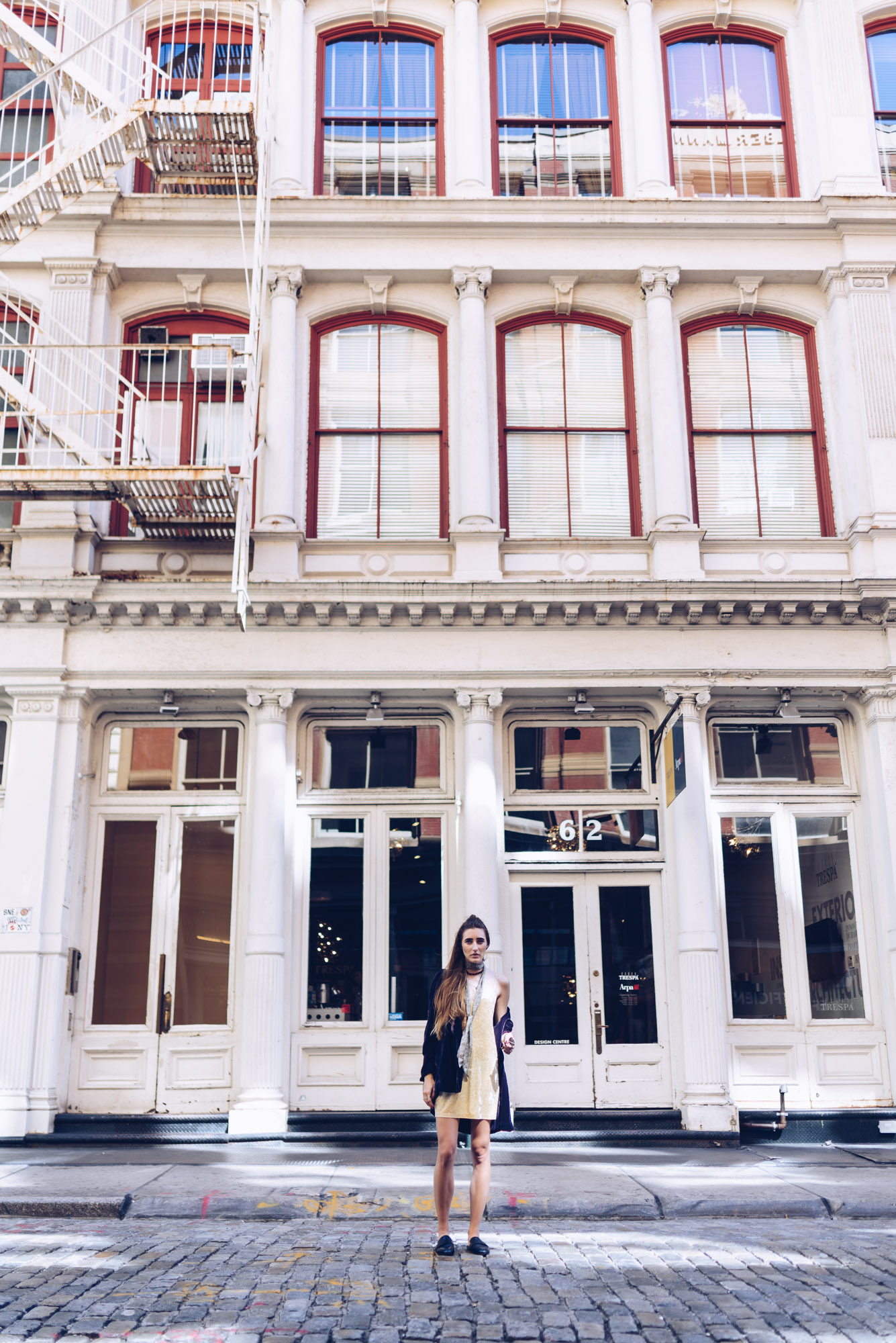 SHOP MY LOOK
Scarf: Zara (here | here)
Dress : Zara (here | here)
Shoes : Zara (here | here)
Blazer : Free People (here | here)
Sunglasses : Ray Ban (here | budget version)