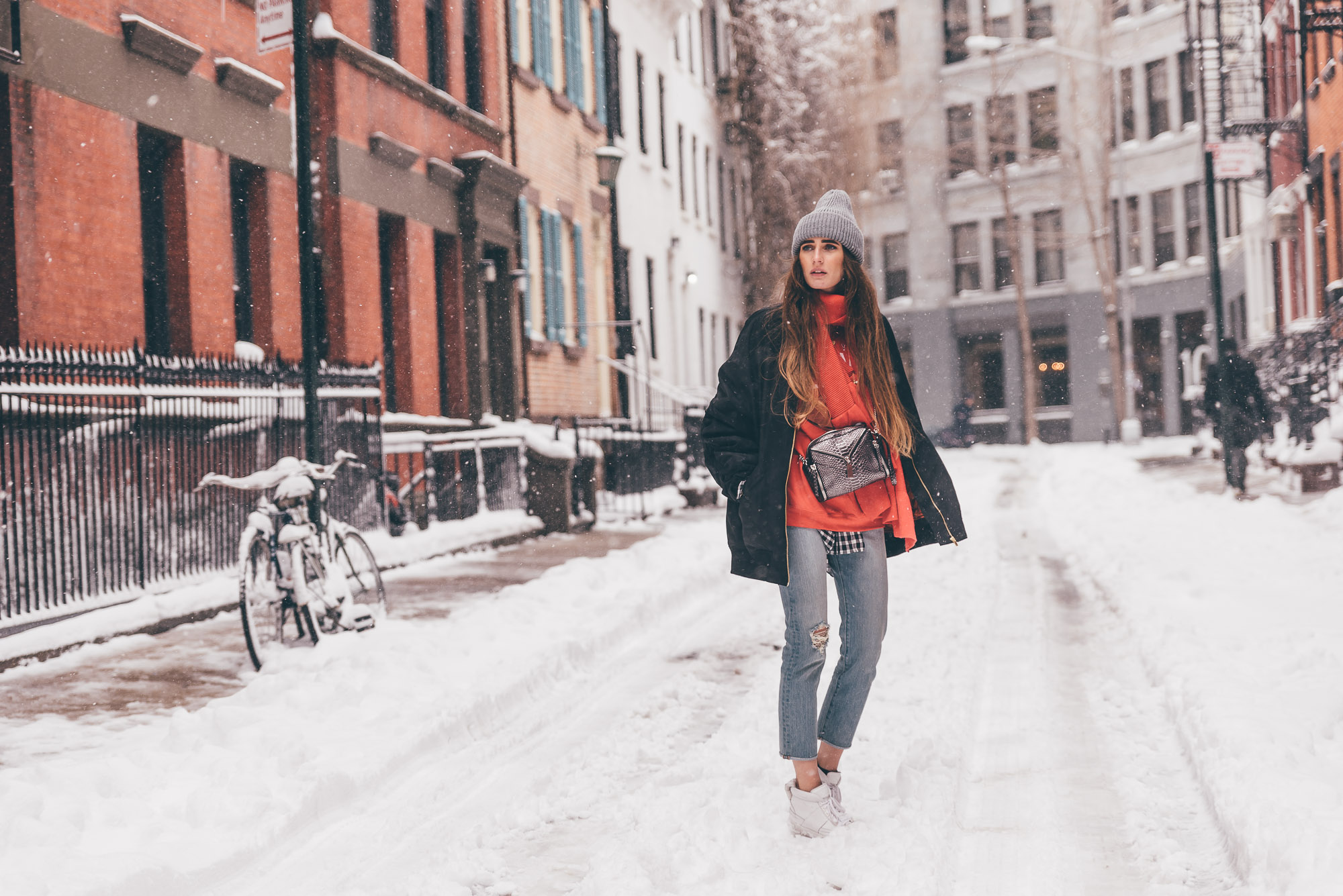 Hat : H&M (here | here)
Bag : Diesel (here | here)
Scarf : Zara (here | here)
Shoes : OXS (here | here)
Jeans : Levi's (here | here)
Jacket : H&M (here | here)
Well it looks like we always get extreme weather when we're in New York. Last September was one of the hottest months of all time (35 degrees in a city like New York are tough) and now we landed with the warning of an extreme snow storm. When we landed it was 17 degrees and sunshine, so no chance we trusted the Taxi driver when he said it's going to be pure madness the next day. Well he was right…
Since we're from a part of Germany where it snows a lot we're used to cold weather conditions, but this New York snow storm was another level. Nevertehless I have to say, I was excited like a little kid, because I think snow in New York is so magical, this city is just beautiful no matter what. Even when everything is closed and you can't see what's half a meter in front of you, because it's snowing so hard. I don't care, New York is pure magic, no matter what.
---
Es sieht wohl ganz danach aus, als würden extreme Wettersituationen unsere persönliche New York Tradition werden. Letzten September erwischten wir den heißesten Monat seit Jahrzehnten (35 Grad in einer Stadt wie New York sind ein Zuckerschlecken) und diesen Februar sind wir direkt nach der Landung vor einem extremen Schneesturm gewarnt worden. Da wir bei 17 Grad und Sonnenschein angekommen sind, schenkten wir der Warnung des Taxifahrers erstmal nur wenig Beachtung.
Naja gut möglich das er Recht hatte…
Obwohl wir aus der Eifel kommen und an Schnee und kalte Witterungen mehr als gewöhnt sind, dieser Schneesturm war eine andere Hausnummer. Aber ich muss gestehen, ich habe mich richtig darüber gefreut, denn New York im Schnee hat doch auch irgendwie etwas magisches, diese Stadt ist einfach immer atemberaubend. Und so hatten wir, obwohl alles geschlossen war und man die Hand vor Augen nicht sehen konnte, weil es so stark schneite und stürmte einen einfach unvergesslichen Tag. Denn ganz egal was ist, New York ist einfach pure Magie. Ganz besonders wenn man wunderschöne Straßen wie die Gay Street entdeckt.
SHOP MY LOOK
Hat : H&M (here | here)
Bag : Diesel (here | here)*
Scarf : Zara (here | here)
Shoes : OXS (here | here)*
Jeans : Levi's (here | here)
Jacket : H&M (here | here)
*die gekennzeichneten Produkte wurden mir von den Unternehmen zur Verfügung gestellt