1 | PERFECT SKIN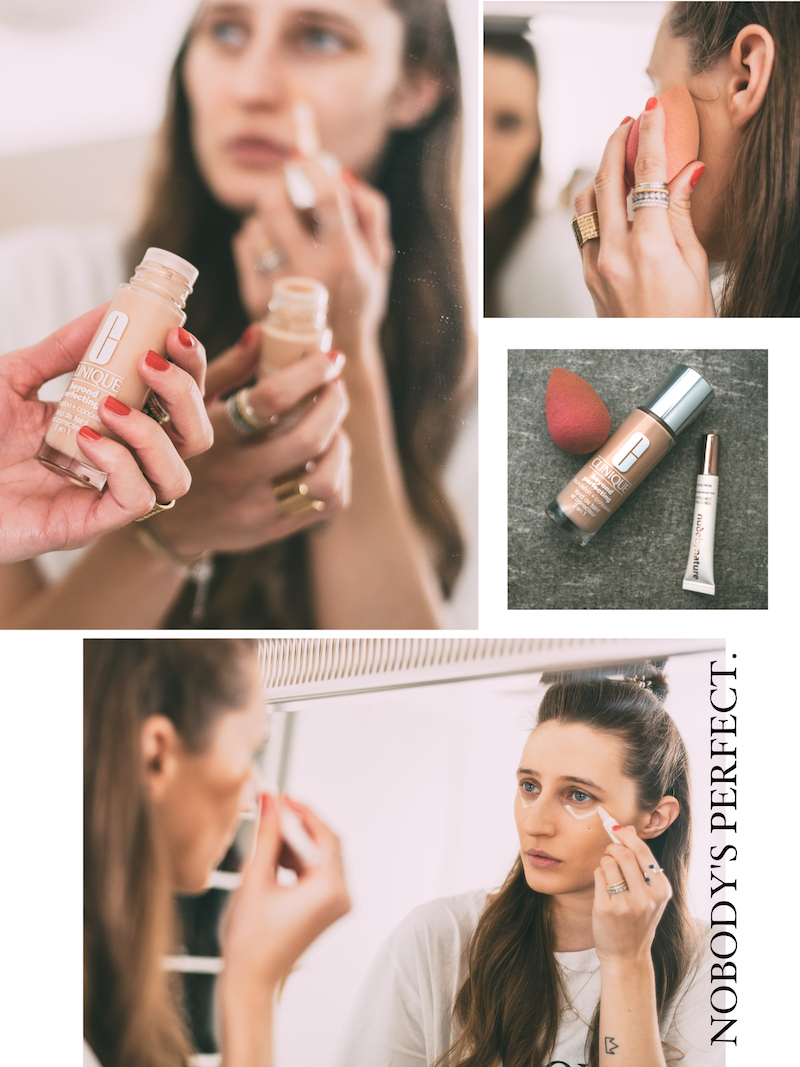 First of all, my skin isn't perfect at all in the moment, so I'm using a really high coverage foundation and trust me, the Clinique Beyond Perfecting Foundation is the bomb. Under my eyes I used the Perfecting Concealer (so much perfecting stuff) by Nude by Nature and I'm really impressed with the flawless finish.
Um eins klarzustellen, meine Haut ist alles andere als perfekt im Moment, deswegen benutze ich dieses mal eine Foundation mit hoher Deckkraft und glaub mir, die Clinique Beyond Perfecting Foundation ist da der Heilige Gral. Um dunkle Augenringe abzudecken benutze ich momentan sehr gerne den Perfecting Concealer (hier wird echt alles perfektioniert) von Nude by Nature, von dem ich schon seit einiger Zeit mehr als beeindruckt bin.
2 | THE BROWS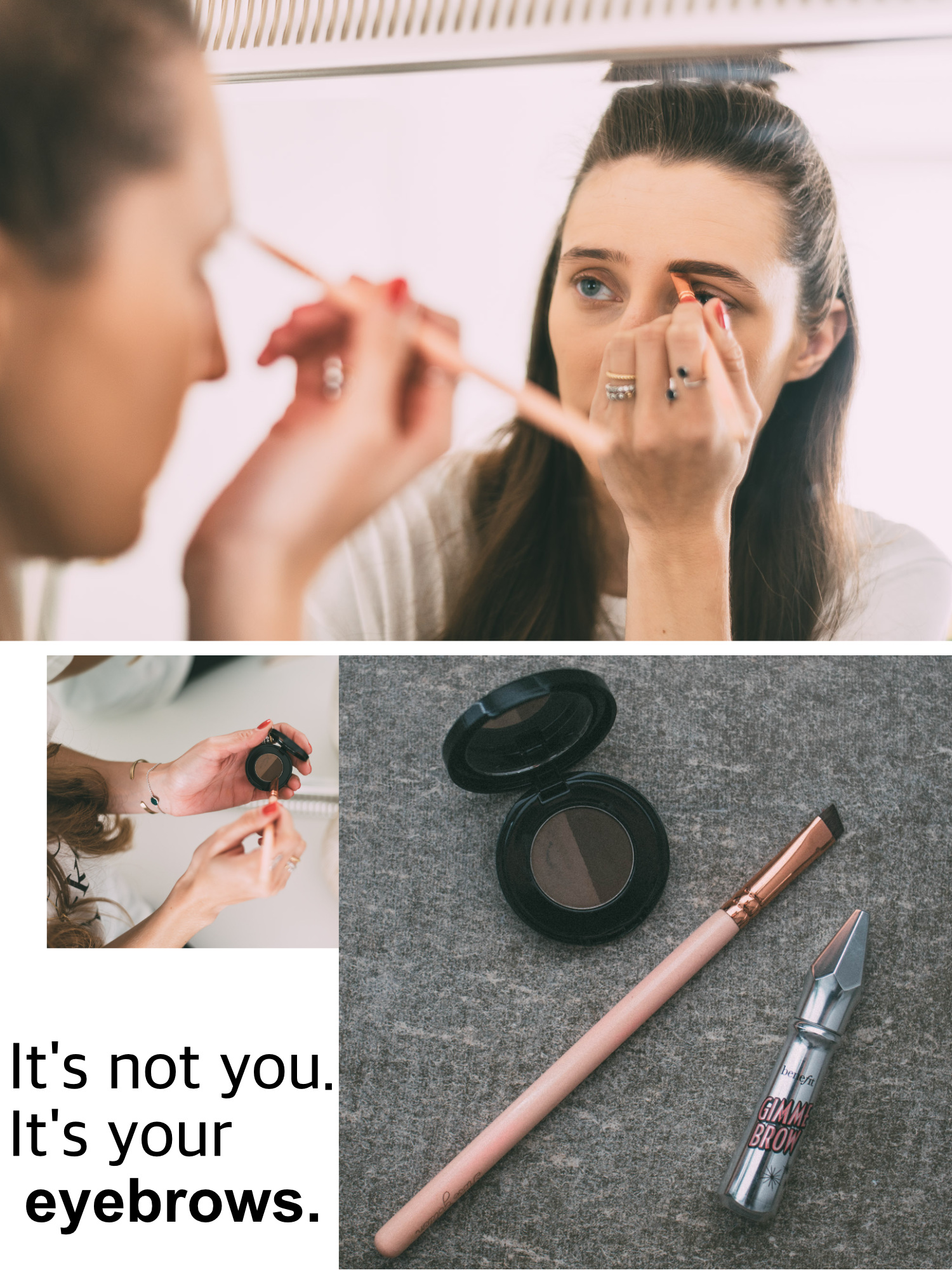 For me the most important part, since I'm obsessed with dark and bold brows. And you asked me so many time what I use on my brows, so here we go: I fill in my brows with the Anastasia Brow Powder in Dark Brown (I mix both colors) and fix this with the Benefit Gimme Brow Gel (obsessed with this).
Für mich definitiv der wichtigste Teil eines Make-up Looks, denn ich bin bekennend süchtig nach dunklen und vollen Brauen. Und da ich so oft danach gefragt werde was ich benutze, hier habt ihr es: I fülle meine Augenbrauen mit dem Anastasia Brow Powder in Dark Brown aus (ich mische beide Töne) und fixiere dies mit dem Benefit Gimme Brow Gel (ihr könnt mir alles nehmen, nur nicht diese beiden Produkte :D).
3 | EYESHADOW (ACTUALLY THREE SHADES)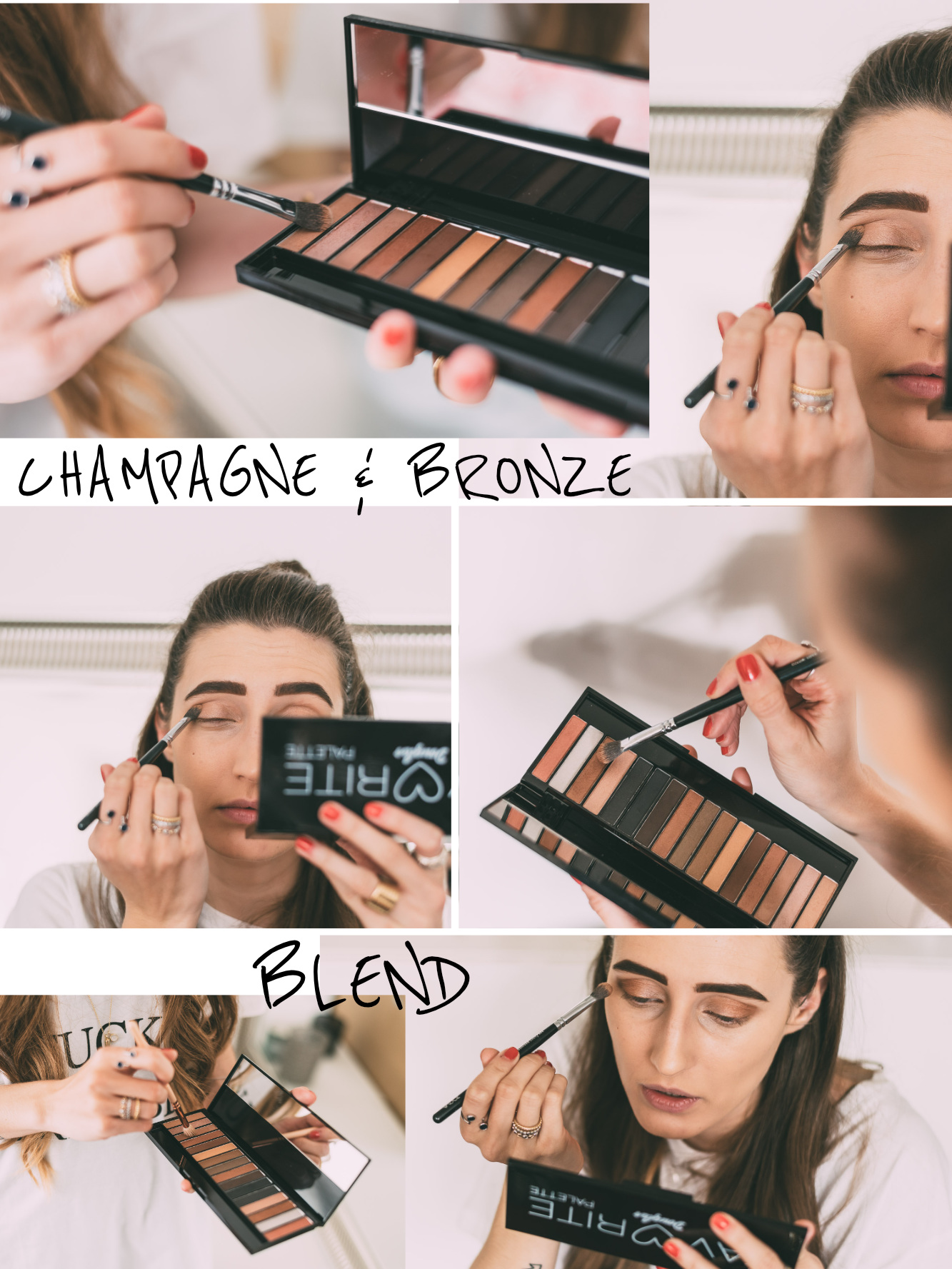 I think for a perfect smokey eye you need three different eyeshadows, by the way, I'm never using black, I prefer natural brown shades. A light shimmery shade all over the lid as a base, a shimmery bronze shade in the outer corner and a matte brown to blend everything together and to accentuate the crease. I'm really impressed with the Douglas Nude Eyeshadowpalette, the color pay off is really amazing.
Für die perfekten Smokey Eyes benötigt man meiner Meinung nach drei verschiedene Lidschatten, übrigens, ich benutze nie schwarz sondern bevorzuge natürliche Brauntöne. Ein heller schimmernder Ton als Base auf dem kompletten Lid, ein schimmernder Bronzeton im äußeren Augenwinkel und ein matter Braunton um alles zu verblenden und dem Auge Tiefe zu verleihen. Die Douglas Nude Lidschattenpalette hat mich übrigens sehr beeindruckt, kein Ton glitzert sondern schimmert und die Deckkraft ist perfekt.
4 | THE DARK SIDE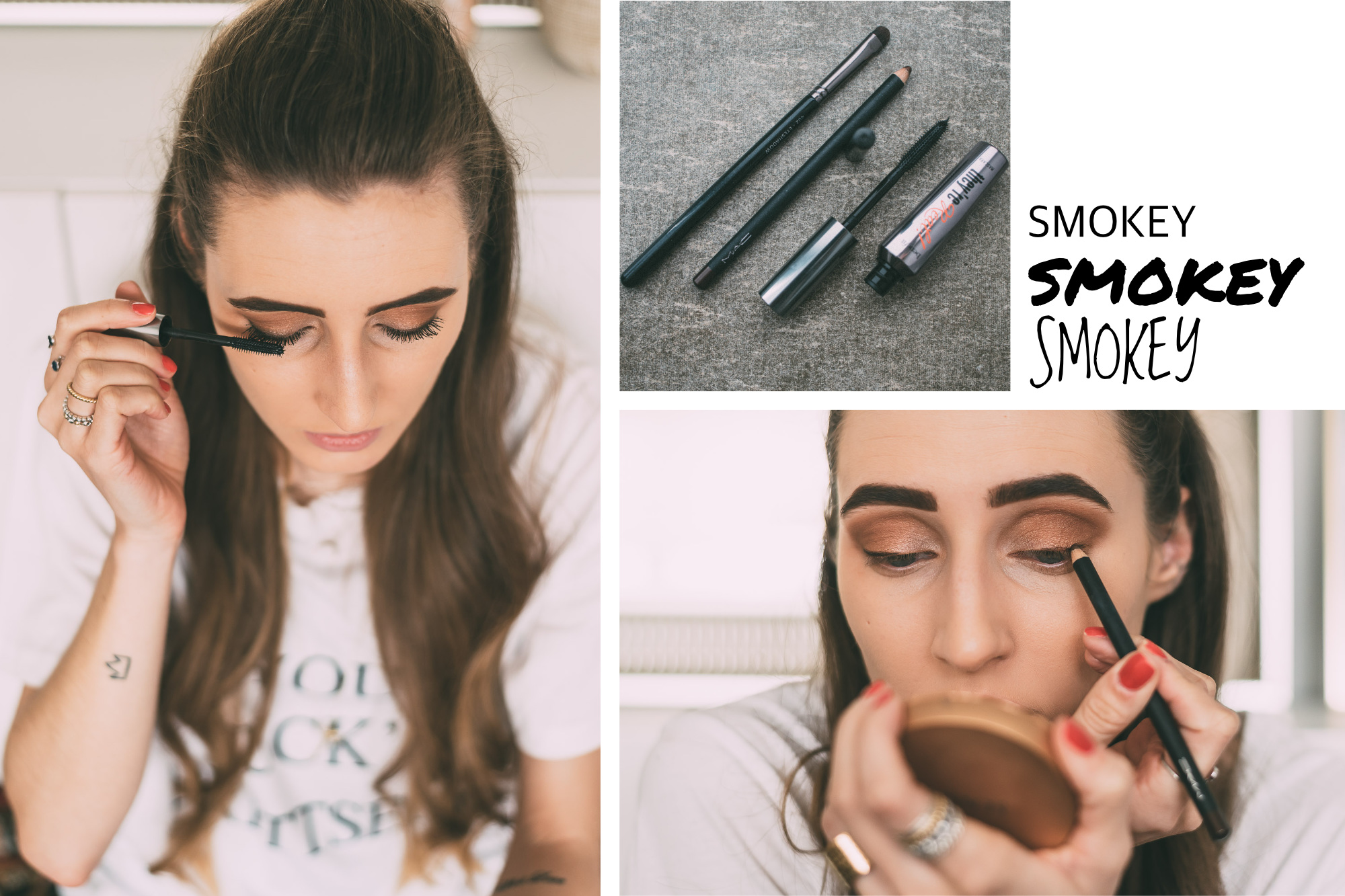 Now to the smokey part, I prefer using Eye Kohls as Eyeliner, because you can really smudge them in and create a smokey look (also apply it on the waterline). The brown/bronzy Mac Teddy liner is also a perfect match for every eye color. Finish off the look with tons of Benefit They're Real mascara (at least two layers).
Jetzt zum 'Smokey-Teil', ich bevorzuge hier Kajalstifte als Eyeliner, denn diese kann man perfekt in den Wimpernkranz verblenden und so einen smokey Look kreieren (Kajal auf der Wasserlinie nicht vergessen!). Der Bronzeton des Mac Teddy Kajals betont zudem perfekt jede Augenfarbe. Den Look dann mit tonnenweise Benefit They're Real Mascara vollenden (also mindestens zwei Schichten).
5 | CONTOUR, HIGHLIGHT & POP OF COLOR

One step I also never skip is using my beloved Benefit Hoola Bronzer to contour my cheekbones and temples. After that I use the Mac Blush in Warm Soul to give my face a fresh look (I really like the healthy glow this product gives). The finish touch is some Mary-Lou Manizer Highlighter (perfect dupe to Mac Soft & Gentle) on any high points of my face.
Ein weiterer Schritt den ich nie auslasse: mit meinem geliebten Benefit Hoola Bronzer meine Wangenknochen und Schläfen konturieren. Danach benutze ich den Mac Blush in Warm Soul um meinen Gesicht einen frischen Look zu verleihen (der Blush sorgt für einen sehr natürlichen Glow). Als letztes benutze ich dann den Mary-Lou Manizer Highlighter (übrigens der perfekte Ersatz für Mac Soft & Gentle) auf Stirn, Nasenrücken und Wangenknochen.
6 | LIPS & FINAL TOUCH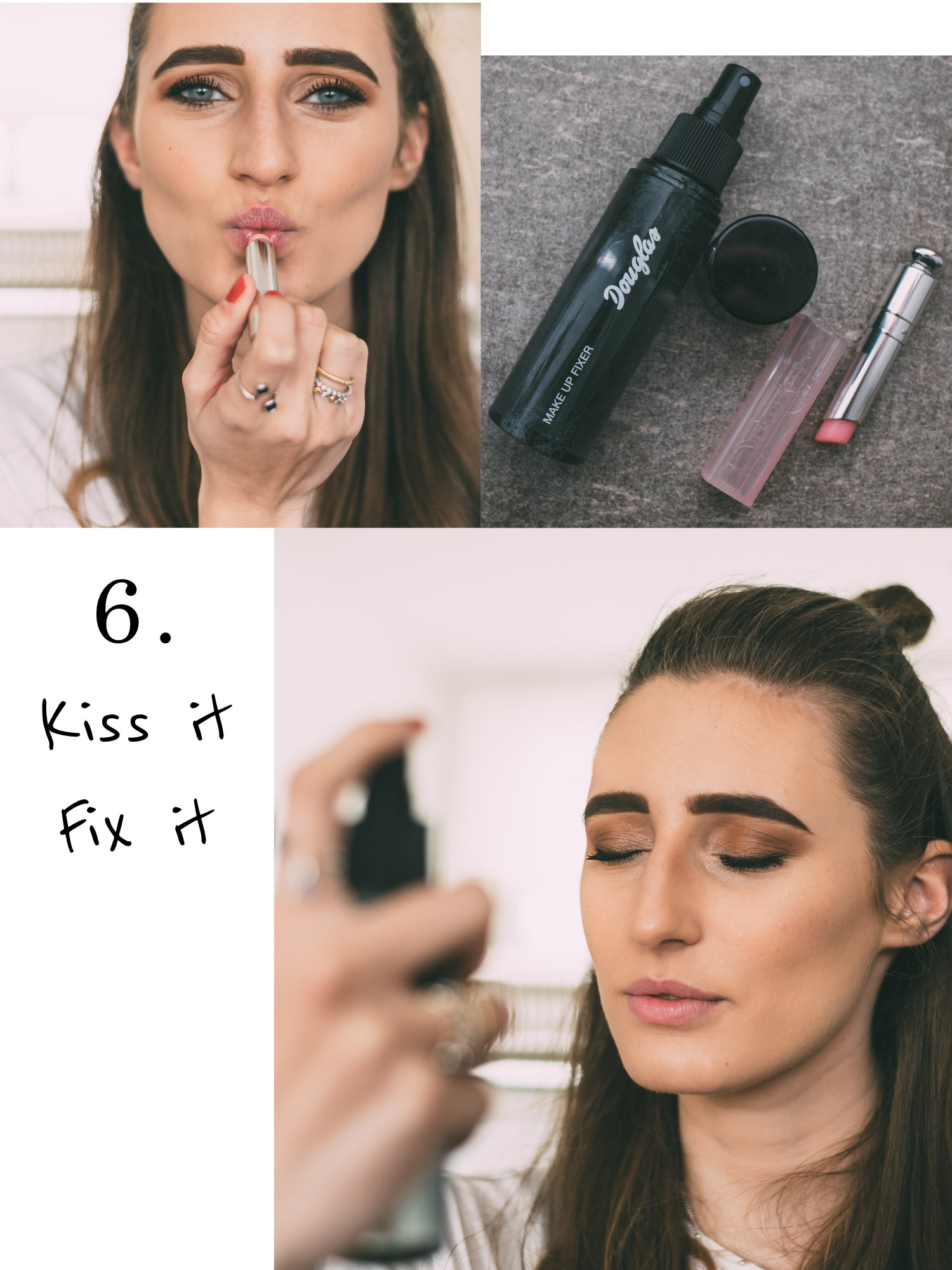 Since the eyes are the Highlight of this look I'm going very natural on the lips with the Dior Addict Lip Glow, it just gives your lips a natural color. To set my Make-up in place I spray some Douglas Fixer Spray all over my face (so satisfying).
Da bei diesem Look die Augen im Vordergrund stehen, bevorzuge ich für die Lippen etwas natürliches wie den Dior Addict Lip Glow, der den Lippen einen rosigen Schimmer verleiht. Um mein Make-up über Stunden hinweg zu fixieren, sprühe ich das Douglas Fixer Spray über mein ganzes Gesicht and that's it 🙂

WHAT I USED
CLINIQUE Beyond Perfecting Foundation
NUDE BY NATURE Perfecting Concealer
ANASTASIA Brow Powder Duo in Dark Brown
BENEFIT Gimme Brow Gel
DOUGLAS My Favorite Palette in Nude
MAC Eye Kohl in Teddy
BENEFIT They're Real Mascara
BENEFIT Hoola Bronzer
MAC Mineralize Blush in Warm Soul
THE BALM Mary-Lou Manizer Highlighter
DIOR Addict Lip Glow in 001 Pink
DOUGLAS Make-up Fixer Spray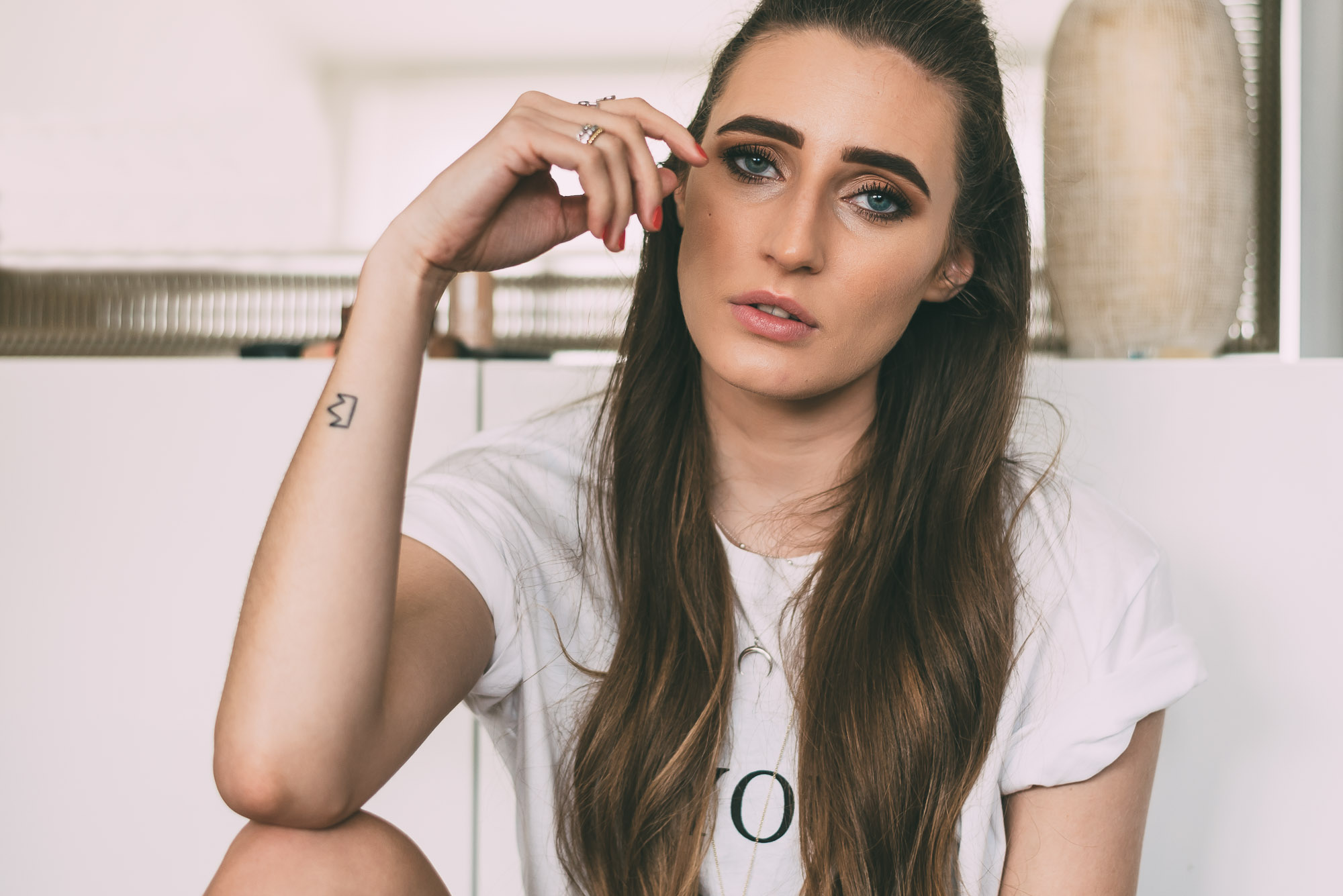 | IN COLLABORATION WITH DOUGLAS |