Poi Lei Red Boots & Cape Weather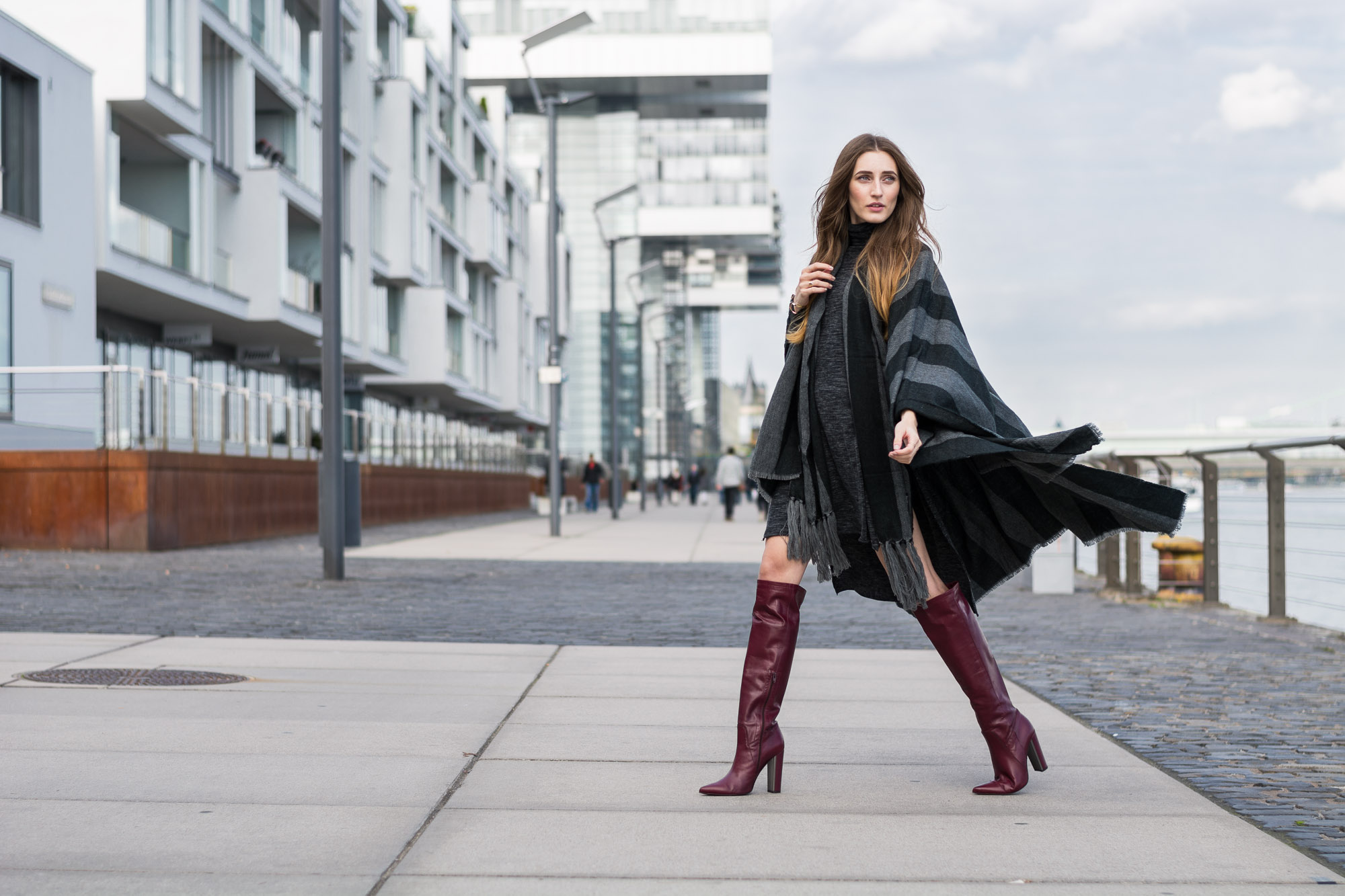 Boots : Poi Lei (here | here)
Cape : Bershka (here | here)
Dress : Zara (here | here)
Bag : Rebecca Minkoff (here)
Good morning my loves, sorry for the lack of updates, but my bachelor thesis is stressing me out. But hey less than two month and everything is done and I'm finally able to blog as much as I want to (and celebrate christmas as much as I want to). Luckily we love a little break between all the madness, so we are able to shoot outfits for you.
As much as I love summer, I love the time of the year where you're able to layer as much clothes as possible. Especially when you want to avoid wearing tights, I just hate them so much (tall girl problems). High boots are always a good option for me and overknee boots are huge this season (ok probably every fall season). New this season, boots that end right bellow your knees and I love the look of them, especially when you get them in a bright color or print. They add a really 70s but also chic vibe to your looks. I found mine at Poi Lei (here), you can get them in other colors as well, but I decided that definitely have to much black shoes.
I combined it with a knit dress from Zara, which I will definitely buy in all the other 'colors' as well. Luckily this cape from Bershka was in my mail this day and it was the perfect addition to this look. I was looking for a really oversized cape for a long time now, because in my opinion capes need to look like you're wrapped in your blanket 😉
---
Guten Morgen meine Lieben, sorry für die wenigen Posts in letzter Zeit, aber meine Bachelorarbeit zerrt so ziemlich an meinen Nerven. Aber ok weniger als zwei Monate noch und ich kann endlich so viel bloggen wie ich es auch gerne würde und ganz wichtig ganz entspannt Weihnachten feiern. Glücklicherweise sind wir froh um unsere kleine Pausen in denen wir mal raus flüchten können um Fotos zu machen (und um meinem Gesicht das Make-up nicht ganz abzugewöhnen), deswegen gibt es auch heute einen neuen Look für euch.
Obwohl ich ja durch und durch ein Sommer Mensch bin, liebe ich die Jahreszeit, an der man so viele Kleidungsschichten wie nur möglich tragen kann. Das spielt mir vor allem in die Karten wenn ich nervige Strumpfhosen verhindern kann, denn die sind für mich persönlich ein Teufelswerk (die großen Ladies werden verstehen was ich meine). Aus diesem Grund kommt es mir auch ganz gelegen, dass auch diese Saison Overknee Boots ganz groß geschrieben werden. Aber nicht nur Overknee Boots, sonder vor allem Stiefel die gerade so unter dem Knie enden sind diesen Herbst/Winter nicht wegzudenken. Nach anfänglichen Zweifeln bin auch ich ein großer Fan geworden, denn diesen 70's Vibe muss man einfach lieben. Meine weinroten Schönheiten habe ich bei Poi Lei entdeckt (hier), dort gibt es sie auch noch in vielen anderen Farben, jedoch gewinnt die schwarze Schuhecke in meinem Regal(en) langsam die Überhand.
Während meines letzten Streifzuges durch den Zara meiner Wahl bin ich außerdem auf dieses Strickkleid gestoßen, welches ich mir auch definitiv noch in anderen Farben zulegen werde, denn dieses Kleid ist ein wahres Layering-Wunder. Passender Weise kam an diesem Tag auch dieses Cape von Bershka an (übrigens eins super Schnäppchen), denn daran kommt man diese Saison ja auch mal wieder nicht vorbei. Meiner Meinung nach müssen Capes auch so richtig schön oversized sein, mit richtigem 'Decken-Status' sozusagen, weil alles andere sieht ganz schnell nennen wir es jämmerlich aus 😀
Boots : Poi Lei (here | here)*
Cape : Bershka (here | here)*
Dress : Zara (here | here)
Bag : Rebecca Minkoff (here)
* diese Produkte wurden mir von den Unternehmen zur freien Verfügung gestellt