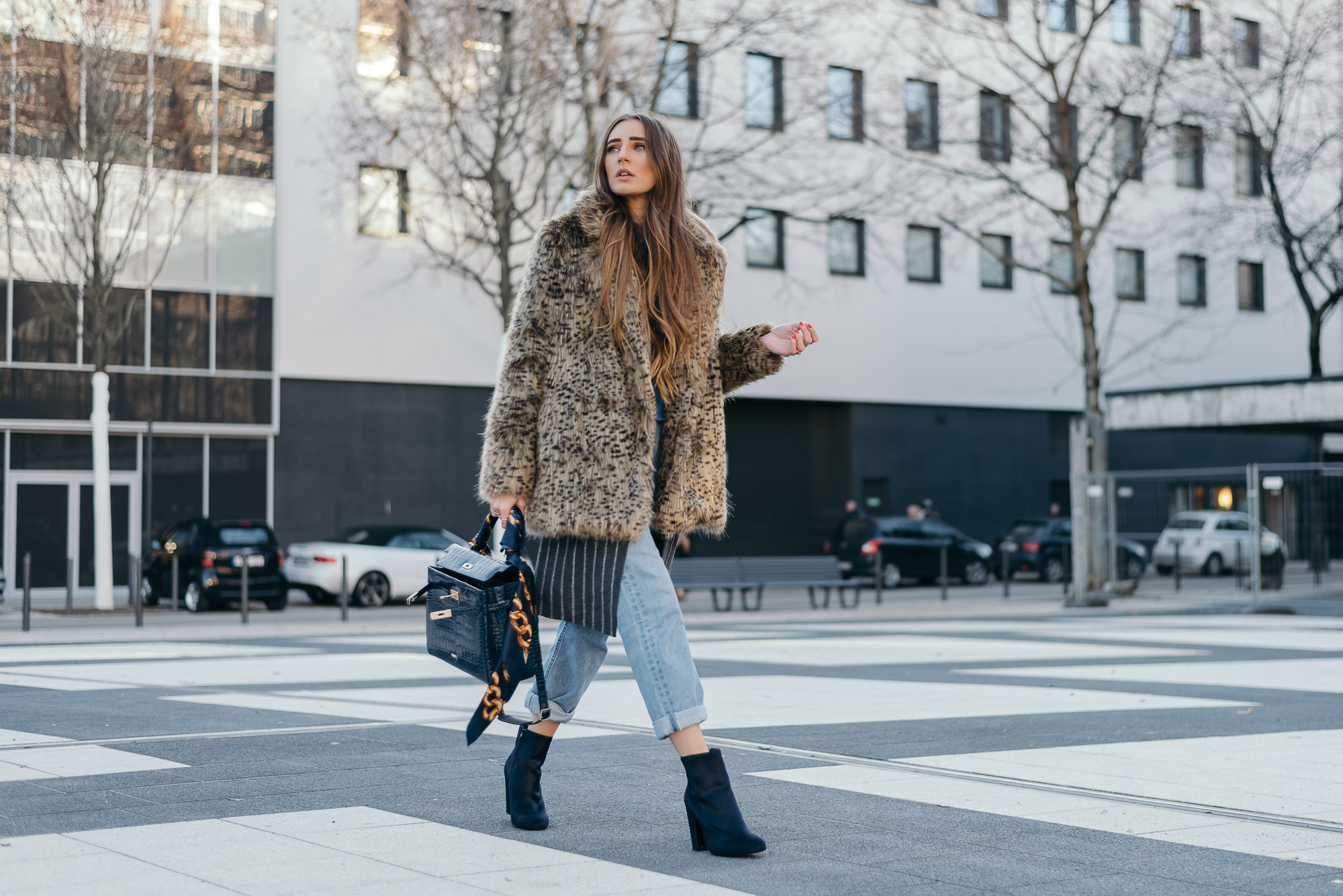 Bag : Picard (here)
Jeans : Vintage (here | here)
Coat : Noisy may (here | here)
T-Shirt : Vintage (here | here)
Shoes : Vic Matie (here | here)
Faux Fur Coat : Mango (here | here)
Finding the right outfit is currently a real struggle, since it's freezing outside and I'm super busy at the moment, so the key to the perfect look is suitability for daily use. Layering is always the answer to degrees below zero, and why not wear two coats at the same time. Which is actually pretty easy when you're like me and buy everything at least three sizes too big.
By the way, these loose Levi's Jeans are my current favorite Vintage find, since they're super comfortable. The problem is, all the layering and oversized pieces are not really good when it comes to form-fitting looks, so just add some high heeled booties to add a feminine touch. Talking about daily use, my new Picard bag ist just perfect for busy work days, lot of space and still chic. And yes, I always have to add something to my bag, in this case a vintage Chanel scarf.
---
Momentan stellt die 'Outfitfindung' eine größere Aufgabenstellung dar, denn draußen hat es unangenehme Minusgrade und ich habe so viel zu tun, dass der Schlüssel zum perfekten Outfit in der Alltagstauglichkeit liegt. Gegen eisige Temperaturen hilft nur das allseits bekannte Layering. Im Bereich unter null Grad, einfach zwei Mäntel übereinander tragen, was ehrlich gesagt ziemlich problemlos ist, wenn man wie ich alles grundsätzlich mindestens drei Nummern zu groß kauft.
Die locker geschnittene Levi's Jeans ist übrigens mein momentaner Lieblings-Vintagefund, denn hier zwickt nichts und um den doch nicht sonderlich figurbetonten Look eine feminine Note zu verleihen sind hohe Stiefeletten immer ein guter Ansatz. Übrigens Stichwort Alltagstauglichkeit, mein Taschen-Zuwachs von Picard ist der perfekte Begleiter durch den Arbeitstag, denn viel Platz und trotzdem schick. Und ja, ich habe den Drang grundsätzlich jede Handtasche mit Tüchern und Accessoires einen individuellen Look zu verleihen.
SHOP MY LOOK
Bag : Picard (here)*
Jeans : Vintage (here | here)
Coat : Noisy may (here | here)*
T-Shirt : Vintage (here | here)
Shoes : Vic Matie (here | here)*
Faux Fur Coat : Mango (here | here)
*die gekennzeichneten Artikel wurden mir von den Unternehmen zur Verfügung gestellt
| IN COLLABORATION WITH PICARD |