Hey guys, since I get so many questions about my hair, I decided to do some blogpost about it. Today I want to start with all the products I use to take care of my hair. I'm also trying the new Redken Extreme Length hair care line, that is supposed to make your hair grow faster and way more healthier.  I just used it a couple of times, so I can't say anything about my hair growth, but it already made my hair super shiny.
Hey ihr Liebe, da ich immer super viele Fragen rund um meine Haare bekomme, habe ich beschlossen einige Blogposts und Videos rund um meine Haare zu veröffentlichen. Heute fange ich mit den Produkten an, die ich benutze um meine Haare zu pflegen (alles rund ums Styling folgt dann auch ganz bald, ich weiß ihr brennt darauf :D). Außerdem probiere ich seit einigen Tagen die neue Redken Extreme Length Serie, die dabei helfen soll, dass die Haare schneller und vor allem gesünder wachsen. Ich kann natürlich noch nichts über die Wirkung sagen, aber meine Haare sind auf jeden Fall schon kraftvoller und vor allem glänzender geworden sind.
Meinen Youtube-Kanal könnt ihr hier abonnieren.
1. Shampoo

Redken | All Soft Shampoo | here
Redken | Extreme Length Shampoo | here
2. Conditioner
After I washed my hair I apply 3 pumps of the 'Extreme Length Primer' into my hair, one in my ends, one in my lengths and one I massage into my scalp. I clip my hair away and let it sink in around five minutes (in the meantime I wash my face, body etc.). After that I wash it out and lord my hair never felt that good, you can instantly feel how your hair changed a bit, especially I noticed that my hair looks much more healthier and shinier.

Redken | Extreme Length Primer
3. Sprays

John Frieda | Tägliche Wunderkur | here

L'oréal Paris | Ever Rich Veredelndes Elixier
4. Special Care
Step 3 of the Redken Extreme Length series is the 'Extreme Length Sealer', that you put into your ends to seal your hair and to avoid split ends. You can brush it into your ends, but I'm lazy so I squeeze a bit into my hands and rub it in gently. It already made my hair feel very smooth.
Because my hair is really dry and my ends need some extra moisture, I apply 2-3 pumps of the L'oreal Professionell Mythic Oil into my ends. I almost finished the bottle and I absolutely adore this hair oil, since it's super light and you don't even notice it in your hair. Sometimes I use it in my dry hair, to finish my hairstyle and to add some extra shine.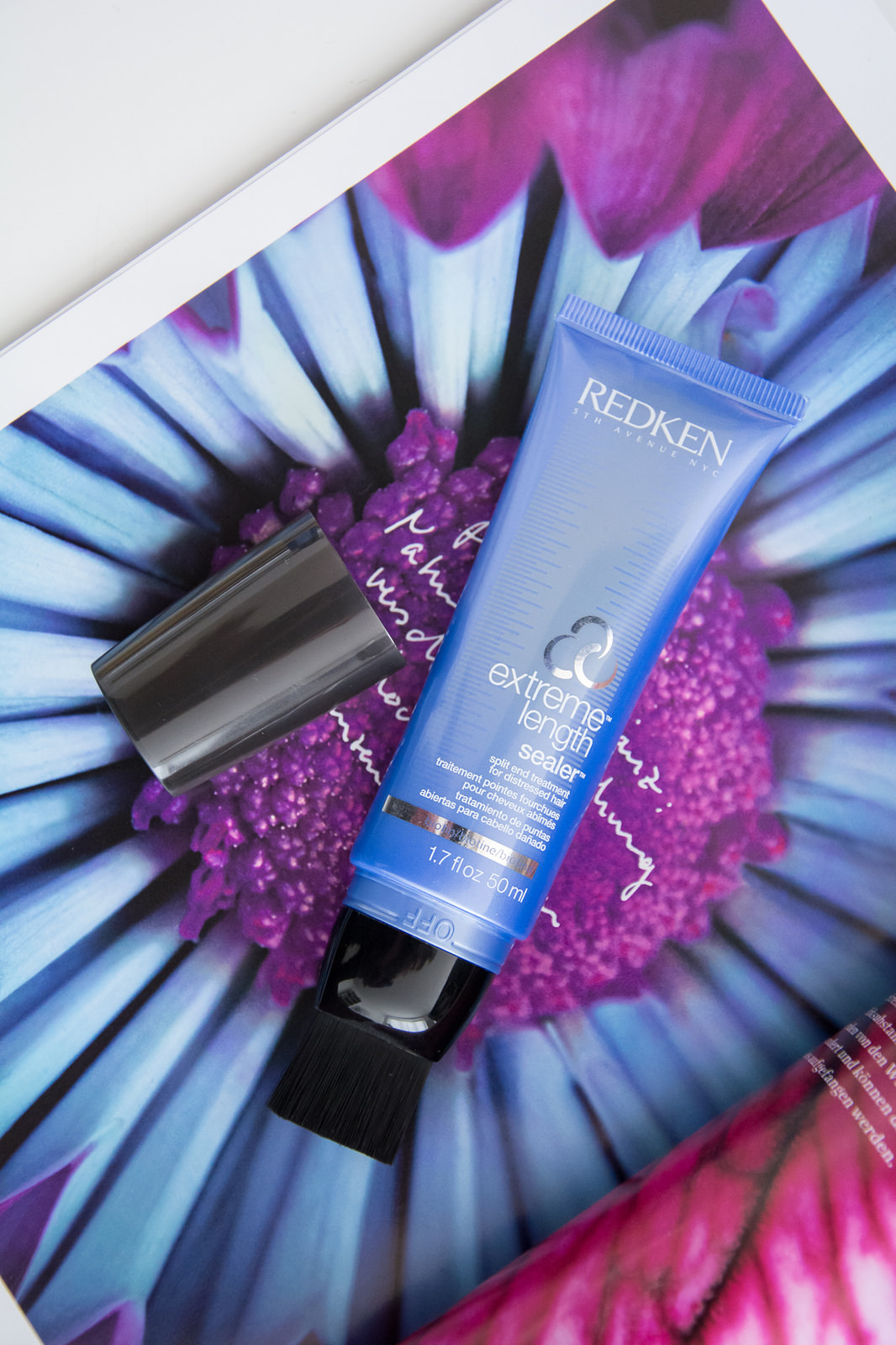 Redken | Extreme Length Sealer

L'oréal Professionell | Mythic Oil (here)
5. Heat Protection
6. The Finish
After I curled my hair (full hairstyling routine following soon), I spray some L'oréal Volume Texturizing Spray all over my hair. It gives you that messy beach look and that nice texture. The best part, you can't feel it in your hair (that's why I hate hairspray), ok and it smells good.