PAINT IT BLACK | JAKE*S VELVET SUIT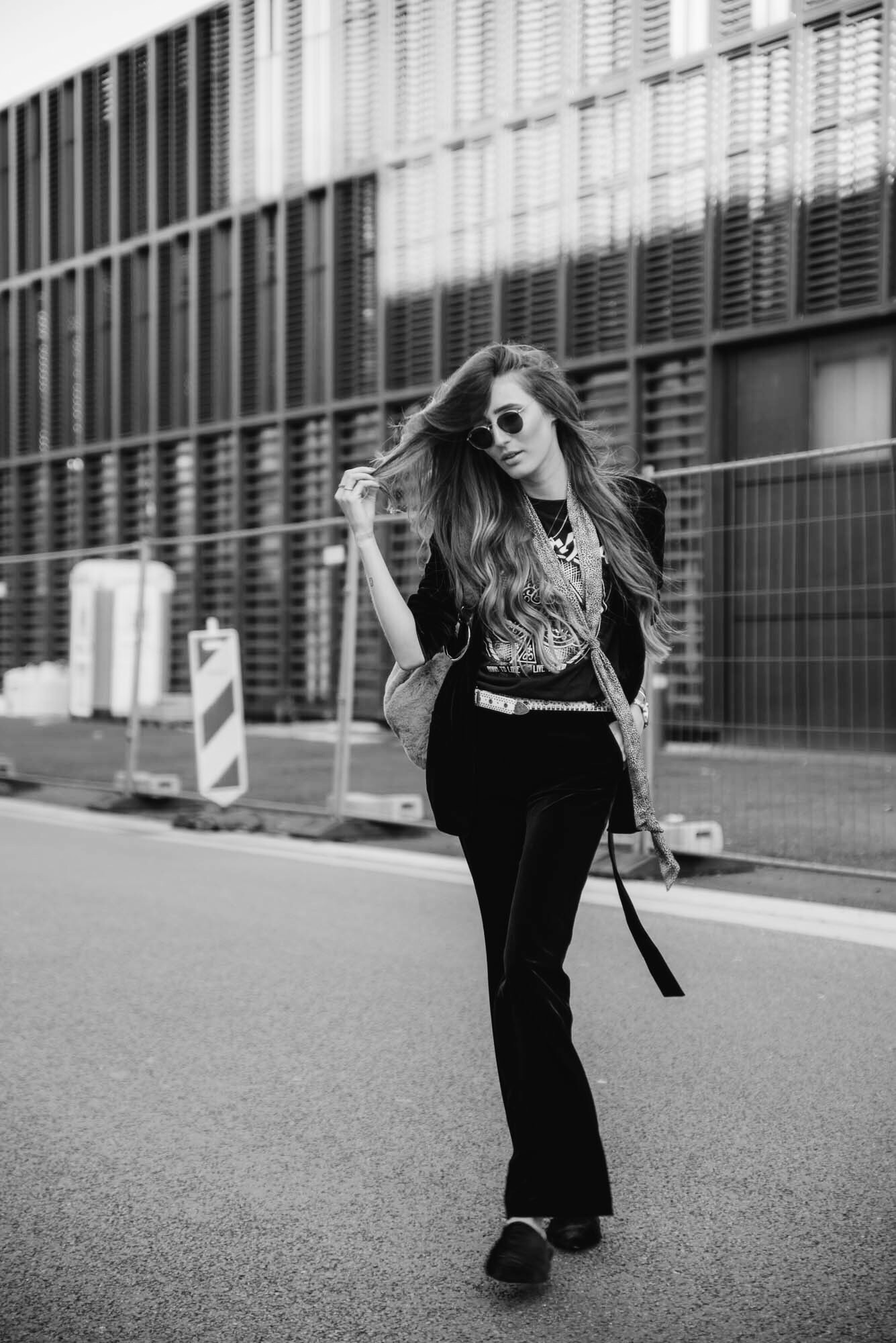 • collaboration with Jake*s | Zusammenarbeit mit Jake*s •
Pants : Jake*s Collection (here | here)
Blazer : Jake*s Collection (here | here)
Shoes : Pomme D'or (here | here)
T-Shirt : EMP (here | here)
Bag : Topshop (here | here)
So thank god, suits aren't only worn by men for a long time now, because there's probably no bigger statement you could make. And thanks again, that classic (actual meaning: stuffy) suits with crease and pinstripes belong to the past as well, because there are tons of trendy versions out there. Because of that I found the perfect modern suit at the current collection from Jake*s Collection (available in Peek & Cloppenburg stores & online) aka a wide leg pair of Marlene pants with a matching loose cut Blazer. The best part, we're talking about black Velvet! You can get the same suit in a teal color as well, just saying.
THE RIGHT STYLING
Obviously I went for the classic black version. Well forget the classic, because that is something you will probably never find in my wardrobe. Since the cut is really modern and loose (I recommend to get the Blazer some sizes bigger) and the right styling this suit is suitable (hah!) for more casual occasions as well.
And trust me, the shoes make all the difference. Try to avoid classic pumps and replace them with comfortable Mules. You immediately achieve this cool girl 'I'm just heading out to get some coffee'-Look and that's what we all want, right? And of course it wouldn't be my outfit without a Band T-Shirt, changes the complete look as well.
LET'S TRY SOMETHING NEW
Suits are such a versatile piece in your wardrobe, since the styling possibilities are endless:
» SPORTY «
with Sneakers (try Converse Chucks), Logo T-Shirt and a fun crossbody bag
» SEXY «
just a lace bra underneath, extravagant High Heels & tons of bling
» CHIC «
white Men's Button down or thin black turtleneck, classic pumps & a classic handbag
---
Anzüge sind (Gott sei Dank) schon seit vielen Jahrzehnten nicht mehr ausschließlich in männlichen Kleiderschränken anzutreffen. Denn mit nichts setzt man ein eindrucksvolleres Statement als mit einer Kombination aus Blazer und passender Hose. Zum Glück gehören klassische Hosenanzüge mit Bügelfalten und Nadelstreifen auch schon des längeren der Vergangenheit an und so lassen sich immer mehr trendige Varianten des Klassikers finden. So bin ich in der aktuellen Kollektion von Jake*s Collection (zu finden in Peek & Cloppenburg Stores & Online), auf eine weit geschnittene Marlenehose mit dazugehörigem Blazer gestoßen. Das Beste, wir sprechen hier von schwarzem Samt! In besagter Jake*s Kollektion ist das gleiche Modell auch in einem Petrol-Ton anzutreffen, just saying.
DAS RICHTIGE STYLING FÜR EINEN CASUAL LOOK
Für einen klassischeren Look habe ich mich jedoch für die schwarze Variante entschieden. Ok streicht das klassisch, denn das wäre doch etwas was man mir aufzwingen müsste. Durch den lockeren Schnitt (Tipp: Blazer einige Nummern größer nehmen) und mit dem richtigen Styling wird der Zweiteiler nämlich auch für entspanntere Anlässe tauglich.
Die Schuhe machen hier einen großen Unterschied, statt wie aus dem dem Styling-Lehrbuch Pumps einfach mal durch flache Mules austauschen. So bekommt das Ganze nämlich einen 'ich bin nur mal schnell Kaffee holen Look' und diesen mühelosen Style streben wir ja alle an, gebt es zu. Zudem wäre es nicht mein Outfit, wenn ich zu dem schwarzen Jake*s Anzug kein Band T-Shirt kombinieren würde.
LET'S TRY SOMETHING NEW
Lasst euch auf jeden Fall eins gesagt sein, nicht lässt sich vielseitiger stylen als ein Anzug, hier nur mal einige Denkanstöße:
» SPORTLICH «
Sneakers (probiert mal Converse Chucks), Logo T-Shirt & eine verspielte Cross Body Bag
» SEXY «
lediglich ein feiner Spitzen BH, extravagante High Heels & jede Menge Schmuck
» CHIC «
weißes Männerhemd (taillierte Blusen findet man eh kaum mehr) oder ein dünner schwarzer Rollkragenpullover, klassische Pumps & Handtasche in einer neutralen Farbe
SHOP THIS LOOK
Pants : Jake*s Collection (here | here)
Blazer : Jake*s Collection (here | here)
Shoes : Pomme D'or (here | here)
T-Shirt : EMP (here | here)
Bag : Topshop (here | here)
• Post contains Affiliate Links | Beitrag enthält Affiliate Links •
MerkenMerken
MerkenMerkenMerkenMerken
MerkenMerken
MerkenMerken
MerkenMerken