When you ask my about my style, I actually have no idea what to say. It's a wild mixture of everything, because that's what I like. But it's never girly, well my complete personality isn't girly, I just enjoy the rough stuff. So I decided why not starting a Styling series where I show you how I like to style and combine different clothing pieces. Since we're currently enjoying the last summer days, I thought, why not start with floral dress styling ideas.
Stay inspired. Try something new. Find your style.
Fragt mich niemals wie ich meinen Stil beschreiben soll, die Antwort wäre ausschweifend, denn es ist eine wilde Mischung aus allem was mir gefällt. Alles andere würde mein Bedürfnis nach Kreativität wohl auch nicht stillen. Was wir jedoch festhalten können, mein Stil ist nicht girly. Das ist wohl meiner Persönlichkeit geschuldet, die bis auf altertümliche deutsche Lyrik, eher auf die 'groben' Dinge des Lebens fokussiert ist.
Da man an diesen letzten Sommertagen (in unserer Wohnung fehlt momentan nur noch der Aufguss) kaum an luftigen Kleidern vorbeikommt, teile ich heute meine Stylingtricks mit euch, wie man diese auch cool und rockig in Szene setzen kann.
#1 GIVE CHUNKY SHOES A GO
It might seem like a no-go to combine a floral dress with chunky shoes like Dr. Marten Boots or Vans Sneakers. But this is exactly what you should do, clashing styles are your best friends when it comes to edgy styling.
#2 LAYERING IS KEY
This is something I do with every outfit and especially if you want to transform a girly floral dress. Just add an oversized Denim Vest or a Vintage Leather Jacket on top and you will get a complete different look. Just play around with different textures and patterns.
#3 ACCESSORIES ALL THE WAY
Again, something I do everyday, you could change the look of a basic shirt by simply adding interesting accessories. That's probably the reason why I always invest in Accessories instead of clothes. The three must-haves:
Statement Sunglasses (at the moment I really enjoy Retro inspired sunnies)
Hats (they add an instant Wow effect and well they're your best friend on bad hair days)
Bags (go for some color, instead of choosing black leather all the time)
#4 ADD A CORSETT BELT
I don't know if this is written rule, but a floral dress is always loose and never fitted (it's probably part of the vibe). Even though I'm a big fan of the oversized look, I like to make these dresses a bit sexier with wearing a corset belt. These bad boys are a huge trend for month now and when it comes to me, wear them with everything, because it's the definition of badass.
#5 MIX DIFFERENT COLORS
Something I never did, because my closet was simply filled with black clothes. But over the last years I noticed that this isn't that much fun, so I incorporated more colorful pieces into my wardrobe. When you look at my clothing rag now, well it looks like the wardrobe of a circus director. If you are like me a few years ago, simply start with adding one highlight color to your neutral looks. And if you feel like it, just mix different colors with each other. Forget about these 'you can't mix these colors' rules.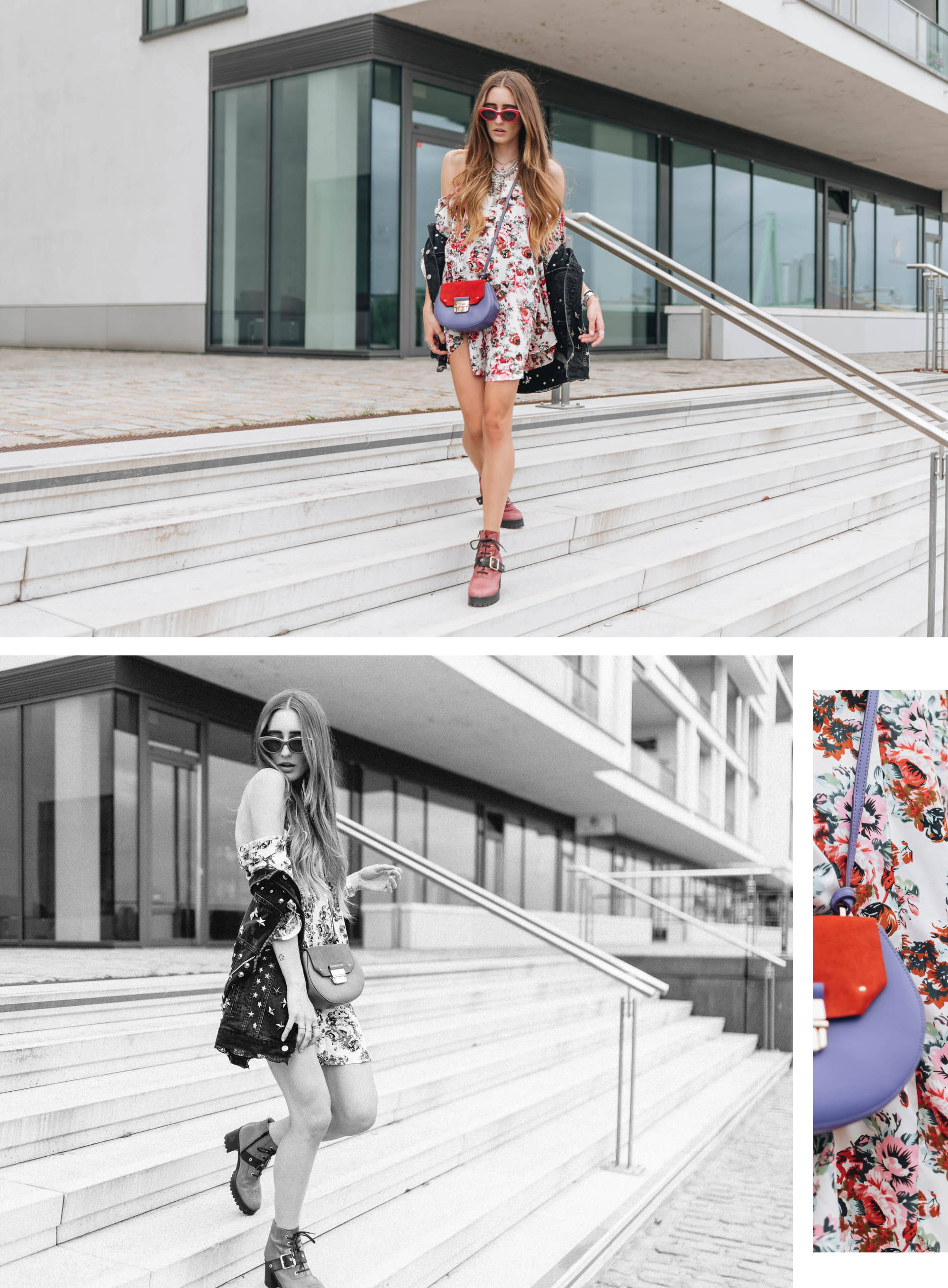 • There are Affiliate Links used in this post •
MerkenMerken
MerkenMerken
MerkenMerken
MerkenMerken