YOU'RE GOLD BABY | BUFFALO PUMPS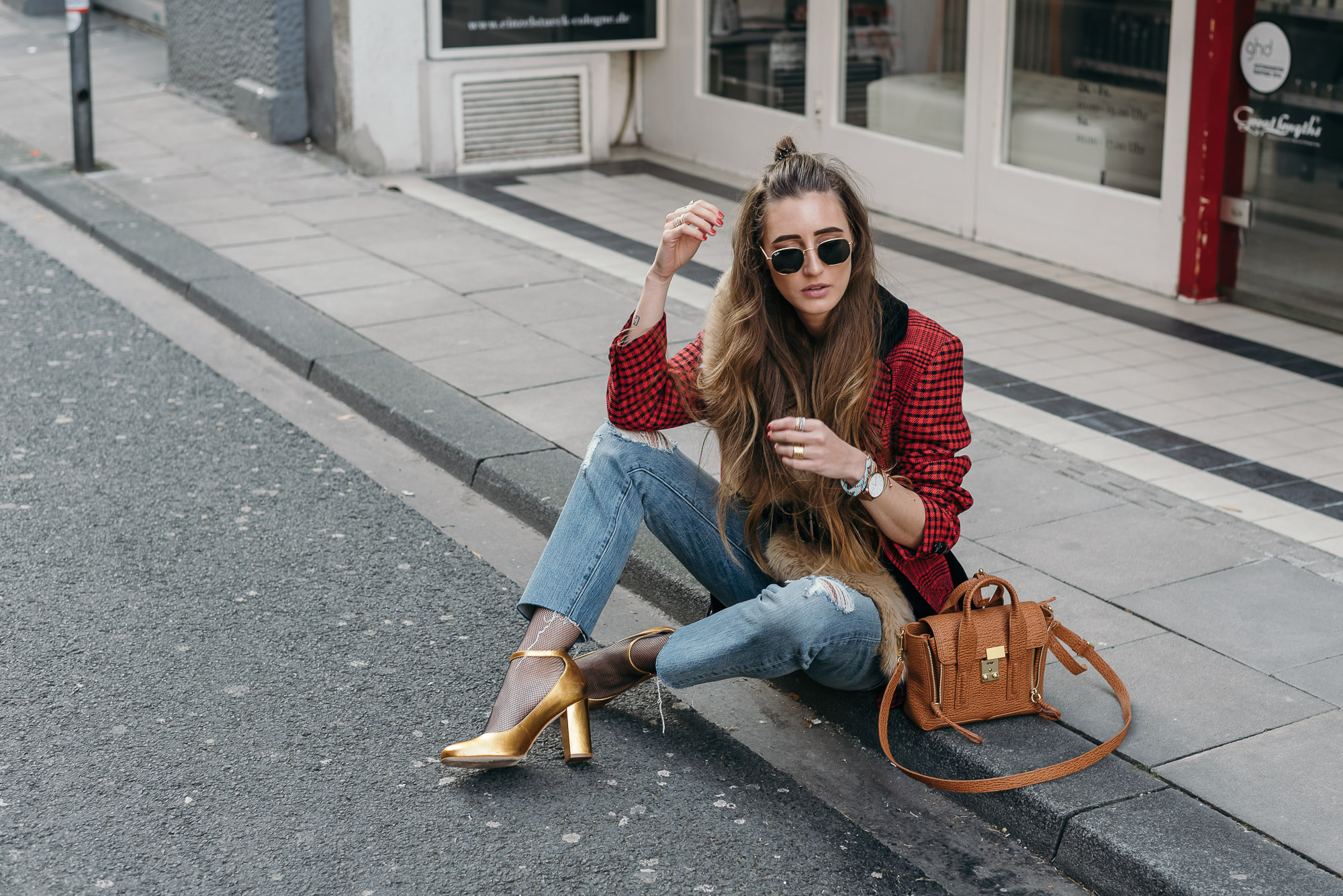 Shoes : Buffalo (here)
Belt : Asos (here | here)
Jeans : Levi's (here | here)
Blazer : Vintage (here | here)
T-Shirt : Vintage (here | here)
Bag : 3.1 Phillip Lim (here | here)
Faux Fur Scarf : H&M (here | here)
It's official, I'm obsessed with shoes, especially when it comes to extravagant designs. You can transform every look with a pair of statement shoes, by the way, that's my trick when I don't know what to wear. So I was really excited when I saw a lot of metallic, especially these gold Pumps in the new Buffalo Spring/Summer collection.
Talking about Trends, fishnets guys, fishnets, wear them as much as you can, with dresses and yes, even under destroyed denim, just do it. Because nothing else adds this coolness factor. As you can see, I was in the mood for more than one statement in this look, so I layered a faux fur scarf over one of my beloved checked Vintage Blazers.
Machen wir kein Geheimnis drum, ich habe ein Faible für Schuhe, ganz besonders wenn es sich um extravagante Designs handelt. Man kann jeden Look mit einem Paar Statement Schuhe verändern, was übrigens auch meine Lösung ist, wenn ich mal wieder nicht weiß was ich anziehen soll. Also war ich mehr als erfreut, als ich einige metallic Designs, vor allem diese goldenen Pumps in der neuen Buffalo Spring/Summer Kollektion entdeckt habe.
Wo wir grade schon über Trends reden, Netzstrumpfhosen meine Lieben, Netzstrumpfhosen, tragt sie wo ihr nur könnt, mit Kleider und ja, sogar unter Jeans im Used Look. Nichts hat momentan einen so hohen Coolness Faktor. Und wie ihr vielleicht sehen könnt, mir war nach mehr als nur einem Hingucker, deswegen habe ich noch einen Faux Fur Schal über einen meiner geliebten Vintage Karo-Blazer gelayered.
SHOP MY LOOK
Shoes : Buffalo (here)
Belt : Asos (here | here)
Jeans : Levi's (here | here)
Blazer : Vintage (here | here)
T-Shirt : Vintage (here | here)
Bag : 3.1 Phillip Lim (here | here)
Faux Fur Scarf : H&M (here | here)
| IN COLLABORATION WITH BUFFALO |