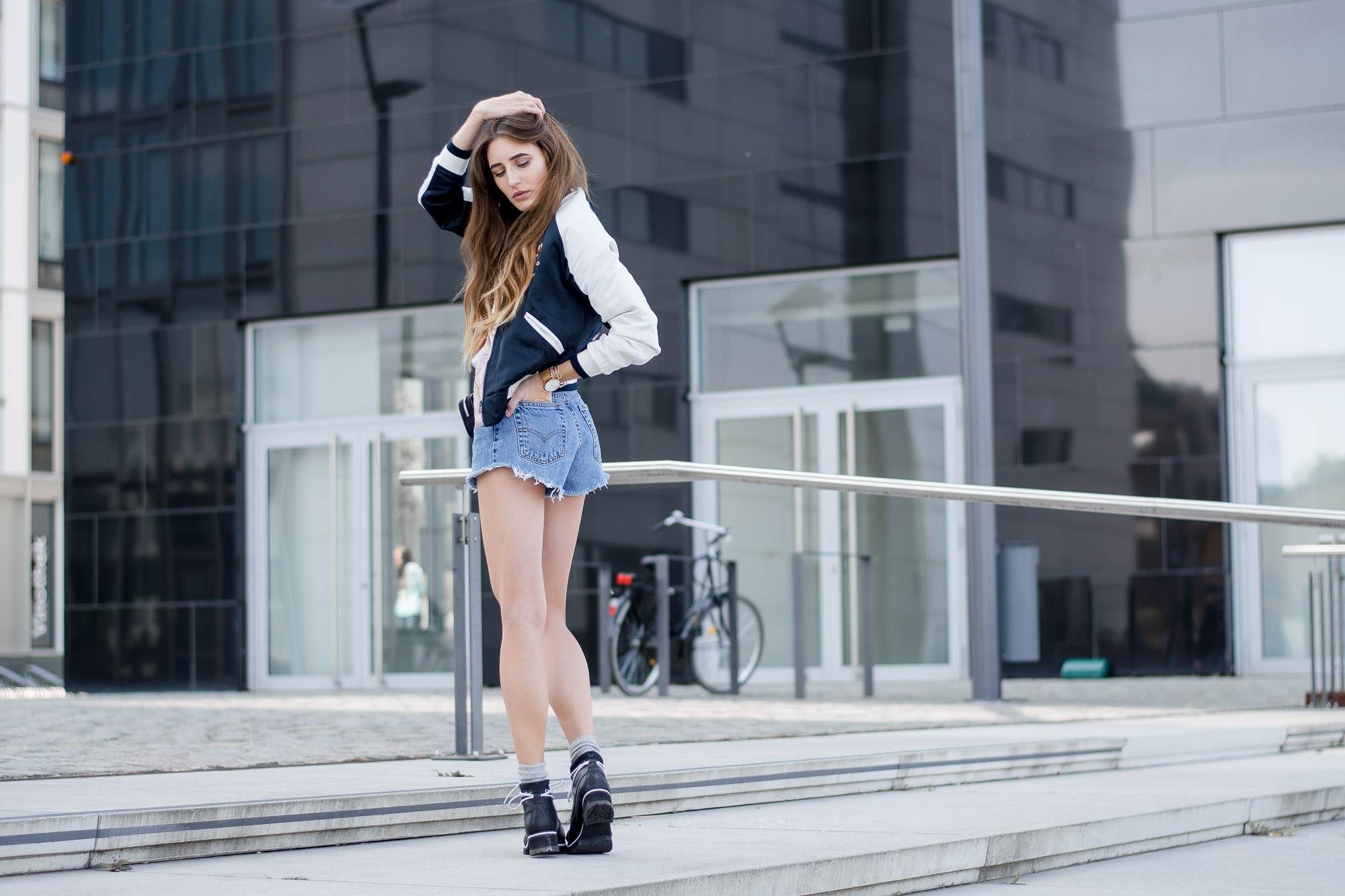 Jacket : Urban Outfitters (sold out | similar here)
T-Shirt : Urban Outfitters (here)
Shorts : Levi's Vintage (here)
Bag : Urban Outfitters (here)
Shoes : Caterpillar (here)
My first Festival of the season is already over, you can read and see all impressions of Rock am Ring in this post. Unfortunately the weather wasn't good at all, so we were stuck in rubber boots, cosy sweaters and rain ponchos, no cute festival looks in sight. But I want to share another outfit option with you anyways, this time for that perfect festival weather aka sunshine and shorts temperatures (you can check out my cold weather Festival Look here).
Denim Shorts are the Must-Have, because they are a Allrounder and sturdy enough. Since I like to go on Festivals with Rock music, Band Shirts are a must for me, I found the best ones in the mens section, since the oversized fit gives your outfit that edgy look. Since the german Summers aren't perfect at all I recommend to take a Jacket with you for the colder nights, I love Bomber or Denim Jackets (in leather Jackets you're definitely going to sweat too much). Another thing which saved my life during Rock am Ring is this belt bag, I know it's pretty unspectacular, but it was just so handy and fits all things I needed (see what's in my Festival Bag here). The choice of shoes really depends on the weather situation, if it's sunny sneakers are ok, but otherwise make sure to wear sturdy (and waterproof) shoes, since there's going to be mud everywhere. The Caterpillar Stopwatch boots are by far my favorite and they're just perfect for that edgy festival look.
---
Mein erstes Festival des Sommers ist trotz mieser Wetterlage schon gut überstanden, alle Eindrücke von Rock am Ring und weswegen der letzte Tag abgesagt wurde gibt es in diesem Post. Wie gesagt war das Wetter leider so schlecht, dass wir in Gummistiefeln, dicken Pullovern und Regenponchos vermummt waren, die geplanten Festival Looks waren da in weiter Ferne. Aber nichtsdestotrotz werde ich heute eine weitere Outfit Inspiration für sonnige Festivaltage mit euch teilen, welches ich bei Urban Outfitter entdeckt habe (Inspiration für kalte Tage gibt es übrigens hier).
Jeansshorts sind definitiv ein Must-Have eines jeden Festival Looks, denn sie sind ein wahrer Allrounder und sind vor allem robust genug (man sitzt ja doch recht oft auf dem Boden). Da Festivals mit Rockmusik mein Favorit sind, gehören Band T-Shirts ebenfalls zu meiner Grundausstattung, die besten findet ihr übrigens in der Männerabteilung, diese sitzen dann auch perfekt oversized (ich hasse tailliert geschnittene Shirts). Da ja die deutschen Sommer nicht gerade vor Perfektion strotzen, würde ich für die Nächte auf jeden Fall immer eine Jacke mitnehmen, am liebsten Bomber– oder Jeansjacken, denn in Lederjacken schwitzt man viel zu schnell. Ein weiterer Lebensretter während Rock am Ring war auch definitiv diese Gürteltasche, ich weiß, diese ist jetzt nicht unbedingt der absolute Hingucker, aber ich war echt begeistert wie praktisch es war, denn es hat alles reingepasst was ich brauche (ein What's in my Festival Bag gibt es übrigens hier). Die Schuhwahl hängt wiederum komplett vom Wetter ab, wenn es trocken und sonnig ist sind Sneakers vollkommen ok, bei Regen sind feste Schuhe ein absolutes Muss, am besten auch wasserdicht. Mein Favorit sind die Caterpillar Stopwatch Stiefel, denn die geben egal welchem Outfit einen edgy Look.
SHOP MY LOOK
Jacket : Urban Outfitters (sold out | similar here)*
T-Shirt : Urban Outfitters (here)*
Shorts : Levi's Vintage (here)*
Bag : Urban Outfitters (here)*
Shoes : Caterpillar (here)*
*die gekennzeichneten Artikel wurden mir von den Unternehmen zur Verfügung gestellt