Pants : Conleys (here | here)
Off-Shoulder Top : H&M (here)
Bag : Conleys (here | similar here)
Shoes : Sacha Shoes (here | here)
Sunglasses : Sacha Shoes (here)
Bracelet : Pernille Corydon via Schmuckladen (here)
Earrings : Pernille Corydon via Schmuckladen (here)
If there's one type of style I would wear until the end of time, then it's definitely the seventies boho chic.
I don't know what it is, but there's something about these casual and loose shapes that I really adore (ok probably because it's comfortable like nothing else). Especially during the summer time it's the perfect style to wear, since everything from light Palazzo Pants to suede mini skirts is possible. For today's look I decided to go for pants (not that I'm wearing them all the time). These Palazzo pants from Conleys are the most comfortable thing I have ever worn. And the styling options are endless. Since the print is pretty fancy and colorful I decided to wear a boho inspired white off-shoulder top. The other options that I'm definitely going to wear are a brown deep v-neck body suit and a teeny tiny black bandeau top, everything goes perfect with this look. Another part you can play with are the accessories, for shoes I went for the high heel gladiator sandals, since I'm wearing flat shoes all the time lately, but I think brown shoes are essential for this look. Talking about essential, this embellished clutch via Conleys is another must have for the perfect boho Ibiza look. Oh and gold jewelry of course. I'm so happy about the latest additions to my jewelry collection, I normally don't wear earrings, because I think they don't they suit me, but I finally found this perfect pair from Pernille Corydon via Schmuckladen (here). The simple but gorgeous gold bracelet is also from there and I love it, the perfect layering piece.
---
Wenn es eine Stilrichtung gibt, die ich bis zum Ende aller Tage tragen würde, dann wäre es definitiv der 70er Jahre Boho Chic.
Die lockeren (und dadurch sehr bequemen) Schnitte, schmeicheln einfach jeder Figur und gerade im Sommer kommen lockere Palazzo Hosen und Minirock aus schickem Wildleder wie gerufen. Für den heutigen Look habe ich mich (welche Überraschung) für eine weite Palazzo Hose Conleys entschieden. Glaubt mir, dieses Paar ist das bequemste Stück was ich je getragen habe und die Styling Optionen sind unendlich. Da der Print und die Farben der Hose ja nicht gerade mit Zurückhaltung besticht, habe ich mich für ein weißes boho inspiriertes Off-Shoulder Top entschieden. Aber ein brauner Body mit tiefem Ausschnitt und ein nennen wir es Mikro Crop Top stehen auch schon auf meiner Kombinationsliste, also nur keine falsche Scheu. Accessories dürfen bei diesem Look (ok und eigentlich auch bei keinem anderen) nicht zu kurz kommen. Ihr werdet euch wahrscheinlich fragen, warum ich zu dem Look keine flachen Gladiatorsandalen trage wie man wahrscheinlich vermuten würde, aber ich habe in letzter Zeit so oft flache Schuhe getragen, dass es mal wieder Zeit für ein Paar High Heels war. Außerdem ist jeder braune Schuh perfekt geeignet für den Look. Stichwort perfekt geeignet, eine perlenverzierte Tasche (ebenfalls von Conleys) ist ein weiteres Muss für den perfekten Boho Look und für mich auch mal eine gelungene Abwechslung in meiner schwarzen Handtaschen Sammlung. Mein neuer Schmuckzuwachs kam auch wie gerufen. Ich trage normalerweise nie Ohrringe, weil mir die meisten einfach nicht stehen. Ich bin aber endlich auf das perfekte Paar (hier) gestoßen und vor allem auch auf die perfekte Schmuckdesignerin, Pernille Corydon via Schmuckladen erhältlich und hat eine Traumauswahl an vergoldeten Schmuck. Der einfache goldene Armreif ist ebenfalls von ihr und das perfekte Stück zum kombinieren mit anderen Schmuckstücken.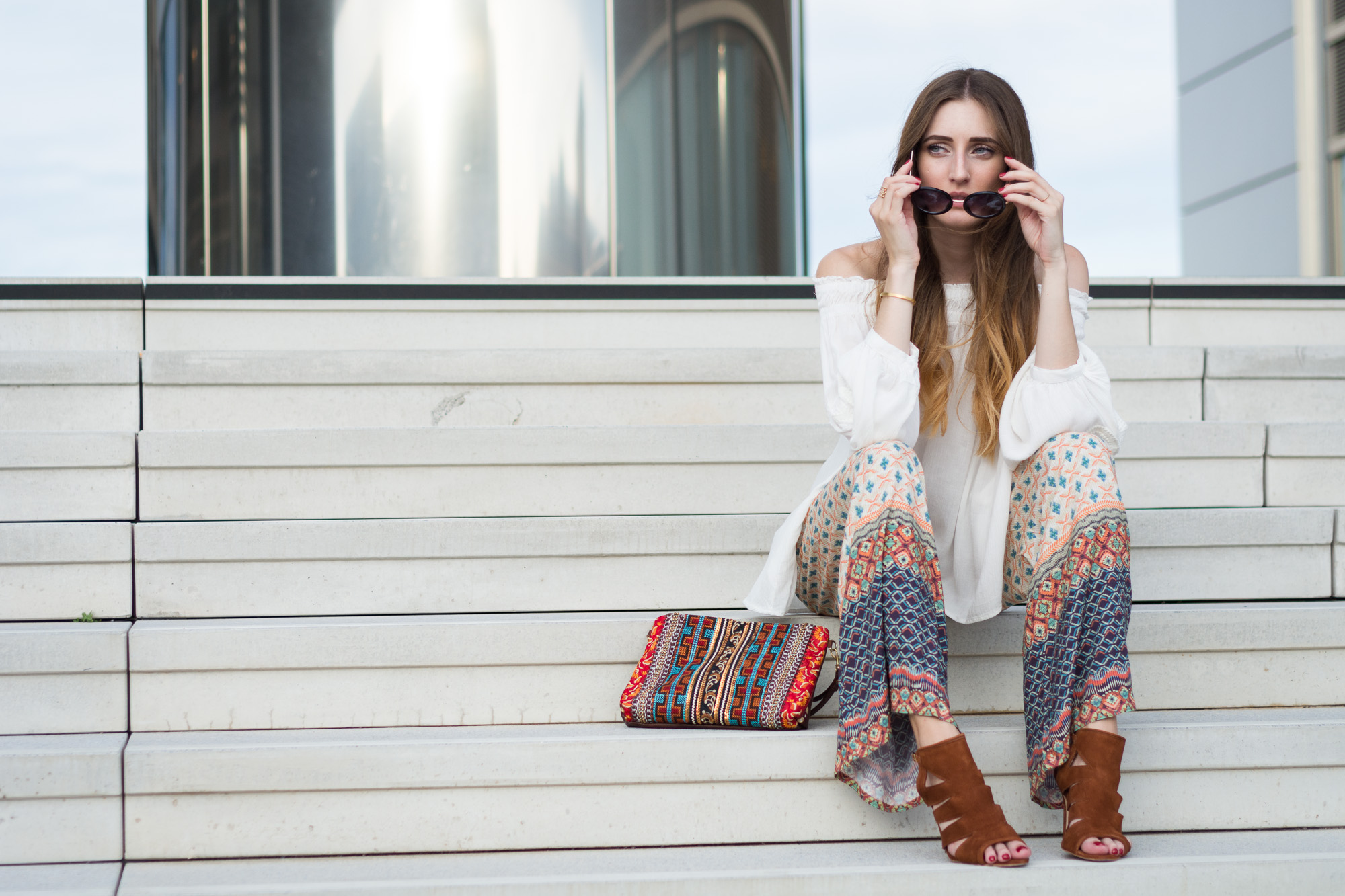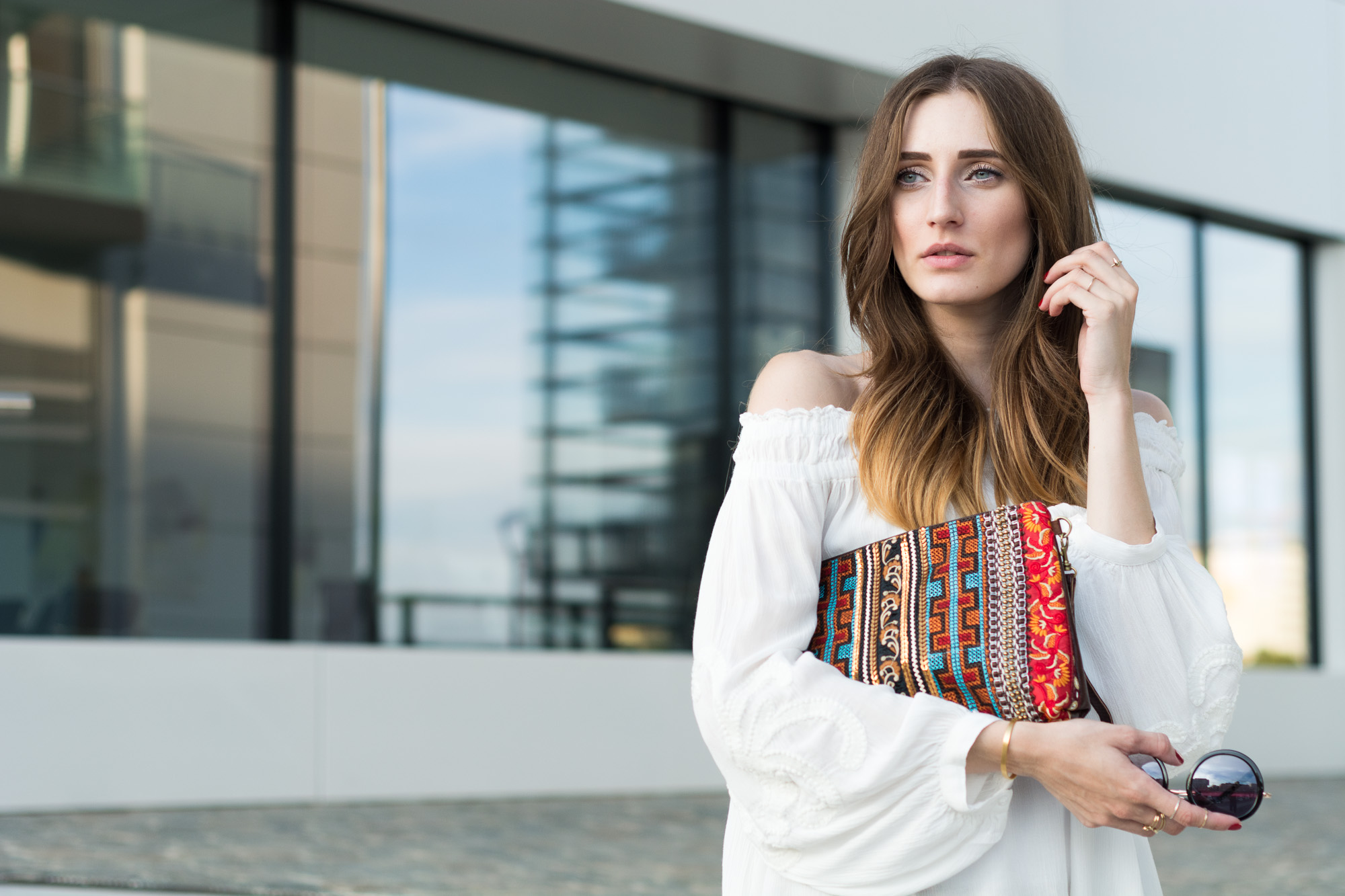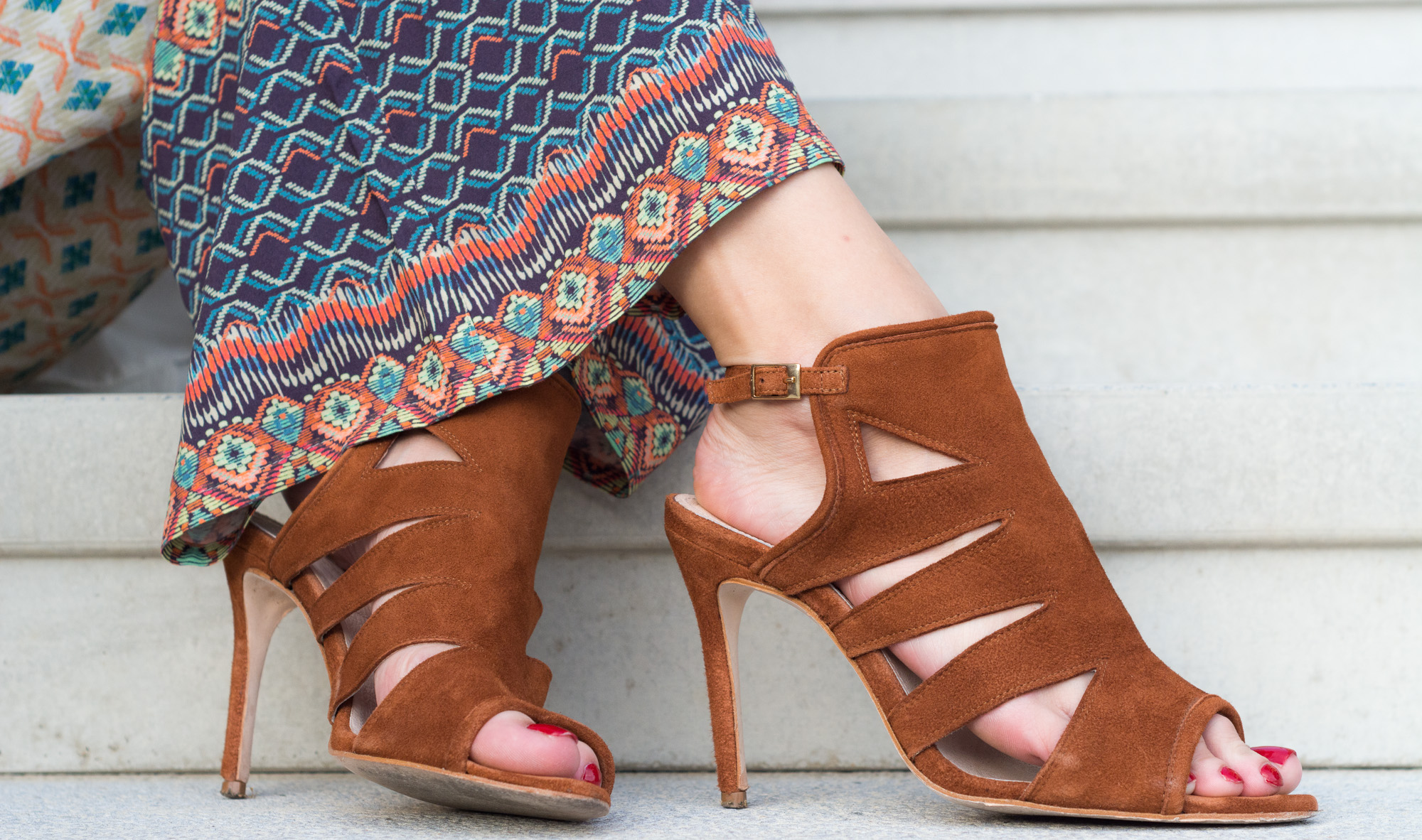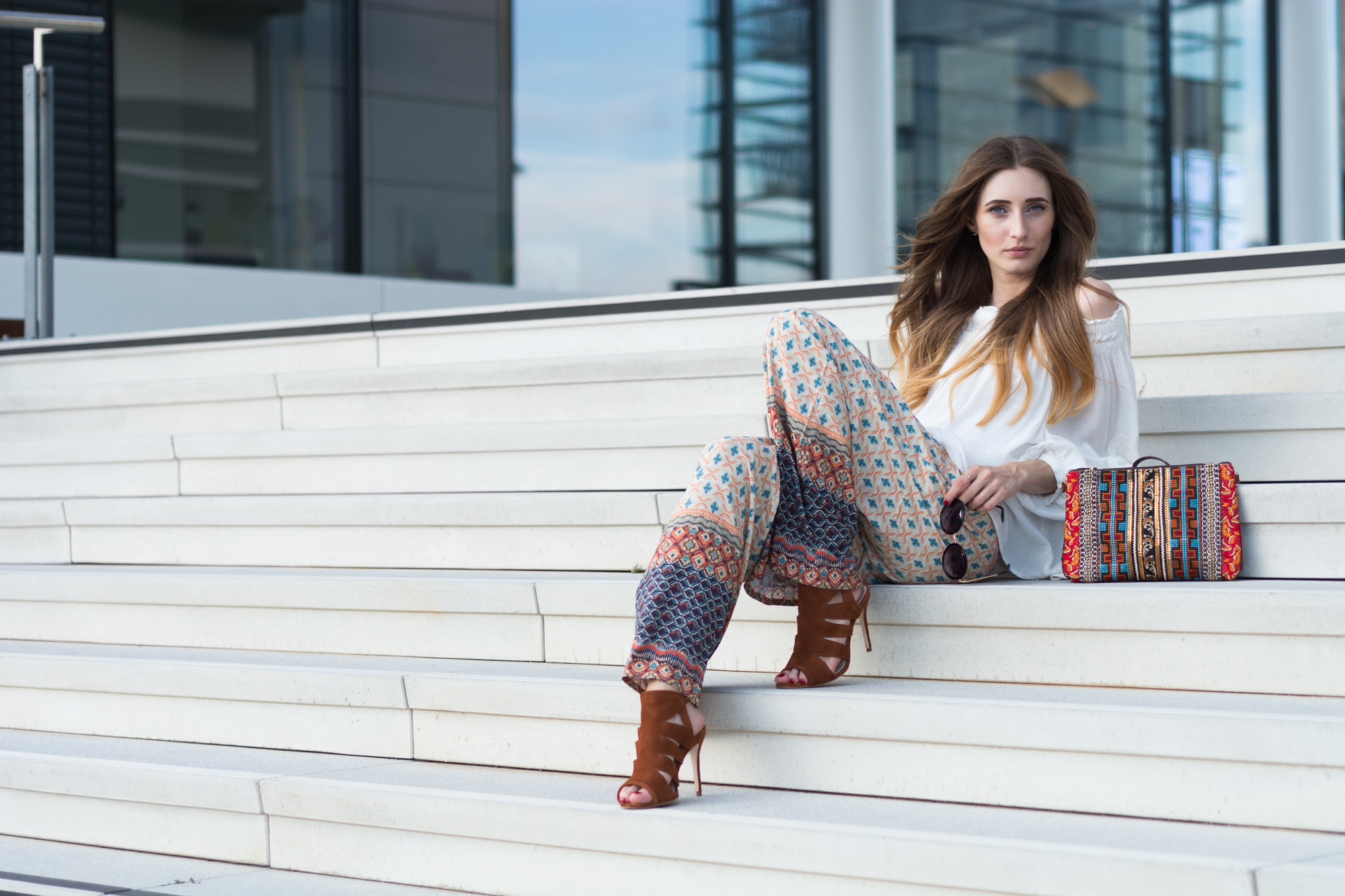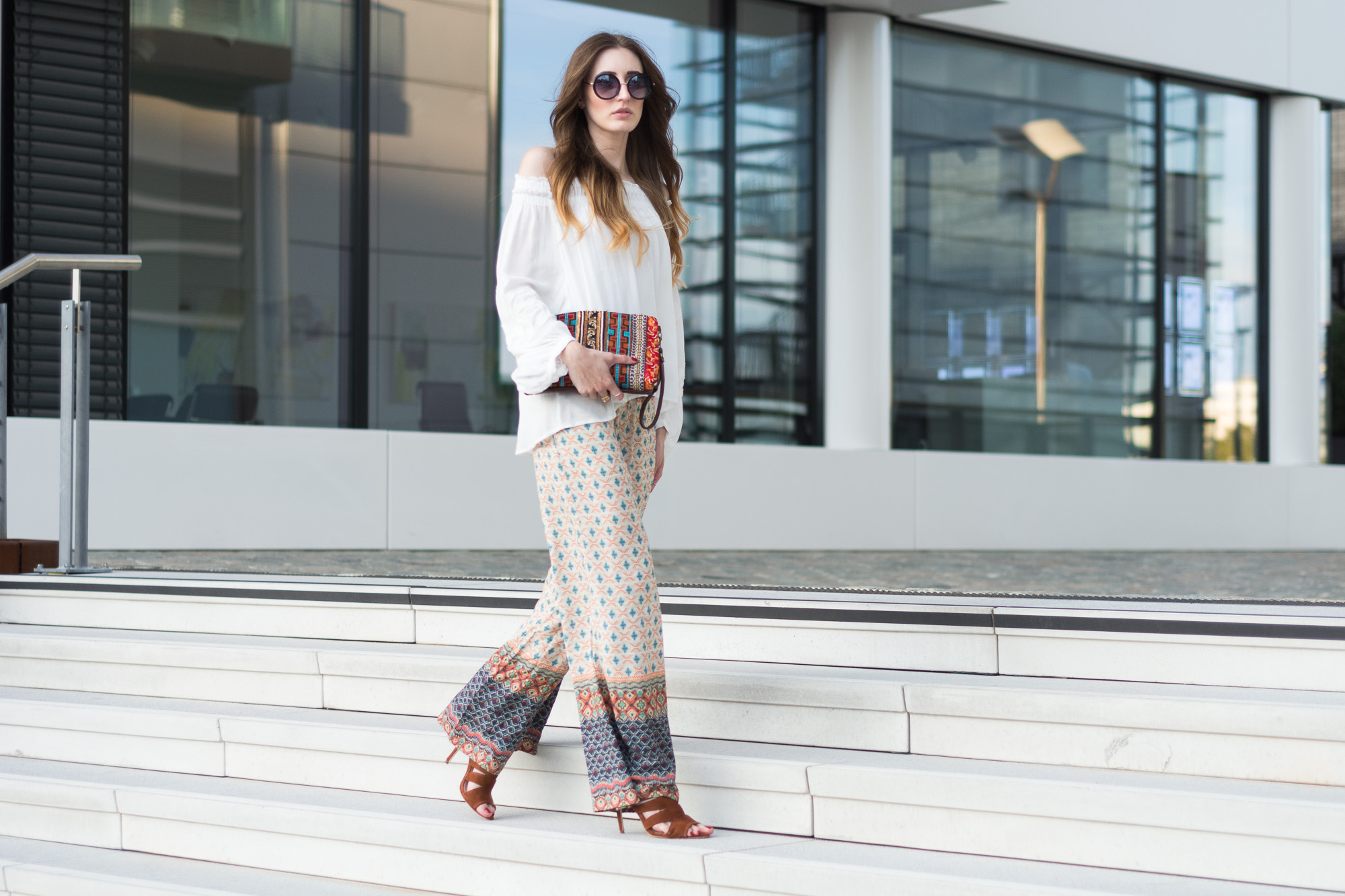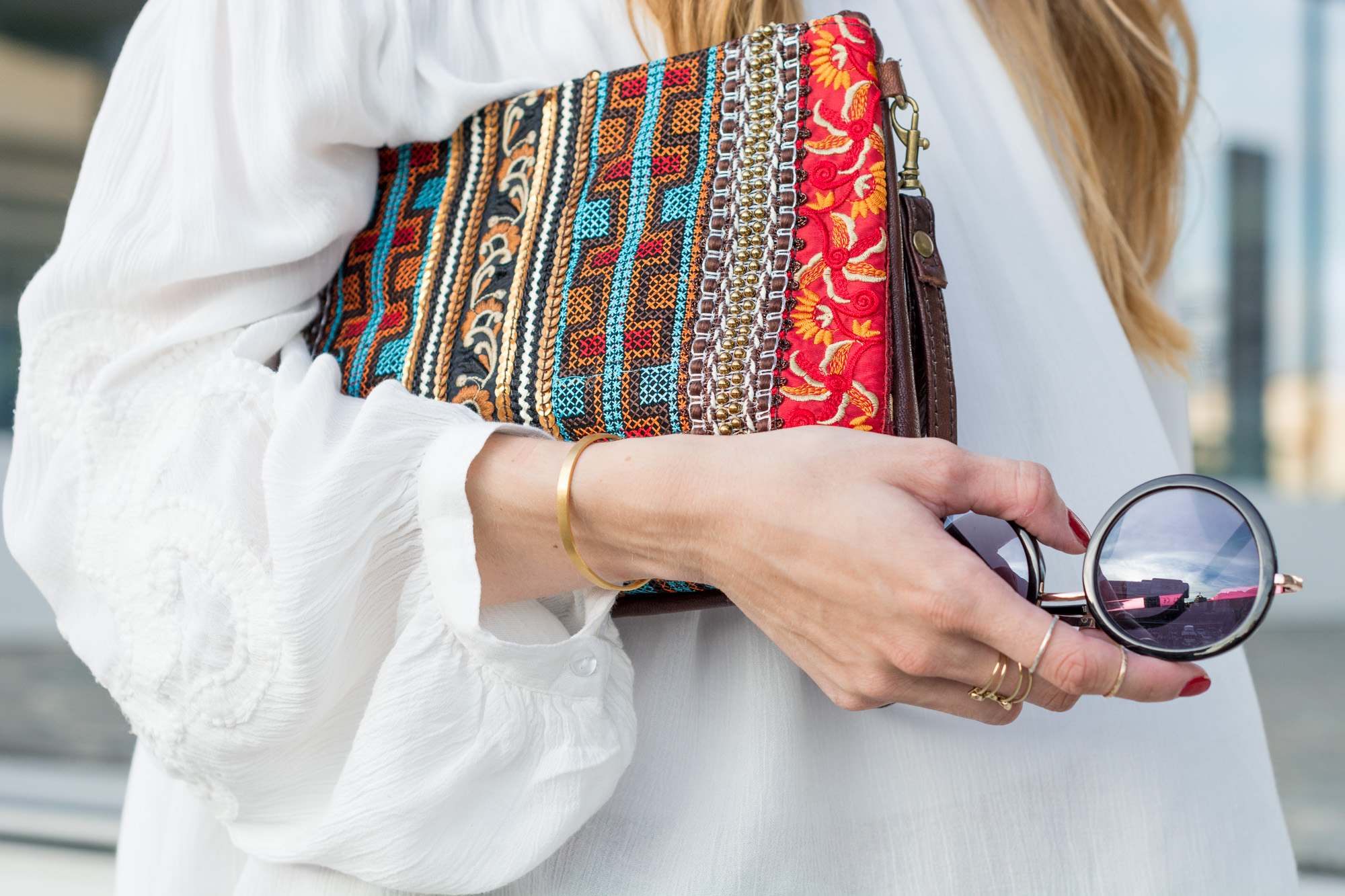 Shop my Conleys Boho Chic Look here
Pants : Conleys (here | here)
Off-Shoulder Top : H&M (here)
Bag : Conleys (here | similar here)
Shoes : Sacha Shoes (here | here)
Sunglasses : Sacha Shoes (here)
Bracelet : Pernille Corydon via Schmuckladen (here)
Earrings : Pernille Corydon via Schmuckladen (here)