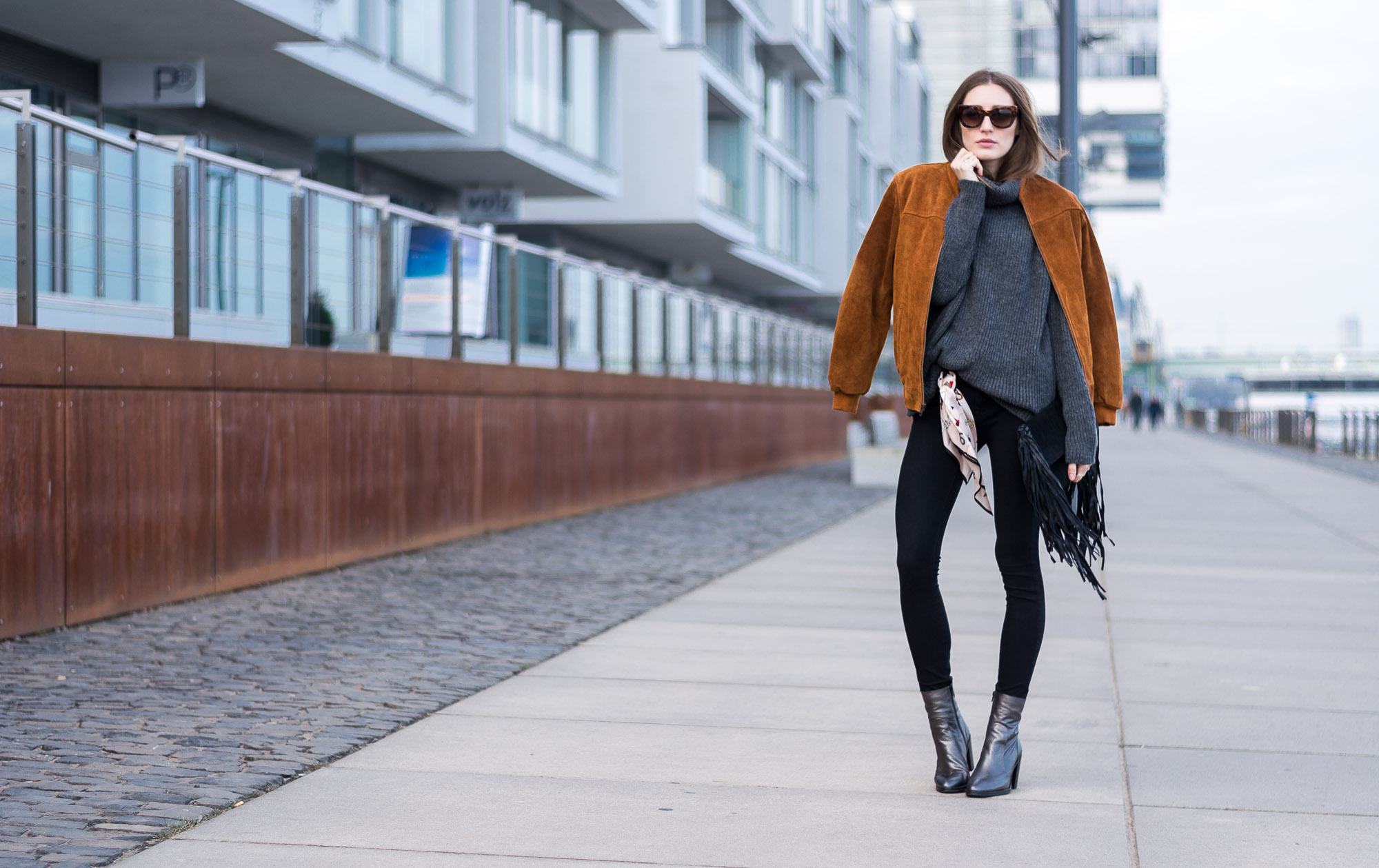 Shoes : Buffalo (here)
Jacket : Urban Outfitters (here | here)
Knit Sweater : Urban Outfitters (here | here)
Clutch : Urban Outfitters (here | here)
Jeans : Replay (here | here)
You probably expected some posts from Fashion Week, but they have to wait since I want to share this look with you. I actually wore this outfit in Berlin, but we haven't found the time to shoot it, so we did it back in Cologne. You probably know how much I love a good combination of casual and chic pieces, mixed with some current trends, that's actually what my style is about. So I was really happy when I found some streetstyle appropriate styles at Urban Outfitters, like this oversized bomber jacket for a perfect casual and especially vintage vibe. The chunky knit sweater with a turtle neck is the perfect addition for an edgy look and to fake a shorter haircut (coolness levels to the maximum).
Talking about current trends, metallic shoes are going to be everywhere this season, so thank you Buffalo for a perfect pair of silver booties in their latest collection. These were definitely the most worn shoes during Fashion Week, because you can style them with everything. As a highlight for causal looks or as the perfect addition together with trendy styles. Oh and these Buffalo shoes are definitely Fashion Week approved, since I walked around Berlin the complete day and yes I survived 🙂
For other accessories I decided to mix the casual look with some chicer pieces from Urban Outfitters like the fringe clutch, which actually fits a lot of stuff, for me a plus. Since we're flying to Thailand in 10 days, I'm kind of collecting sunglasses, because hello summer holidays and these big ones from their latest collection are definitely coming with me.
---
Bevor ich auf dem Blog mit einigen Fashion Week Beiträgen starte, habe ich heute einen Look für euch, der eigentlich auch zu meinen Fashion Week Outfits gehört. Wir hatten nur keine Zeit diesen in Berlin zu fotografieren, deswegen haben wir das schnell in Köln nachgeholt (meine persönlichen Fashion Week Highlights gibt es übrigens schon im Magazin von Fashionchick). Ich finde es immer sehr schwierig den eigenen Stil zu beschreiben, aber was wir definitiv festhalten können ist, dass die meisten meiner Looks aus einer Mischung von casual Pieces mit schickeren Teilen und aktuellen Trends besteht. Deswegen war ich umso glücklicher, als ein paar äußerst Streetstyle-geeignete Teile in der aktuellen Kollektion von Urban Outfitters entdeckt habe. Die oversized Bomberjacke aus Leder ist auf jeden Fall mein Favorit, da sie einfach jedem Outfit den perfekten Vintage Look verleiht. Der grobe Strickpullover mit Rollkragen ist da die perfekte Ergänzung und dank 'Haare in den Kragen stecken'-Funktion ein Garant für einen hohen Coolness-Faktor.
Stichwort aktuelle Trends, wenn ihr mir bei einer Sache vertrauen solltet, dann das metallic Schuhe diese Saison ein Must-Have sind (und Pumps mit Midi-Blockabsatz). Deswegen war ich sehr angetan, als ich diese silbernen Stiefeletten in der aktuellen Kollektion von Buffalo entdeckt habe. Diese sind daraufhin auch zu meinen meistgetragenen Schuhen der Fashion Week der Fashion Week geworden und glaubt mir ein größeres Kompliment kann man Schuhen nicht zuschreiben (nicht das ich mit meinen Schuhen angeregte Unterhaltungen führen würde). Der Absatz hat die perfekte Höhe um sie den ganzen Tag zu tragen und ich bin ja normalerweise für solche Anlässe auf flache Schuhe umgestiegen. Zudem sind diese Buffalo Schuhe das reinste Kombinationswunder, egal ob als Highlight zu casual Outfits oder zum Perfektionieren von Trendlooks.
Für die schickere Note sorgen bei diesem Outfit die Fransenclutch von Urban Outfitters, die erstaunlich viel Stauraum bietet, Pluspunkt. Da es für uns in 10 Tagen auch endlich in den wohlverdienten Urlaub geht, sammel ich im Moment sozusagen Sonnenbrillen und dieses oversized Modell wird mich definitiv auf Reisen begleiten, da sie auch eine gelungene Abwechslung zu meinen schwarzen Modellen ist.
FOLLOW along on Instagram | Facebook | Twitter | Pinterest
SHOP MY LOOK
Shoes : Buffalo (here)*
Jacket : Urban Outfitters (here | here)*
Knit Sweater : Urban Outfitters (here | here)*
Clutch : Urban Outfitters (here | here)*
Jeans : Replay (here | here)*
*die gekennzeichneten Produkte wurden mir von den Unternehmen zur freien Verfügung gestellt
| in freundlicher Zusammenarbeit mit Buffalo |