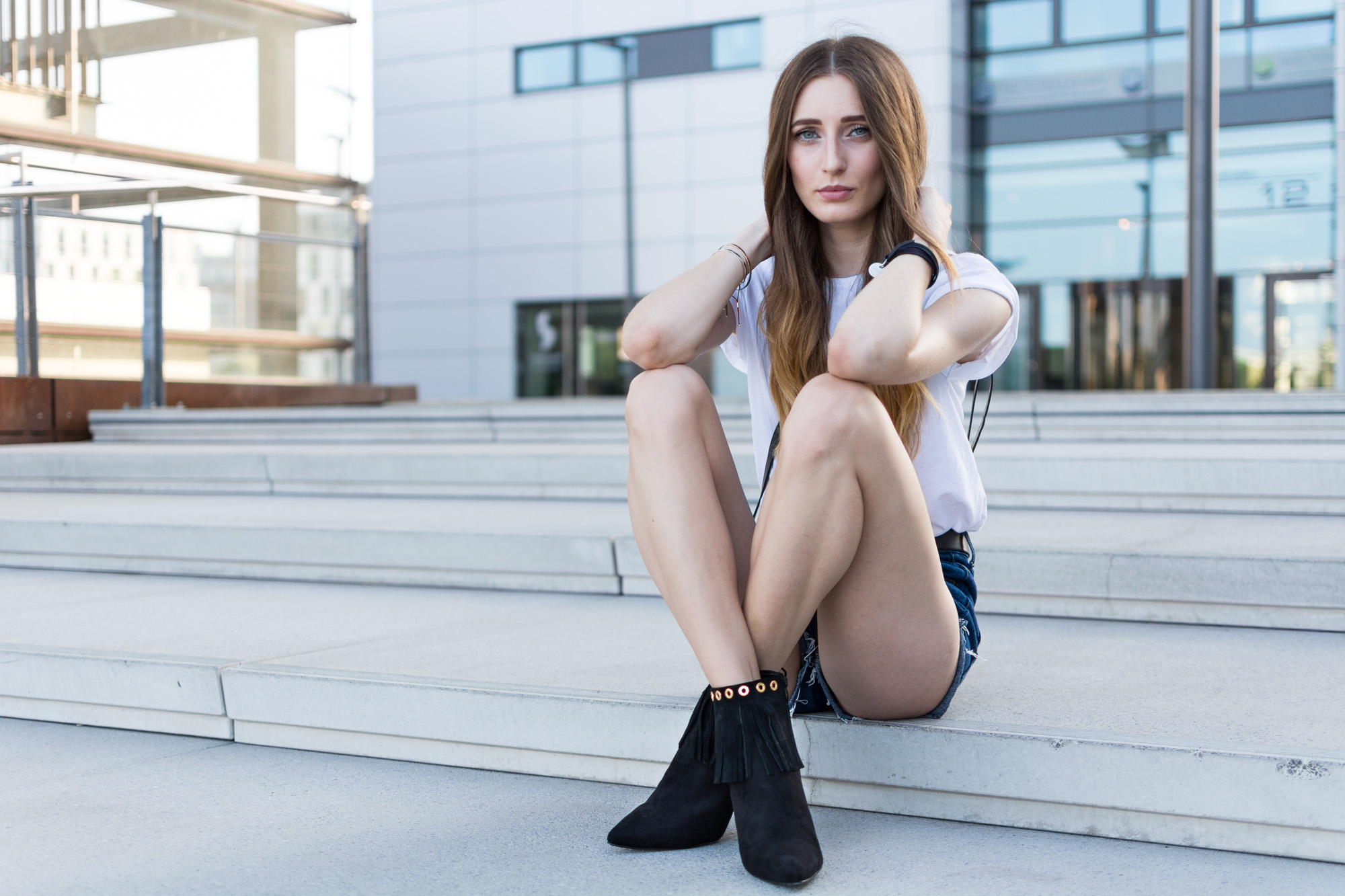 Shoes : Buffalo Boots x Shopping Queen (here)
Denim Shorts : H&M (here | here)
T-Shirt : Asos (here)
Belt : Asos (here)
Bag : Aigner (here | here)
You probably have seen our little to the Buffalo headquarter a few month ago on my Instagram, Snapchat & Co. The reason, we shot the campaign for the new Buffalo x Shopping Queen collection (a popular TV show here in Germany). I'm working with Buffalo for years now (actually from the beginning of my blog) and the lovely team always supported me, so it was so nice to finally visit them and I'm really honored to be part of the project. The exclusive Shopping Queen collection designed by Bufallo is now ONLINE and in Buffalo stores available and it's all about the classic shoes that every woman should own, from classic pumps to black booties. To my joy there're also some special pieces like glitter high heels and my absolut favorite pair the fringe booties, which are just perfect for the summer seasons where it's all about the boho looks. Today I'm going to show you the final results of our shooting and because we all love a good streetstyle my boyfriend and I also shot a look around my favorite pair. The special part of this shooting, I styled all looks by myself, which is such an honor, so I try to link every piece down below. For my streetstyle I decided to go for a very casual look, after all the stressfull weeks. Normally I wouldn't choose a basic denim shorts / T-Shirt look, but I think that these boots look great with so many different styles, since my shooting look is completely different.
---
Wie ihr bestimmt auf Instagram, Snapchat und Co. mitbekommen habt, waren mein Freund und ich vor einigen Monaten im Buffalo Headquarter zu Besuch um ein ganz besonderes Projekt umzusetzen. Ich hatte nämlich die Ehre für die Buffalo x Shopping Queen Kollektion (muss ich ja wohl nicht erklären) vor der Kamera zu stehen und nicht nur das, ich durfte die Looks auch stylen, was bei solch großen Shootings echt selten ist (ich versuche deswegen auch alle Teile zu verlinken). Ich arbeite schon seit Jahren mit Buffalo zusammen, eigentlich seit es meinen Blog gibt und es freut mich einfach jedes Mal wie sehr mich das Buffalo Team unterstützt, die meisten Unternehmen sehen einen meist nur als Werbefläche. Aber zurück zur Mode, denn die Shopping Queen Kollektion wurde exklusiv von Buffalo designed und ist ONLINE und in den Stores ab sofort erhältlich. Die Kollektion umfasst sämtliche Modelle, die in keinem Schuhschrank fehlen dürfen, von klassischen Pumps bis hin zu vielseitig einsetzbaren Stiefeletten. Was mich besonders freut, es gibt auch ein paar ausgefallenere Highlight, wie Glitzer High Heels und mein persönlicher Favorit die Fransen Stiefeletten, die einfach nur perfekt zu den angesagten Boho Looks passen. Heute gibt es deswegen nicht nur die finalen Shooting Resultate, sondern weil wir ja alle Streetstyles so mögen, auch noch ein Outfit mit den tollen Fransen Stiefeletten von meinem Freund geknipst.  Ich habe mich bei diesem Look für etwas schlichtes und einfaches entschieden, da die letzten Wochen einfach nur von panischer Outfitsuche geprägt waren und mein Stresslevel in die Höhe getrieben haben, Frauen halt. Aber das Gute, die Stiefel sind einfach super vielseitig einsetzbar, da mein Outfit für das Shooting zum Beispiel ein komplett anderes war, aber seht einfach selbst und lasst mich wissen welches Design euer Liebling ist. 
Shop my Buffalo x Shopping Queen Look
Shoes : Buffalo Boots x Shopping Queen (here) *
Denim Shorts : H&M (here | here)
T-Shirt : Asos (here)
Belt : Asos (here)
Bag : Aigner (here | here)
Official Buffalo x Shopping Queen Campaign
Photography: Nicole van den Hout
Hair & Make-up: Tanja Pawlik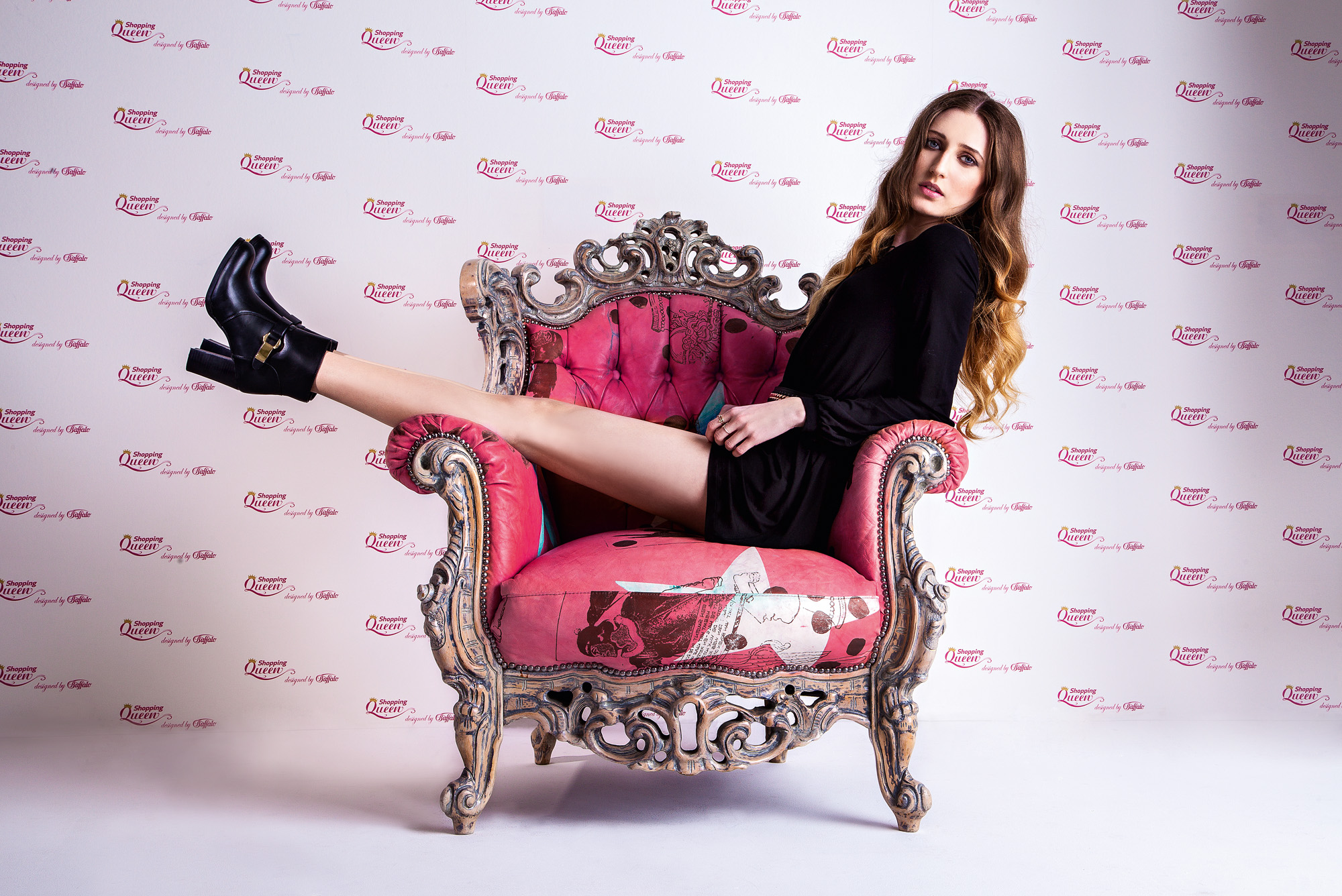 * Die gekennzeichneten Produkte wurden mir von den Unternehmen zur Verfügung gestellt.