Jumpsuit : Kiss the Sky via Asos (here | here)
Sunglasses : Ray Ban (here | affordable here)
Espadrilles : Buffalo (here)
Backpack : Buffalo (here)

I know my holiday looks aren't the best outfit inspiration at the moment, since it's freezing and raining in my hometown Cologne/Germany, but the shooting locations here on the thai islands are just too pretty to not share with you. And who knows, maybe you live in a warm country (in this case lucky you) or you're planning your next summer get away, let me know. Luckily most of my favorite labels came out with their spring/summer collections before we headed to Thailand, so I had the chance to bring some of these beauties with me. For example, my favorite shoe label Buffalo just came out with a big new range of Espadrilles, in my opinion the best shoes for a vacation, since you can do everything with them. Trust me I was even strolling through the jungle of Koh Samui in Espadrilles. I also really enjoyed the flower print on them (you can get them in a lot of other colors), since a little bit of color is quite nice during summer time. Another big must-have during our trip is this backpack, also from the latest Buffalo Collection. I never thought that I'm going to like backpacks, but trust me or not, that's the only bag I brought with me to Thailand. It's just super handy, because let's be real, women are carrying a hell lot of things, ok and the used look of these backpack just brings the right amount of Chanel vibes, not that I just bought some patches for a little DIY. The jumpsuit is also from the news section of Asos from the brand Kiss The Sky and you know, I'm normally not the biggest fan of wearing colors, especially not when it comes to light pastels. But this blue colors looks just beyond gorgeous on tanned skin. Also the deep v-neck and the crochet details are the perfect addition to your summer boho look, just have tape with you or don't  mind to show a little something hehe.
---
Auch wenn meine kommenden Urlaubslooks für die europäischen Wetterverhältnisse nicht besonders gute Outfitinspirationen liefern, möchte ich sie euch natürlich trotzdem nicht vorenthalten, denn dazu sind die Shootinglocations auf den thailändischen Inseln einfach viel zu schön. Glücklicherweise kamen vor unserer Abreise schon die meisten Frühlings-/Sommerkollektionen meiner liebsten Labels raus, so auch bei Buffalo, bei denen ich jede Menge neue Designs bei den Espadrilles entdeckt habe. Der florale Print hat es mir direkt angetan (neben schwarz auch noch in weiteren Farben erhältlich), denn im Sommer bzw. Urlaub darf es ja gerne mal etwas verspielter sein. Die Buffalo Espadrilles sind außerdem perfekt für den Urlaub geeignet, denn man hat (einigermaßen) festes Schuhwerk an (das war im thailändischen Dschungel von Vorteil) und trägt trotzdem keine muffigen Sneakers. Ein weiteres Must-Have dieses Urlaubs ist der Rucksack, ebenfalls von Buffalo, denn ich muss es mir eingestehen, ich bin zum totalen Rucksackträger geworden. Und glaubt es oder nicht, es ist auch die einzige Tasche die ich mit nach Thailand genommen habe. Ich hätte es nie gedacht, aber man schleppt letztendlich doch immer so viel Zeug mit sich rum, dass man besonders im Urlaub keine Lust hat sich mit kleinen Handtäschen rumzuärgern. Der Buffalo Rucksack hat die perfekte Größe (ich habe ihn auch als Handgepäck auf dem Flug genutzt) und hat dank dem Used-Look den perfekten Chanel-Rucksack Charme (nicht das ich mir hier in Thailand schon ein paar Aufnäher für ein kleines DIY zugelegt hätte). Den Jumpsuit von der Marke Kiss The Sky habe ich ebenfalls bei den Neuheiten von Asos entdeckt. Normalerweise greife ich ja eher selten zu Farben und schon gar nicht zu helleren Pastelltönen, aber dieser Blauton sieht ganz wunderbar auf brauner Haut aus. Der tiefe Ausschnitt (hier Klebeband oder 'ist mir egal wenn man was sieht'-Einstellung mitbringen) und die gehäkelten Details geben noch mal eine Extraportion Urlaubsfeeling.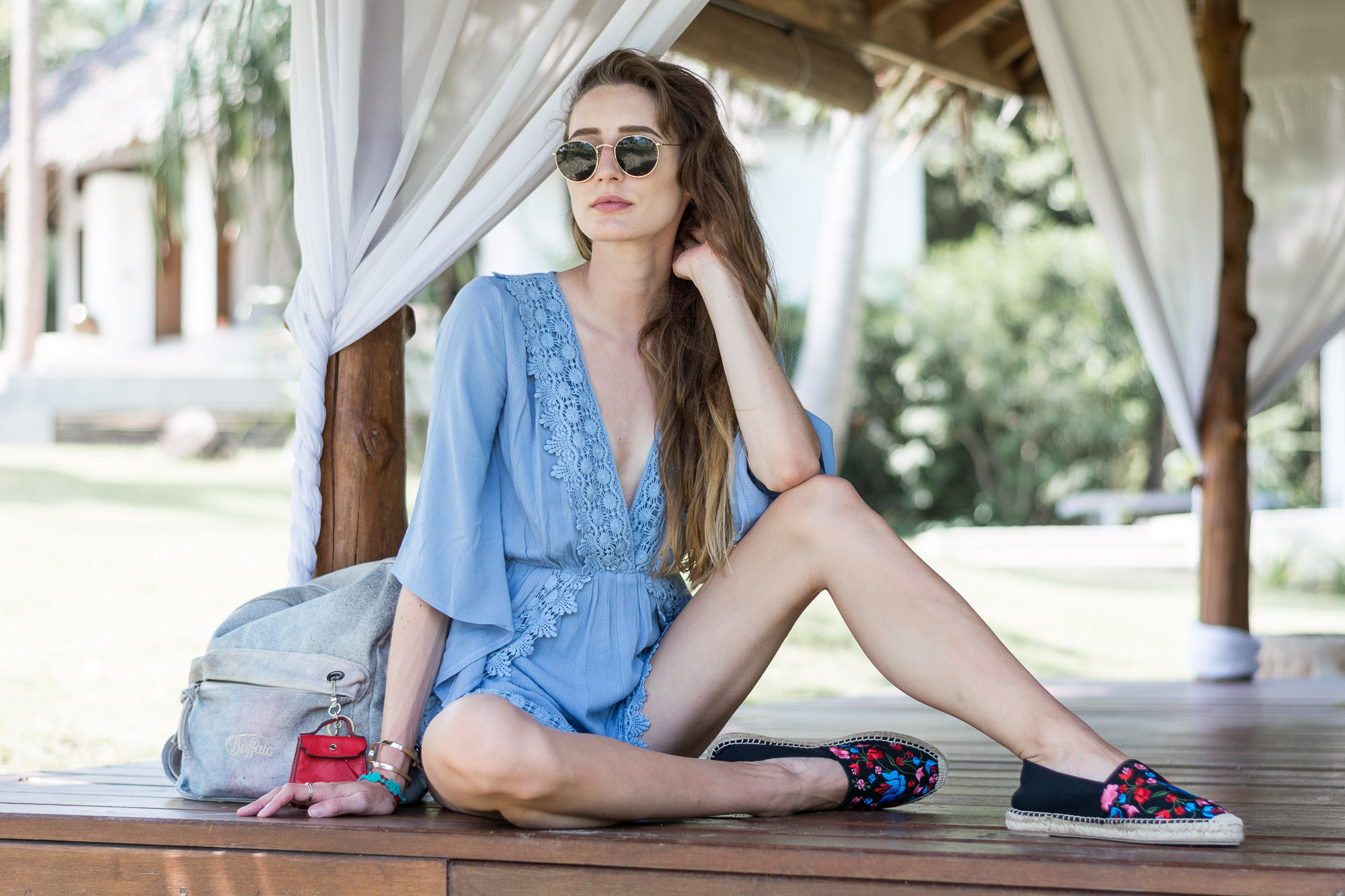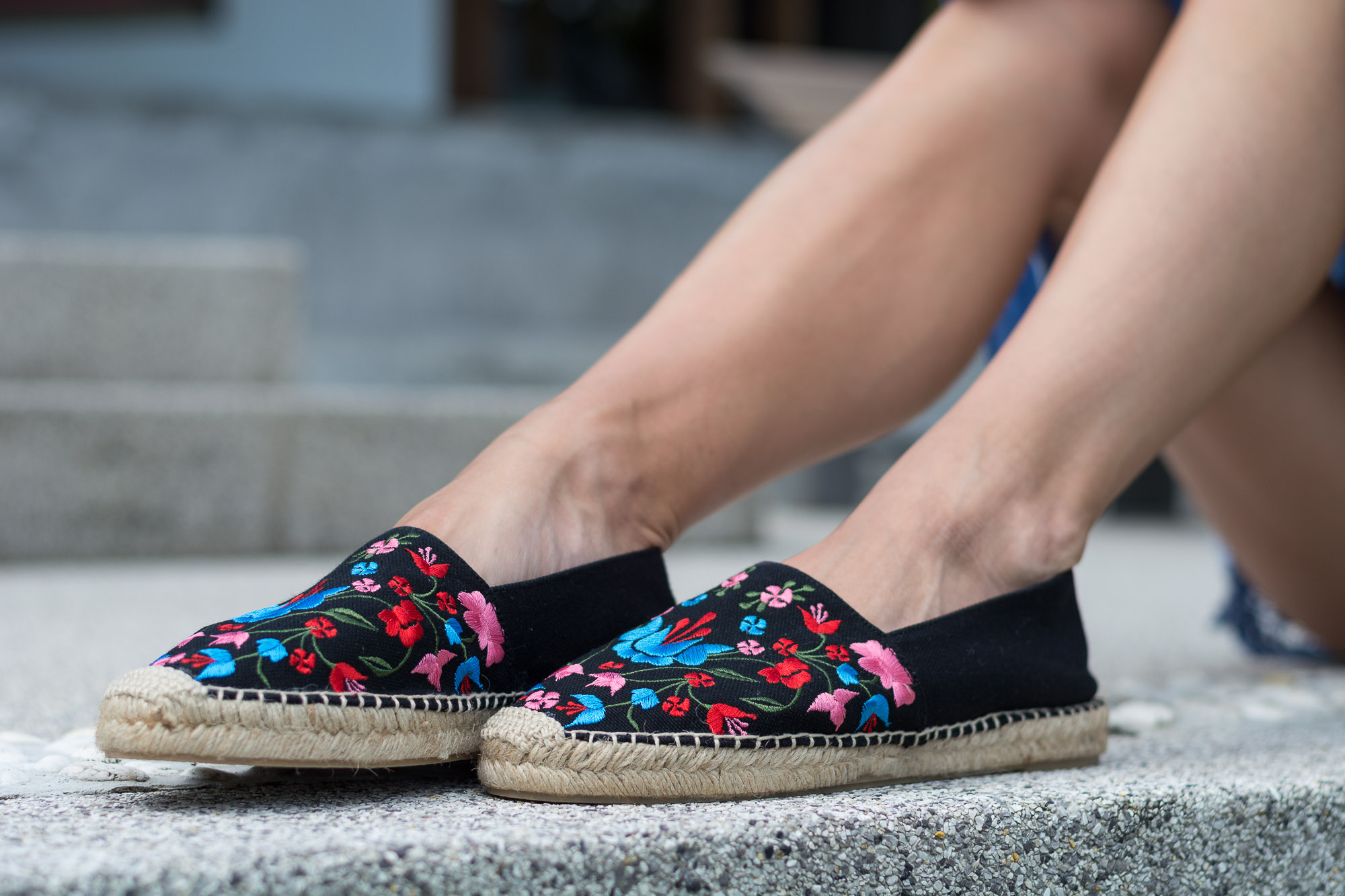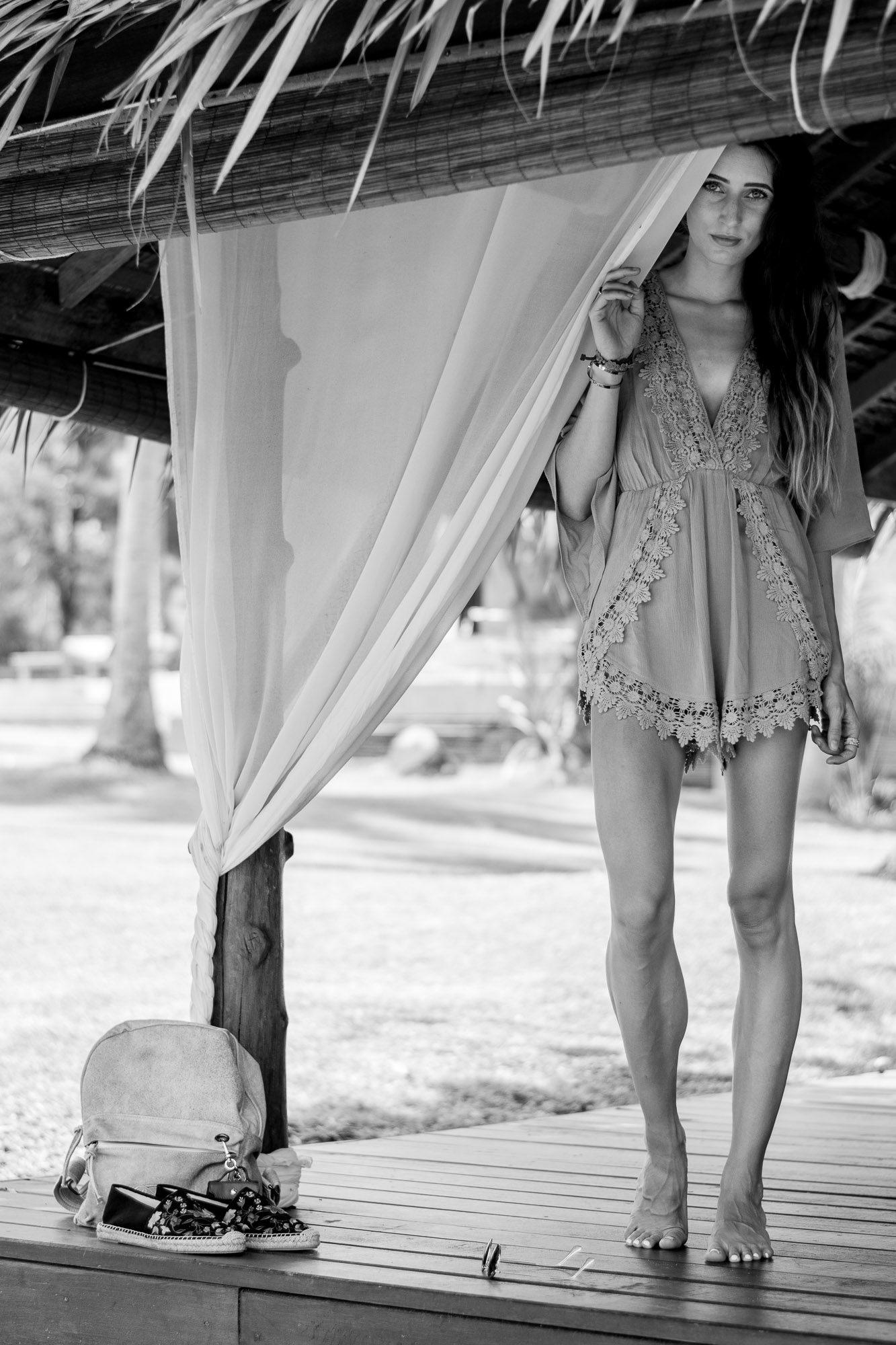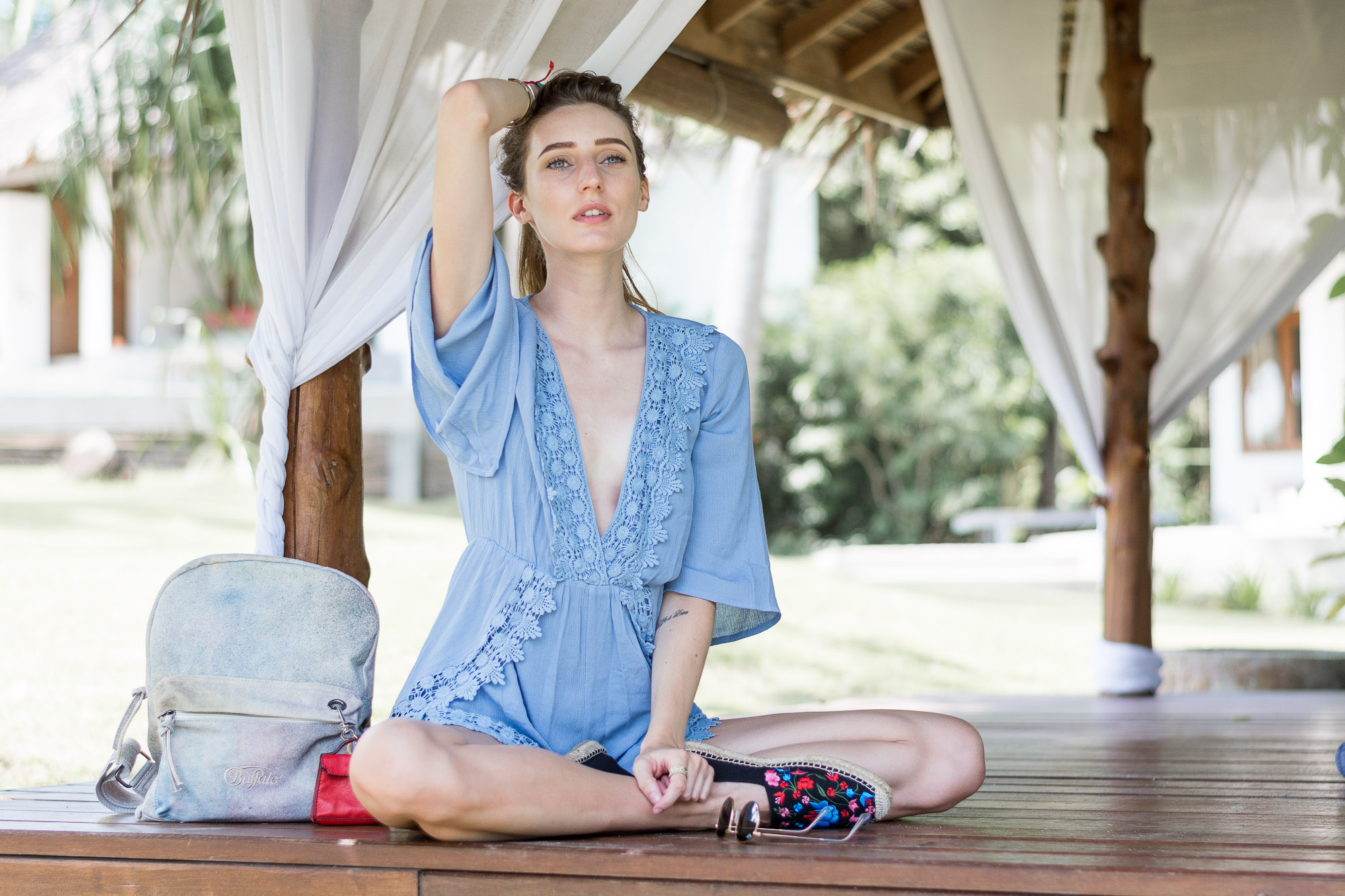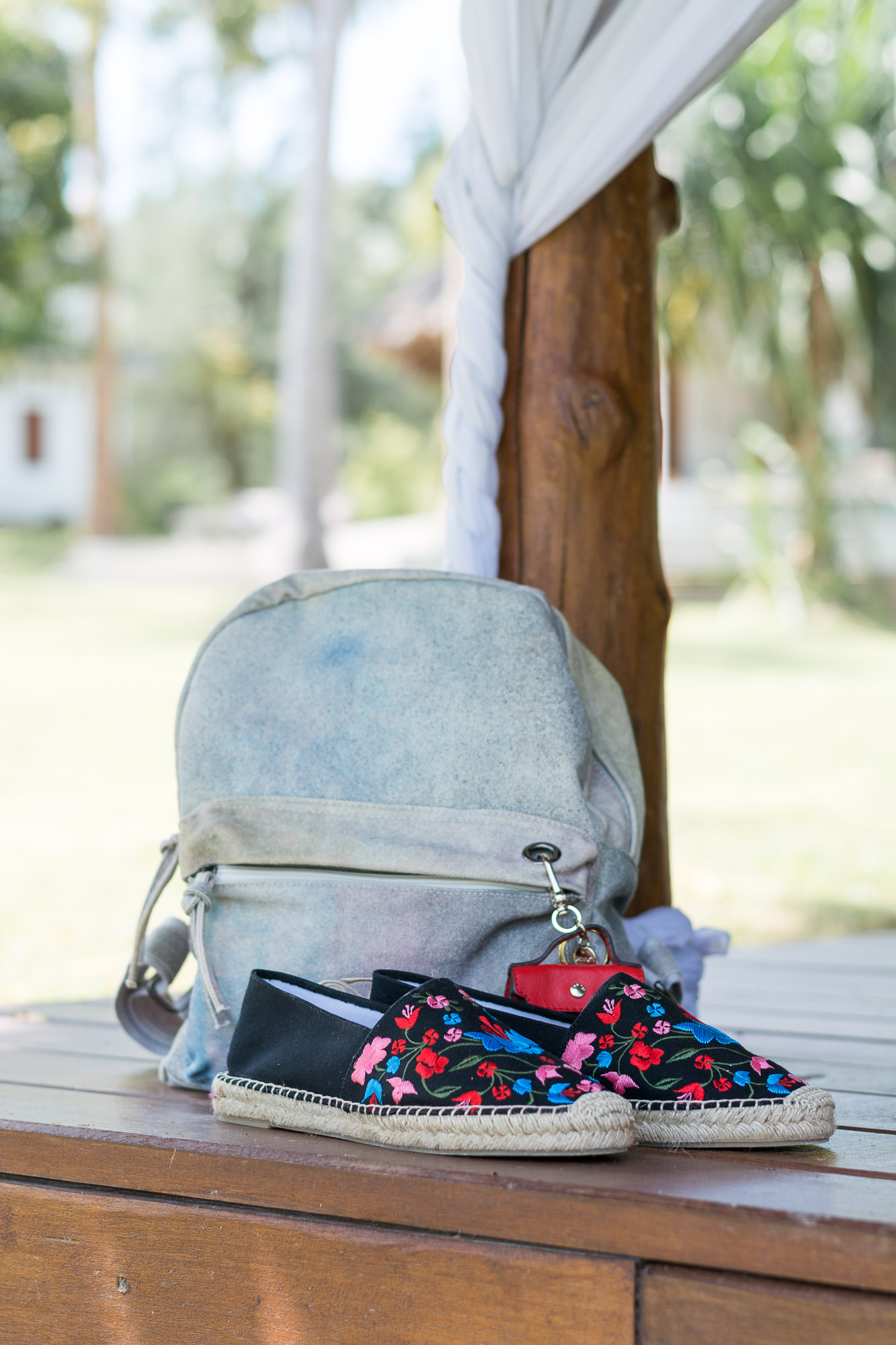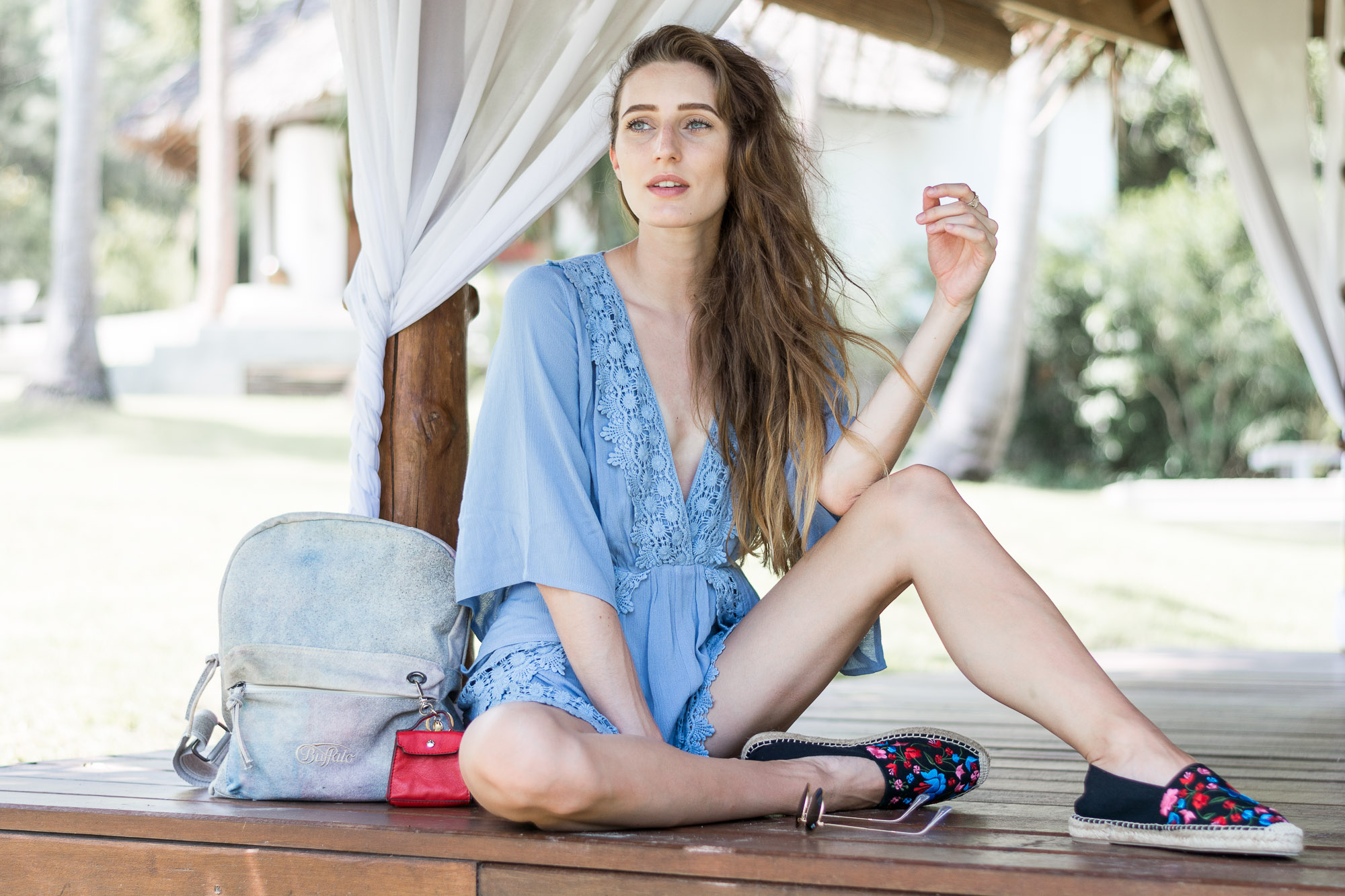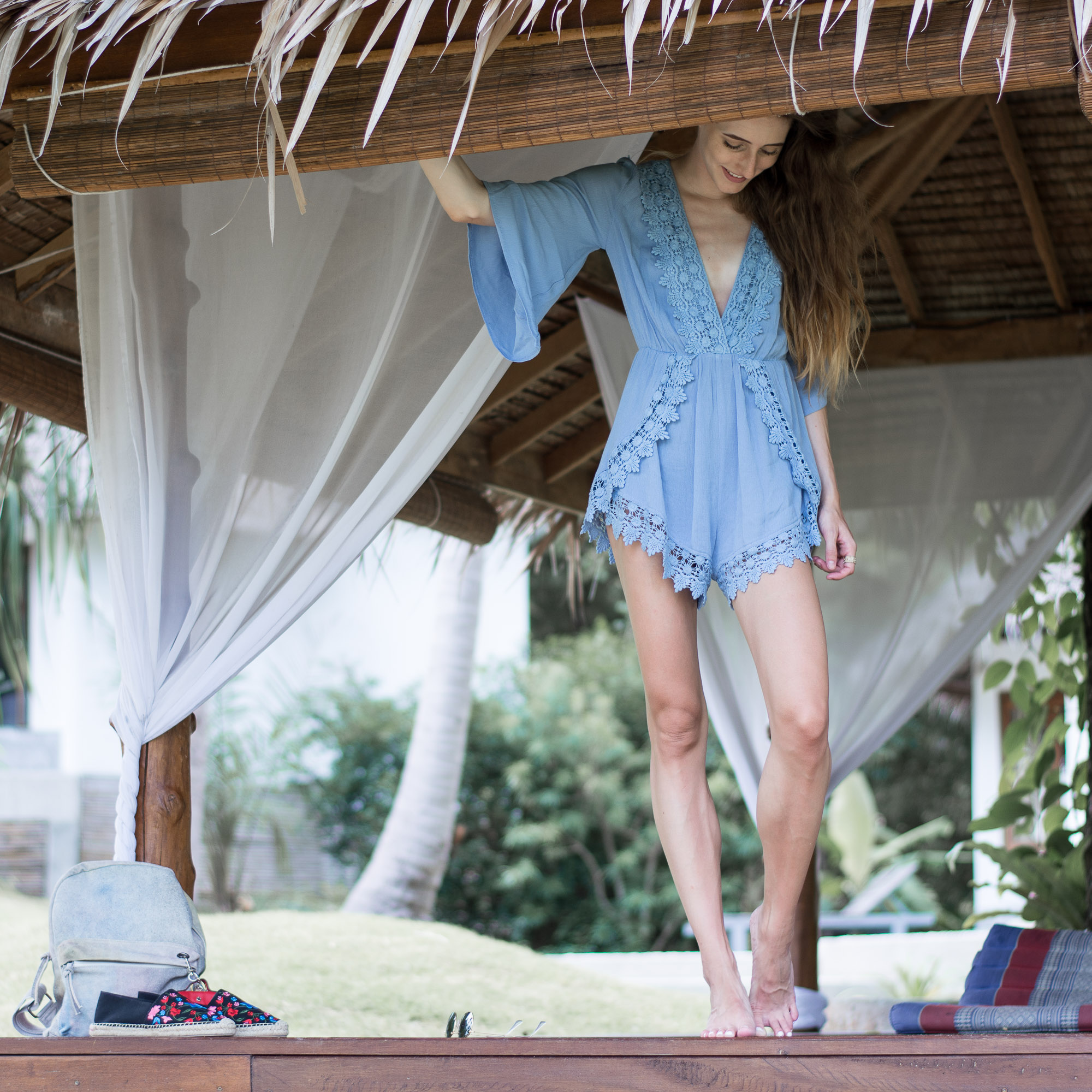 Shooting Location | The Jungle Club Bungalows on Koh Samui, Thailand
SHOP MY LOOK
Jumpsuit : Kiss the Sky via Asos (here | here)
Sunglasses : Ray Ban (here | affordable here)
Espadrilles : Buffalo (here)*
Backpack : Buffalo (here)*
| in freundlicher Zusammenarbeit mit Buffalo |
| *die gekennzeichneten Produkte wurden mir von den Unternehmen zur Verfügung gestellt |