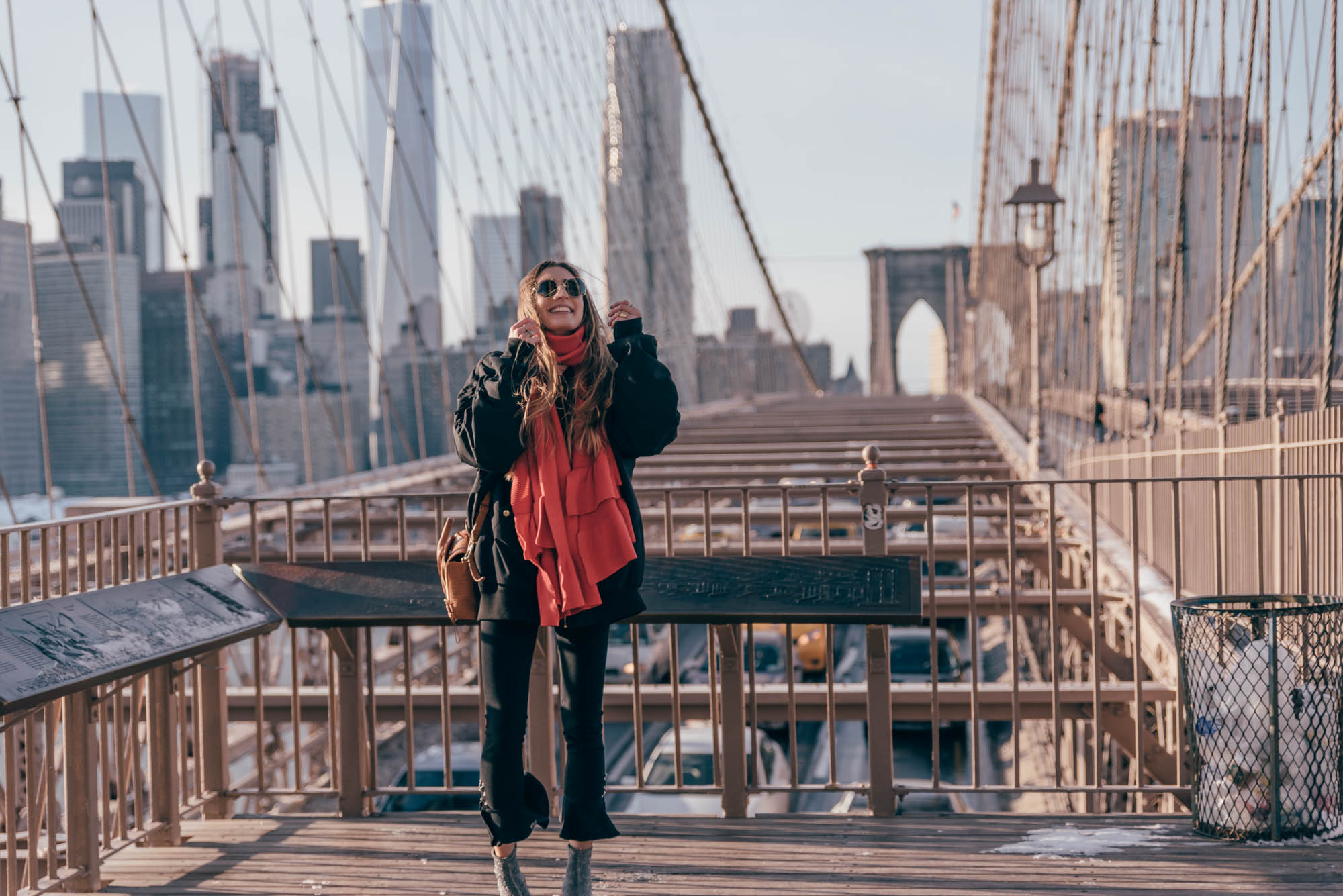 In the world through which I travel, I am endlessly creating myself.
Scarf : Zara (here | here)
Boots : Zara (here | here)
Jeans : Zara (here | here)
Jacket : H&M (here | here)
Bag : 3.1 Philipp Lim (here | here)
Sunglasses : Miu Miu (here | here)
So it wasn't our first time walking over the Brooklyn Bridge from Brooklyn to Manhattan, but again it was more than breathtaking. During our first New York visit last September we already had some magical sunset moments on this stunning bridge, since the skyline view is just mind-blowing. This time we had to fight some serious cold (and windy!) weather conditions, so it was quite hard to get some pictures. But you know, we're not giving up on our photos and now I'm really happy to have some snowy Brooklyn Bridge pictures as well, since snow in New York is just beyond magical.
---
Es gibt Dinge im Leben, die einem auch nach wiederholtem Male immer wieder dem Atem rauben. Bei diesen Dingen handelt es sich meistens um Orte, die man zuvor nur von Bildern kannte. Und obwohl wir bereits im vergangenen September von Brooklyn nach Manhattan über die Brooklyn Bridge gegangen sind, war es auch auch dieses Mal einfach nur beeindruckend. Ganz besonders wenn man erneut riesiges Glück mit dem Wetter hatte. Naja zumindest was die Sonne anging, ansonsten hatten wir nämlich mit eisigen Temperaturen und sturmartigen Wind zu kämpfen, was die Fotos dieses Mal doch um einiges erschwerte, aber wie ihr wisst geben wir da nie auf. Ganz besonders wenn man diesen atemberaubenden Blick auf die Skyline von Manhattan geboten bekommt, diese Stadt lässt mein Herz jedes Mal aufs neue höher schlagen. Und ich könnte nicht glücklicher sein, als New York jetzt sowohl im Sommer als auch im Schnee kennengelernt zu haben.
SHOP MY LOOK
Scarf : Zara (here | here)
Boots : Zara (here | here)
Jeans : Zara (here | here)
Jacket : H&M (here | here)
Bag : 3.1 Philipp Lim (here | here)
Sunglasses : Miu Miu (here | here)