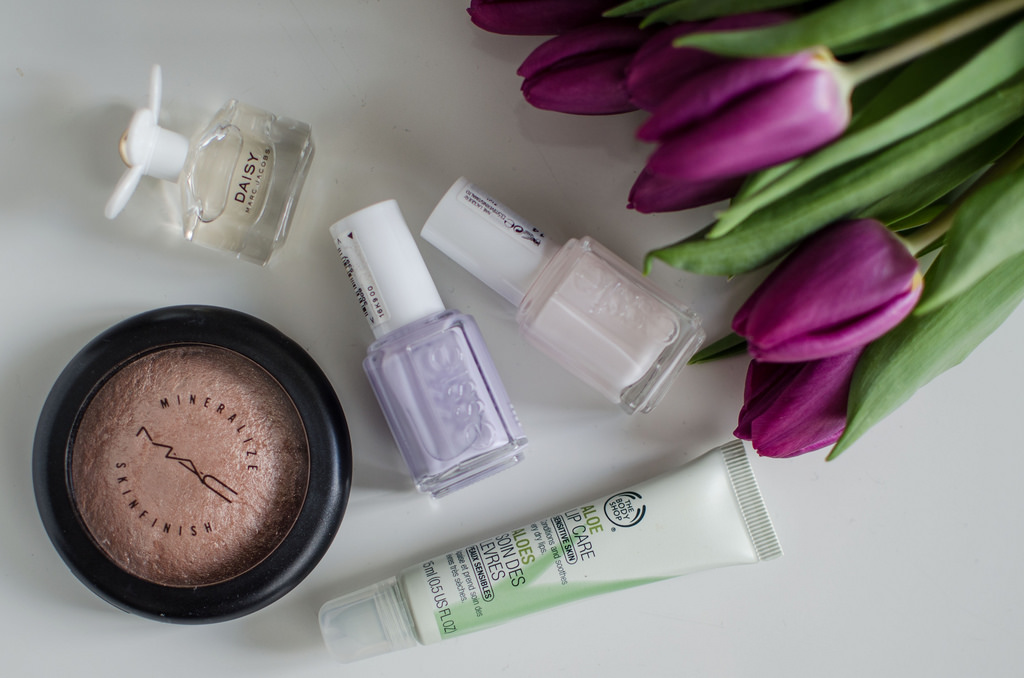 Hey guys, spring is here and besides all my fashion must haves I want to tell you about my few spring essentials that I'm currently using all the time.

– Prepare your chapped lips from winter with a lip balm, I've tried so many of them and the best one is definitely the lip care from The
Body Shop
– pastel is one of the biggest trends of this season, even on your nails. You probably know that I'm just using Essie polishes, because
they last over a week on me (favorite colors right now: Lilacism & Fiji)
– Glow in the spring sun with some highlighter on your cheek bones, I adore the Mineralize Skin Finishes from Mac Cosmetics
– for a fresh and flowery smell try Daisy from Marc Jacobs, I really love the mini version for my handbag
– I'm using body lotions every time I get out of the shower and I'm using the Dove ones for years now, they came out with a new scent
and I looove it, smells like spring.
– lately I'm trying a lot of The Body Shop products and really adore their skin care lines, right now I'm using the Aloe Vera Calming
Toner twice a day and my skin really appreciate it
– last but not least, my all time favorite beauty product, the Clarins liquid exfoliater, I use it only once a week and my skin got sooo
much better, it really feels like this stuff replaced my skin for a better one 🙂

What are your favorite products for this new season?