I hope you had some great christmas days, because I definitely enjoyed the last couple of days. For me they were kind of a 'finishing work for the year' – deadline, so I don't have to tell you how stressfull the last couple of weeks were. Therefore I decided to give myself a little break and give myself a nice at home Spa treatment, because after all these christmas activities it's definitely time to slow down a bit, so I'm going to show you my favorite at home spa routines and products for moments like that.
---
Ich hoffe ihr hattet alle ein paar schöne und hoffentlich entspannte Weihnachtstage, ich war zumindest froh als die 'Ziellinie' Weihnachten erreicht war, denn diese habe ich mir als Deadline für ausstehende Arbeiten für dieses Jahr gesetzt. Dementsprechend stressig waren die letzten Wochen dann auch. Deswegen habe ich beschlossen mir mal eine kleine Pause zu gönnen  und meinem Körper auch mal wieder etwas Aufmerksamkeit zukommen zu lassen. Denn jeder sollte irgendwann man einen Gang runter schalten und für diesen Fall teile ich heute meine liebsten 'At Home Spa' – Beauty Tricks und Produkte mit euch, damit ihr quasi 'wie neu' ins neue Jahr starten könnt.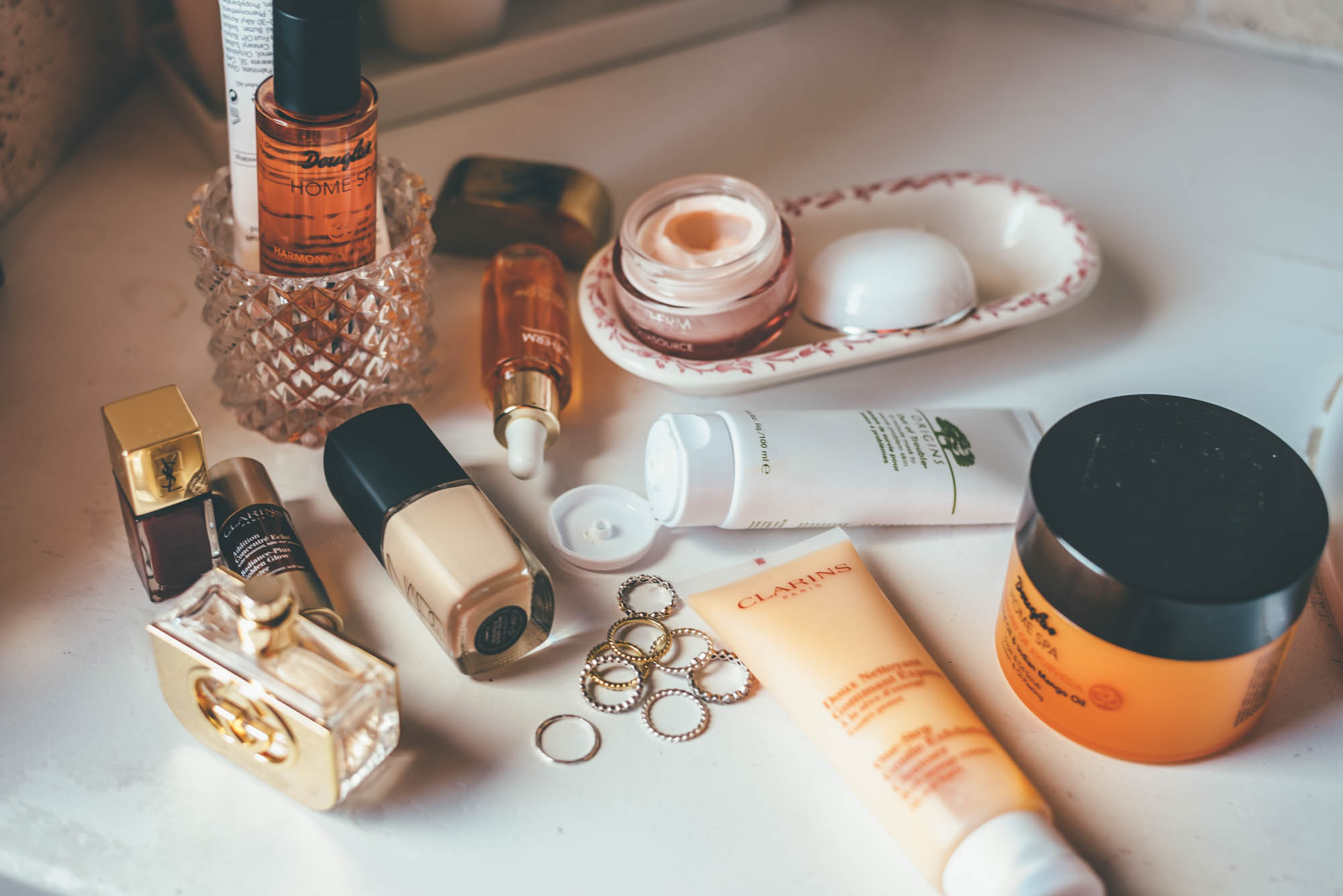 SCRUB IT OFF & GLOW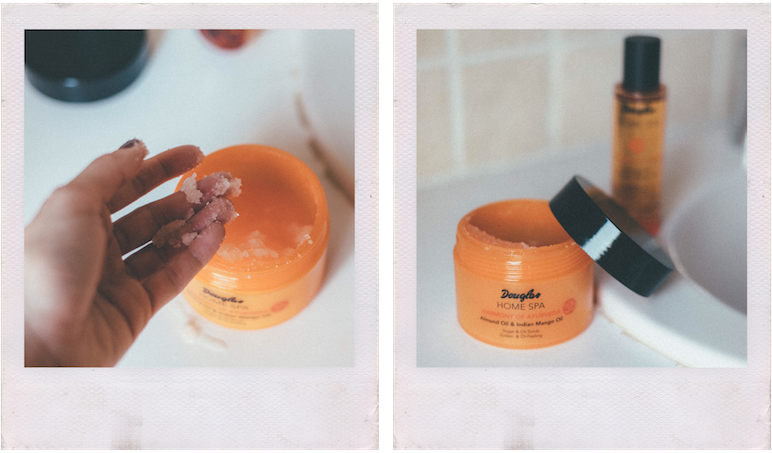 I use body scrubs on a regular basis, because it guarantees super smooth skin (I prefer gentle  Sugar scrubs like the Douglas Sugar & Oil Scrub) and is the perfect preparation to give your winter skin a glow with a bit of self tanner. Otherwise I like to use a body oil to give my skin the maximum on hydration, the stunning scent of the Douglas Harmony of Ayuveda products is definitely a plus.
Ich benutze regelmäßig Körperpeelings, denn diese garantieren super weiche Haut, ich greife gerne auf sogenannte Sugar Scrubs wie dem Douglas Sugar & Oil Scrub zurück, denn diese sind nicht zu hart und sind zudem die beste Vorbereitung, um der blassen Winterhaut mit ein bisschen Selbstbräuner einen sommerlichen Glow zu verleihen. Ansonsten nutze ich sehr gerne Körperöle, um meiner meiner Haut das Maximum an Feuchtigkeit zu geben, der Duft der Douglas Harmony of Ayuveda Serie ist dabei ein großes Plus.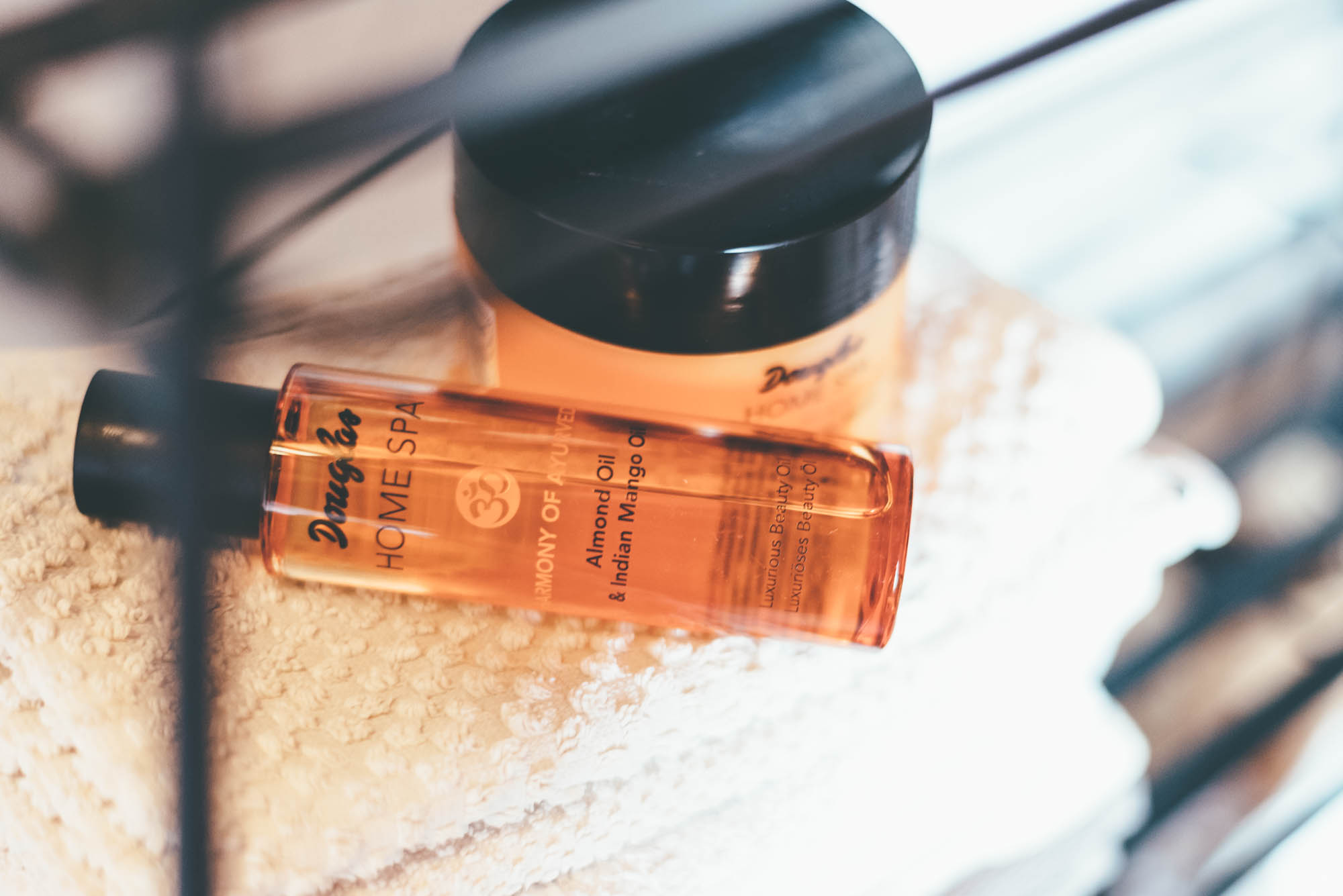 START WITH NEW AND FRESH SKIN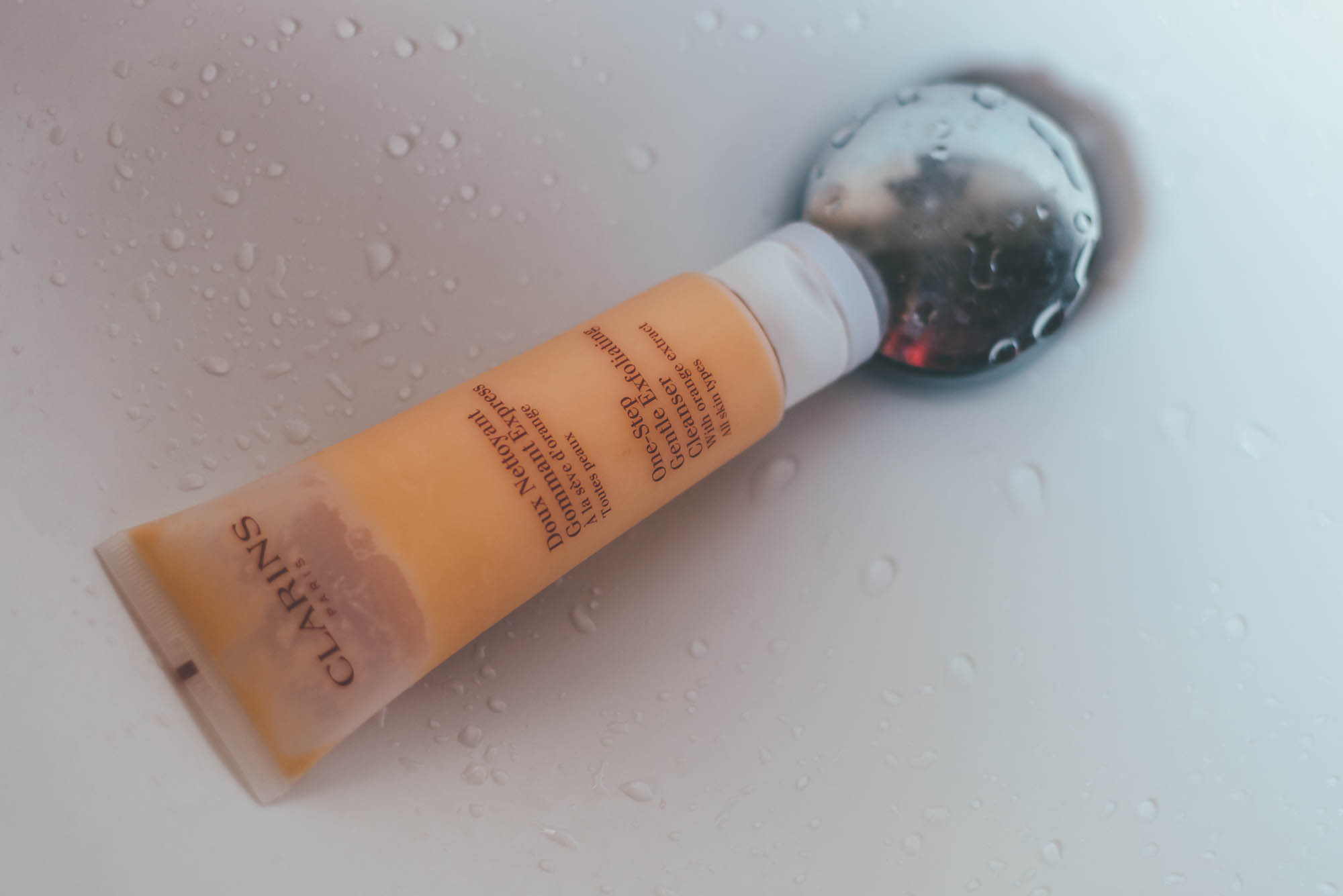 I also really like to use peelings for the face, because you get instant results and following skincare products can sink in better into the skin. If you have sensitive skin I can really recommend the Clarins Gentle Exfoliating Cleanser because it's super gentle to the skin and can be used on a daily basis. After that I like to use a mask and since my skin is acting up because of all the christmas stress the Origins Out of Trouble Mask is my life saver.
Noch lieber als Körperpeelings benutze ich Peelings für das Gesicht, denn auch hier sieht man direkt einen Effekt und nachfolgende Pflegeprodukte können viel besser in die Haut eindringen. Wer zur empfindlicher Haut neigt kann ich das Clarins Gentle Exfoliating Cleanser empfehlen, dieses ist nämlich besonders sanft und kann auch täglich angewendet werden. Im Anschluss trage ich dann eine Maske auf, da meine Haut momentan eher problematisch ist (das ist noch nett ausgedrückt) ist die Origins Out of Trouble Maske meine Rettung, die hat bis jetzt nämlich alles in den Griff bekommen.
FACE OILS ARE THE SECRET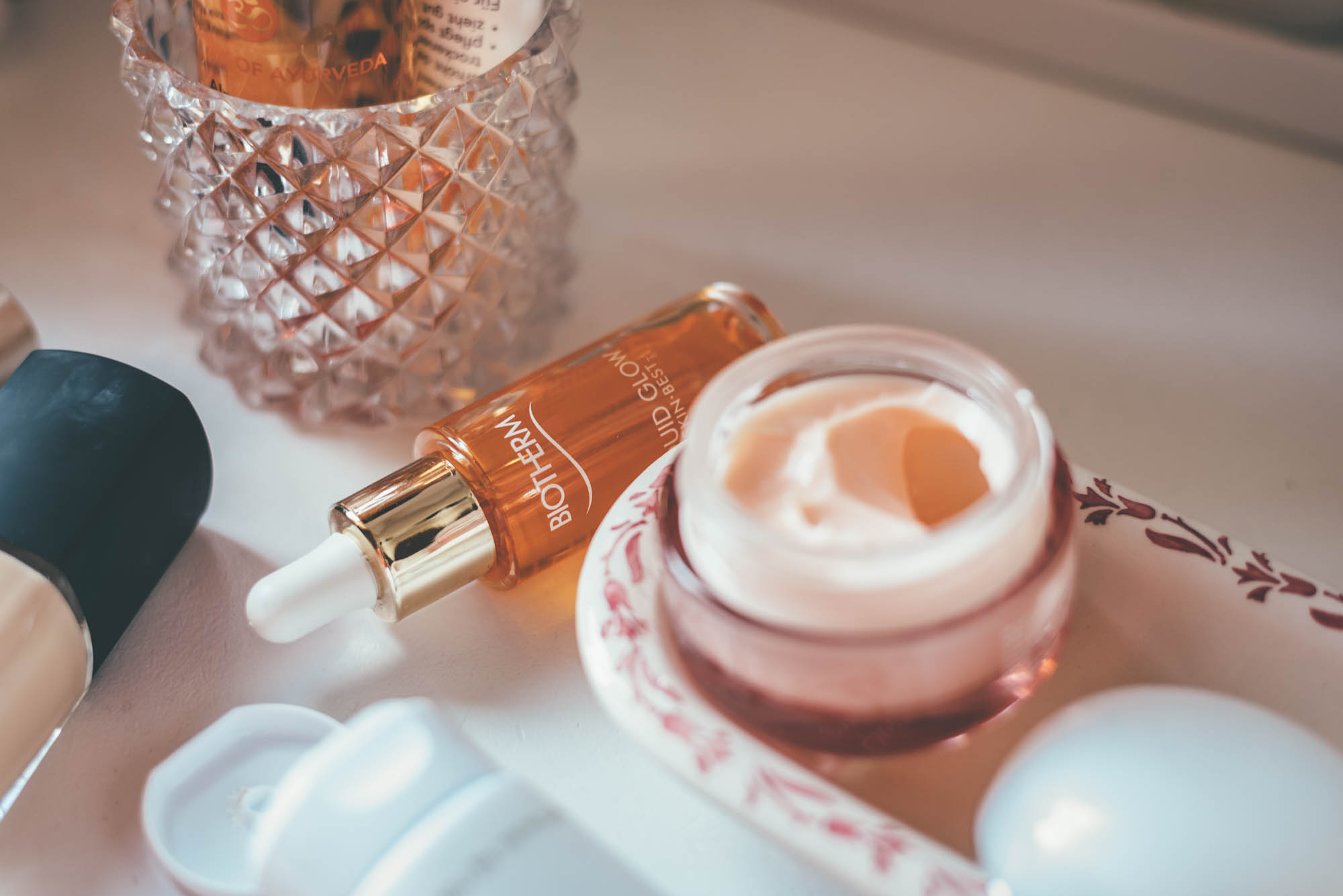 I'm using face oils for quite a long time now and couldn't imagine my skincare routine without them. I have dry skin, so these oils are just the perfect way to bring my face to life, especially the Biotherm Liquid Glow Oil has done amazing things to my skin. I'm using it in the morning and afternoon after I cleansed my skin.
Ich benutze jetzt schon seit einer gefühlten Ewigkeit Gesichtsöle and könnte mir tägliche Pflegeroutine auch nicht mehr ohne vorstellen. Da ich sehr trockene Haut habe (besonders jetzt im Winter) sind Öle das optimale Pflegeprodukt für mich und keine Angst, die meisten dieser Gesichtsöle fetten auch nicht. So ist mein Favorit das Biotherm Liquid Glow Öl auch perfekt um vor dem Make-up aufzutragen, plus Glow garantiert.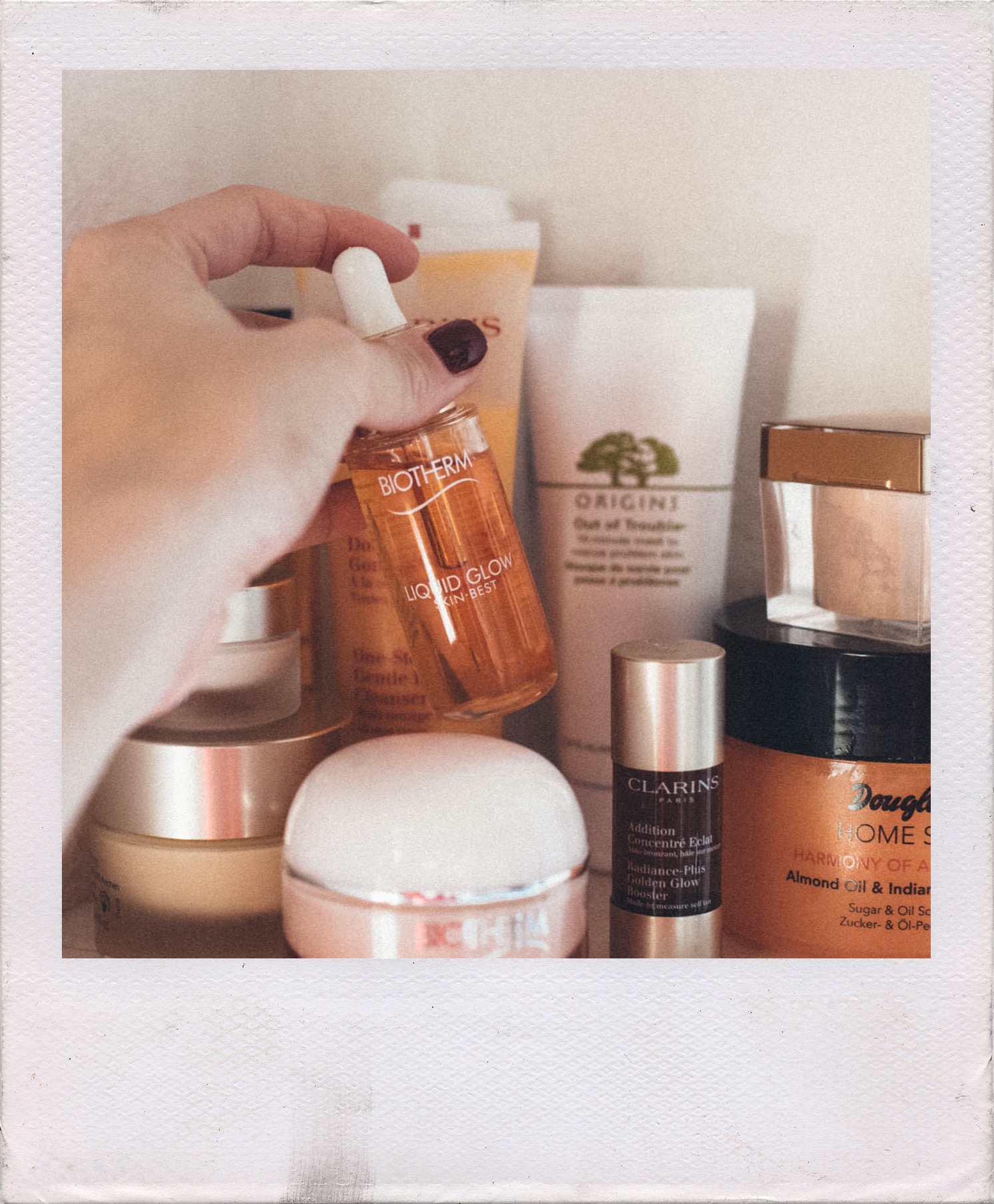 A BIT OF A TAN IS ALWAYS A GOOD IDEA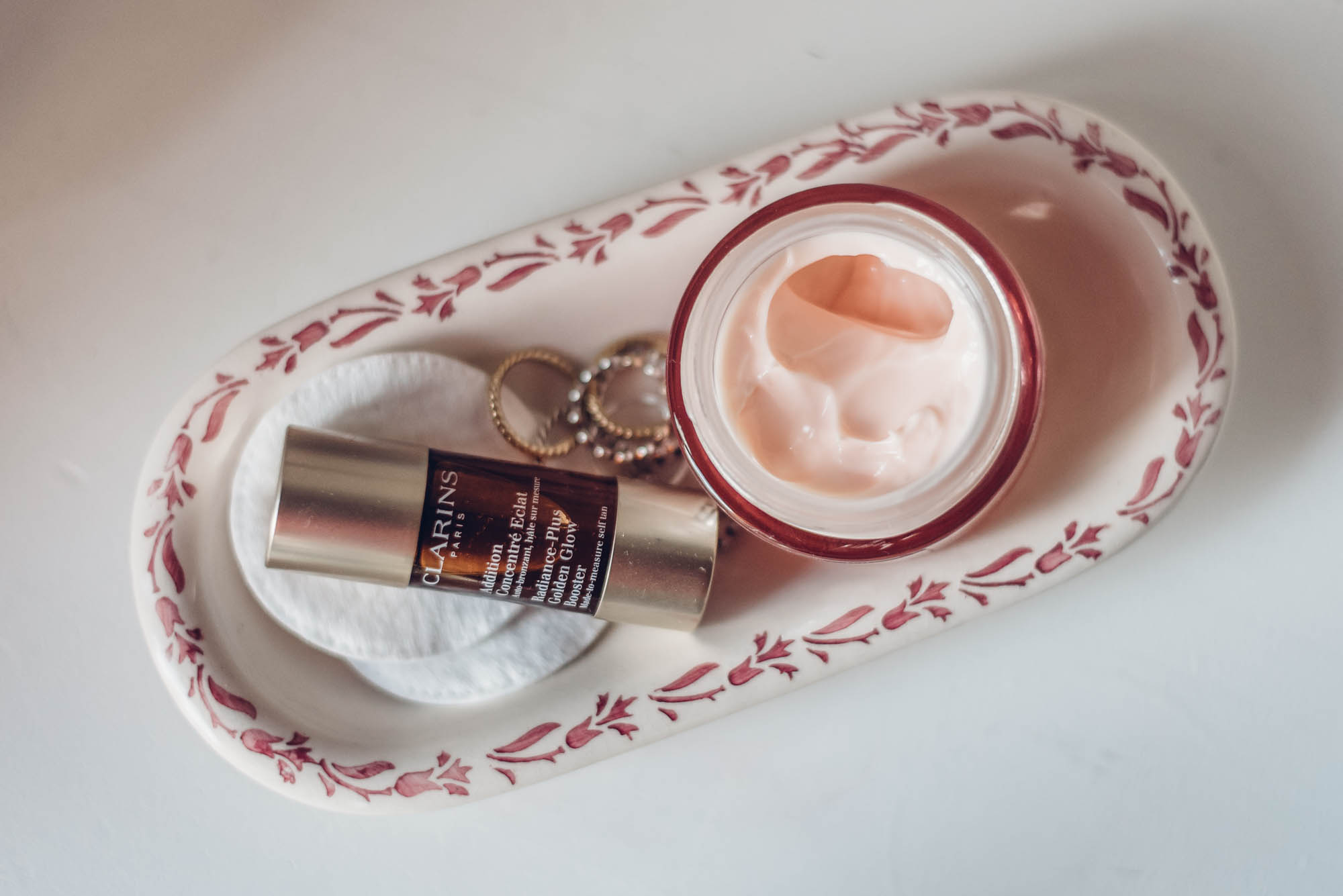 My skin was definitely the 'victim' of these last busy weeks, let's say I'm not looking the freshest. So what I always do is mixing some Clarins Golden Glow Booster into my daily moisturizer, at the moment I'm loving the Biotherm Aquasource Rich Cream. It gives you an instant healthy and natural look.
Das 'Opfer' der letzten Wochen war definitiv mein Gesicht, hört sich drastisch an, aber ich habe tatsächlich schon mal frischer ausgesehen. Ich mixe in solchen Fällen immer den Clarins Golden Glow Booster in meine tägliche Feuchtigkeitscreme, ich moment benutze ich die Biotherm Aquasource Rich Cream. Man sieht im Handumdrehen gesünder aus, ohne Angst vor einer unnatürlichen Bräune haben zu müssen.
Thank you to Douglas for working with me on the post.