The following text may seem a bit salty. It is. Besides my serious aversion to a vocabulary without 'please' and 'thank you' (am I stuffy or just well educated?), I also have an allergy to 'not knowing how to help myself' (I definitely blame that on education). But well, I'm here for you and we'll learn. So please forgive the side blows. I still love you.

Der folgende Text mag gereizt erscheinen. Ist er auch. Neben meiner schwerwiegenden Abneigung gegen einen Wortschatz ohne 'Bitte' und 'Danke' (bin ich spießig oder einfach nur gut erzogen?), habe ich auch eine Allergie gegen 'sich selber nicht zu helfen zu wissen' (das schiebe ich definitiv auf die Erziehung). Aber gut, I'm here for you und das lernen wir schon noch. Also bitte verzeiht mir die Seitenhiebe. Ich hab euch immer noch lieb 😉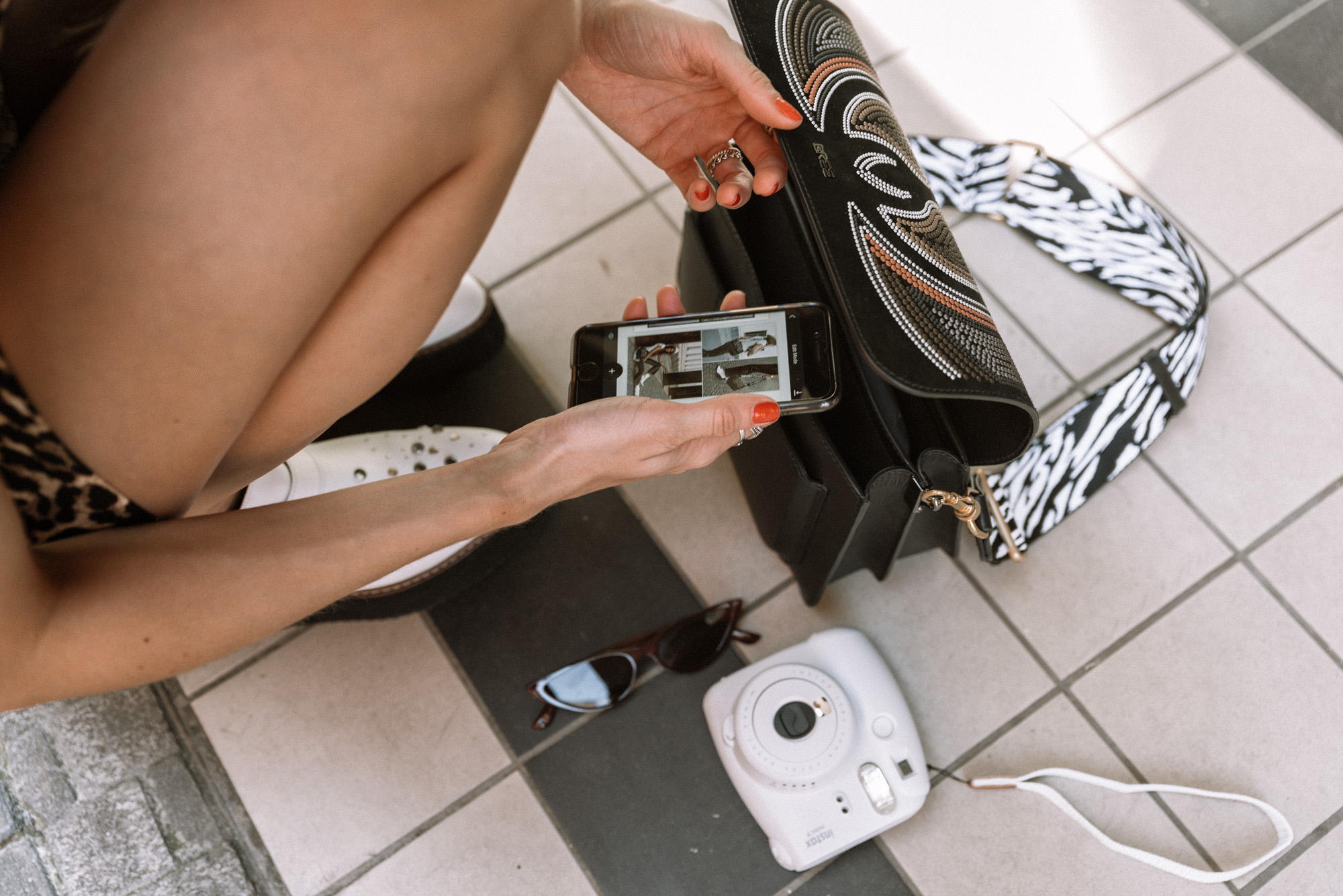 A few month ago, I saw an Instagram Story of a collage of photos and videos and thought what a fun and different way it it to share my content (Spoiler: these Apps aren't pre-installed on Smartphones of Blogger). So I just googled what I saw and what I wanted, which was simple 'app collage photo and video' and guess what, like magic I got recommened hundred of apps that will do this job 😉 And just like that, 2 minutes later I was able to create Video collages like this.
Well apperently googling or knowing how to help yourself like a independent grown up became uncool. Sending Bloggers rude 'What's the App?!' direct messages is the new Google. Don't get my wrong I really love to help you guys out and I'm always try to answer all your messages (I love when we interact and have nice conversasions).
If you wrote a nice message with at least a hello or thank you (also uncool these days), I'm not talking about you here. Unfortunately most of these messages come from people who never interacted with me in any way (probably never liked one single post). But ok, after over at least 30 App DM's per day (even after just sharing all the apps on my Stories for the hundreds time!), I just want to throw my phone away. So I'm getting all naked here and share with you all the goddamn Apps I use to create those creative Instagram Stories Videos.
---
Another thing, simply copying others content is as lame as updating your relationship status on Facebook. Get creative and don't just copy content. Use these apps (or find different apps) to find your own style and make it unique.
---
Vor einigen Monaten bin ich über eine Instagram Story gestolpert, in der sowohl Fotos als auch Videos zu einer Collage zusammengestellt wurden und fand es eine kreative Art seinen Content zu teilen (Spoiler: diese Apps sind nicht auf Blogger Smartphones vorinstalliert). Also habe ich einfach gegoogelt was ich gesehen habe, 'App collage photo and video' und siehe da, wie Magie wurden mir hunderte Apps empfohlen, die diesen Job ohne großen Aufwand erledigen.

Ok ganz offensichtlich gehöre ich noch zur alten Schule und googeln und sich selber zu helfen zu wissen wie ein unabhängiger Erwachsener ist ziemlich uncool geworden. Bloggern teilweise bis zu drei 'Wie heißt die App?!? mehrfach Satzzeichen Direct Messages auf Instagram zu senden ist das neue Google. Versteht mich bitte nicht falsch, ich liebe es euch weiterzuhelfen und ganz besonders mich mit euch auszutauschen, ich versuche wirklich immer alle Nachrichten zu beantworten.
Wenn ihr Nachrichten schreibt, die zumindest ein Hallo und Danke beinhalten (ganz offensichtlich nämlich auch uncool heutzutage), seid ihr sowieso nicht gemeint. Leider kommen die meisten Nachrichten von Leuten, die noch nie auch nur im Ansatz mit mir oder meinen Content interagiert haben. Hier will mir auch keiner ein Kompliment zu dem kreativen Content machen (was ich auch überhaupt nicht verlange), sondern rein erfragen 'wie?!'. Aber ok, nach weit über 30 DM's pro Tag (selbst nachdem ich sämtliche Apps mehrfach auf Stories geteilt habe), möchte ich nur noch mein Handy in die Ecke werfen (es ist leider sehr frustrierend, wenn sich keiner mehr für den Content interessiert, sondern nur noch wissen will, wie man diesen am besten nachmachen kann ohne dafür auch nur selber die drei Minuten Google Arbeit aufzubringen). Aber ok, ich lasse jetzt die Hosen runter und teile mit euch jede einzelne App, die ich nutze um kreative Instagram Stories Collagen zu erstellen.
Eine andere Sache, einfach den Content von anderen zu kopieren ist so öde wie seinen Beziehungsstatus auf Facebook zu aktualisieren. Seid kreativ und macht nicht einfach nur nach. Nutzt diese Apps (oder findet andere) um euren eigenen Style zu finden und macht euren Content einzigartig.


VSCO
I personally don't like the Instagram Story filters, I just think they're too much. So I edit my videos with VSCO. I purchased the yearly Abo so you get access to all the filters and the good part, you can adjust the intensity so you don't have to go all in. I use a ton of different ones, depending on the mood and vibe of the content.
Ich mag die vorgegebenen Instagram Story Filter nicht, ich finde sie einfach too much und haben noch nie so wirklich gepasst. Deswegen bearbeite ich viele meiner Videos mit VSCO. Ich habe das jährliche Abo abgeschlossen und so Zugang zu sämtlichen Filtern und das Beste, man kann die Intensität regulieren, man muss also nicht all in gehen. Ich nutze viele verschiedene, je nach Stimmung des Contents.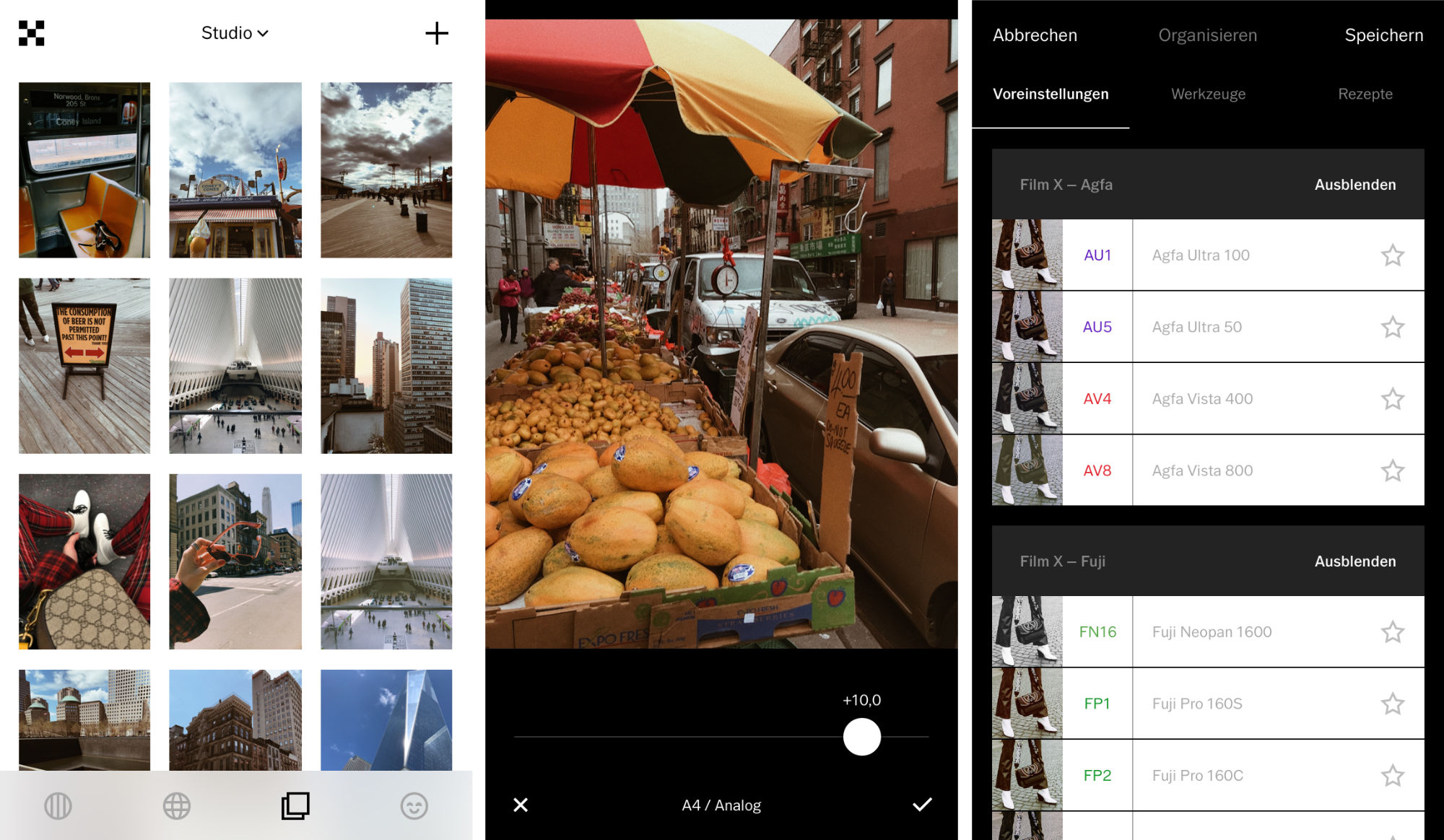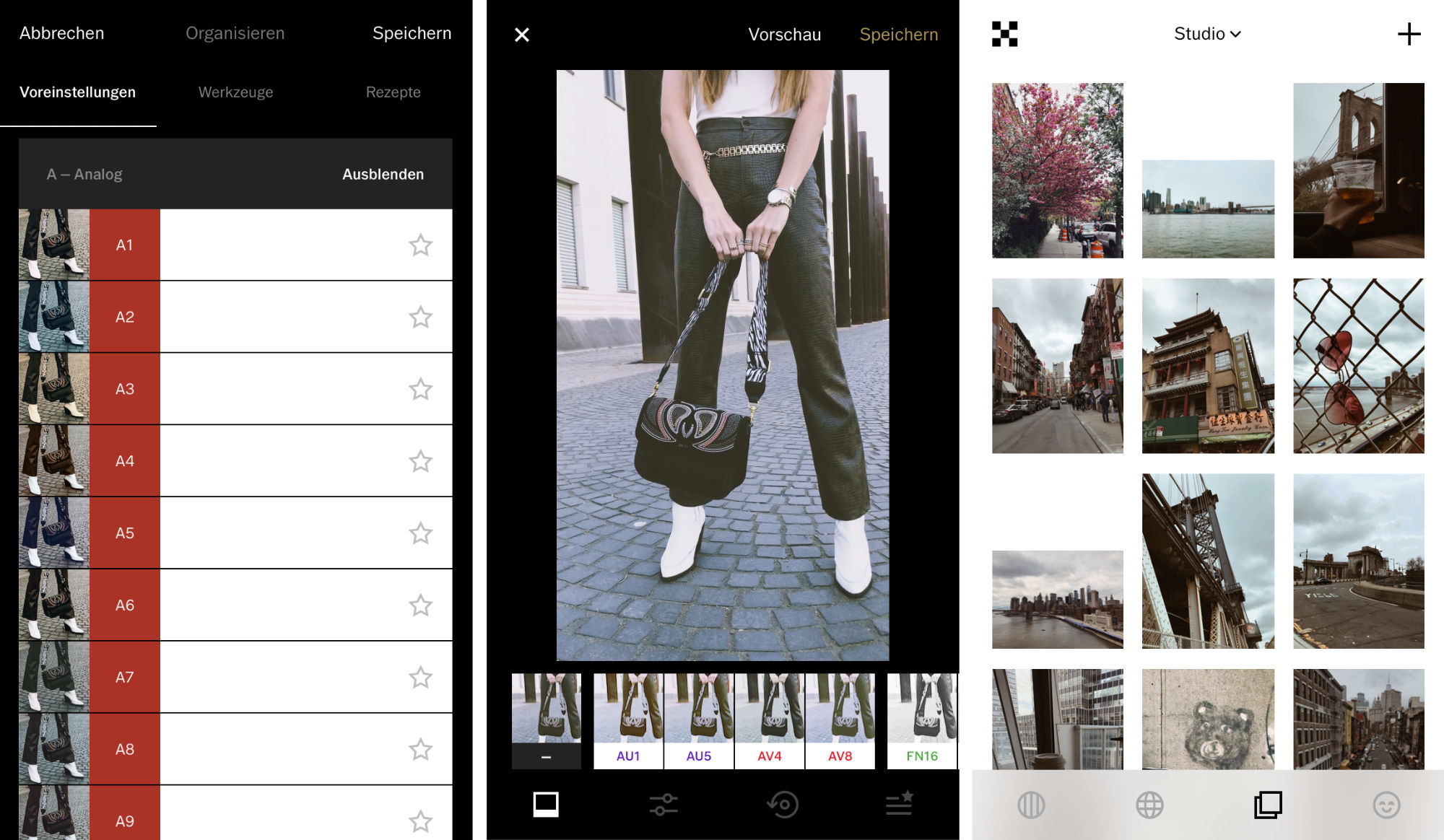 InShot
I use this App mainly to get my content to the 9:16 size of Instagram Stories and also to add some colorful borders to my videos. I also add music to my content over here.
Diese App nutze ich hauptsächlich um meinen Content auf die passende Instagram Stories Größe von 9:16 anzupassen und für die bunten Rahmen um Videos, nach denen mich viele gefragt haben. Zudem finde ich es hier am einfachsten Musik hinzuzufügen.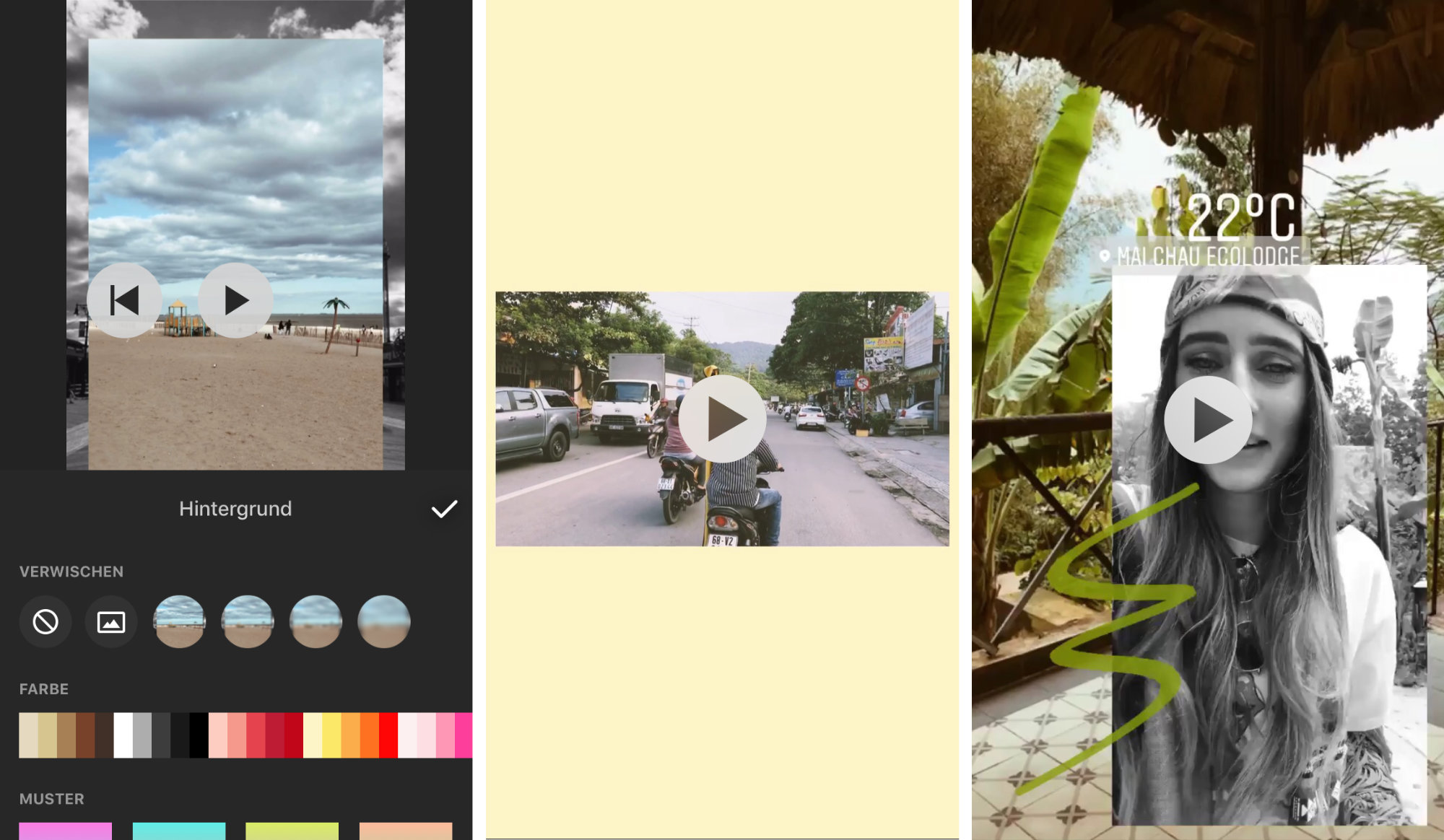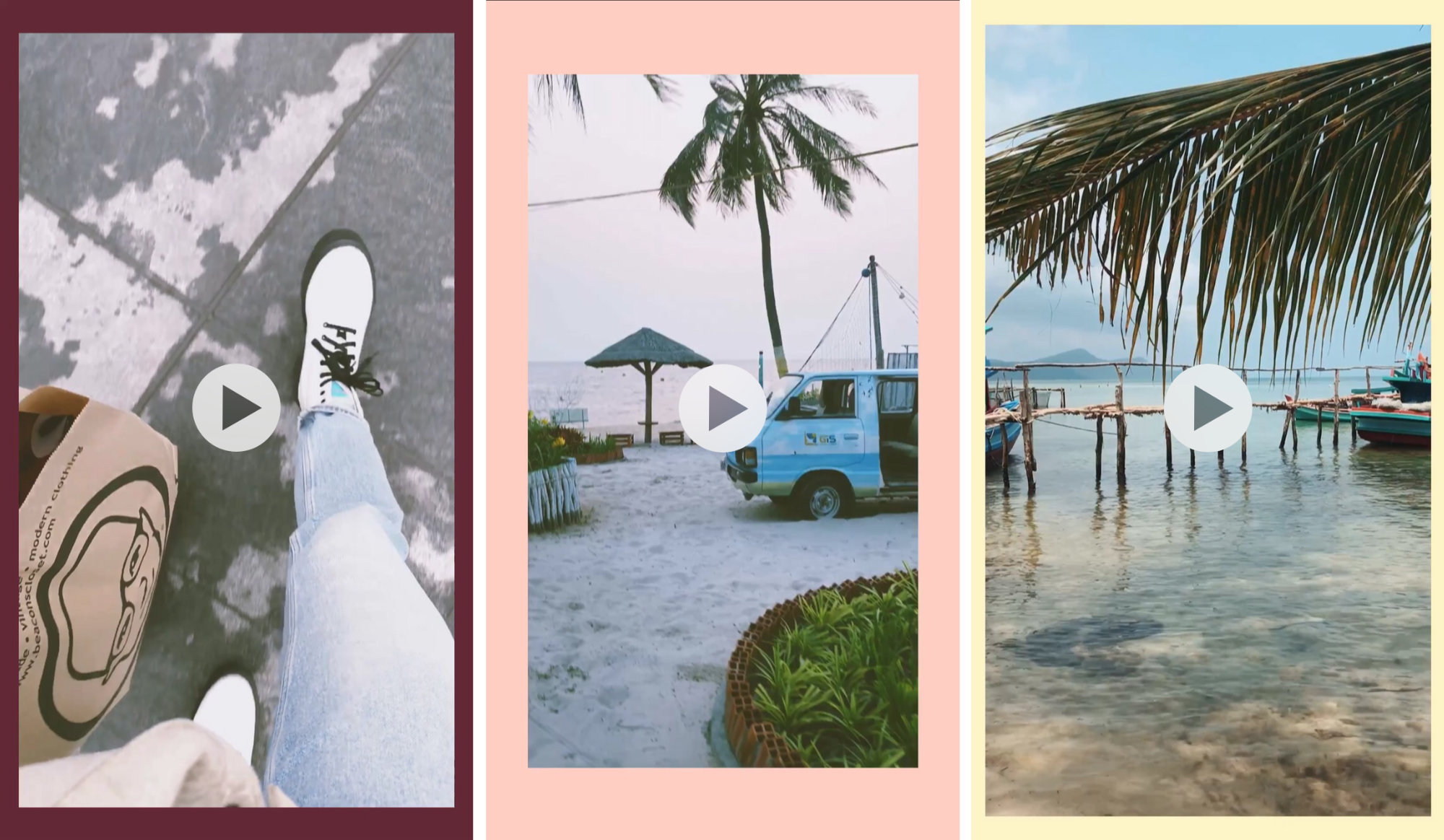 PhotoGrid
I only use this one to create collages with photos and videos, you can add as many as you want and choose from a lot of different layouts. You can also change backgrounds, add music and text and many more adjustments.
Diese App nutze ich lediglich um Collagen aus mehreren Fotos und Videos zu erstellen. Man kann so viele hinzufügen wie man möchte und dann aus zahlreichen Layouts die Anordnung auswählen. Hier kann man zudem auch den Hintergrund ändern, Musik und Text hinzufügen und zahlreiche andere Einstellungen vornehmen (nutze ich jedoch nicht).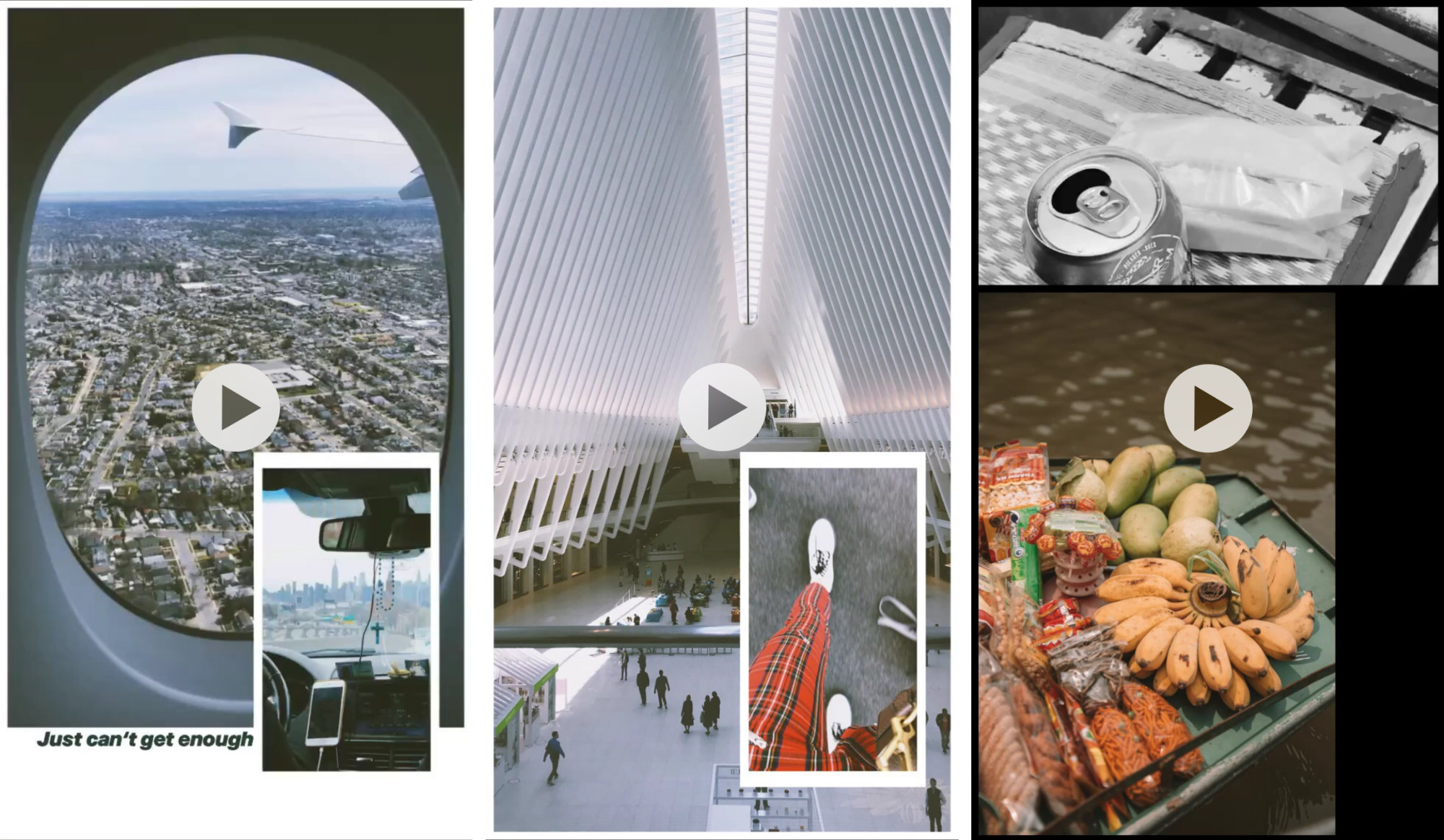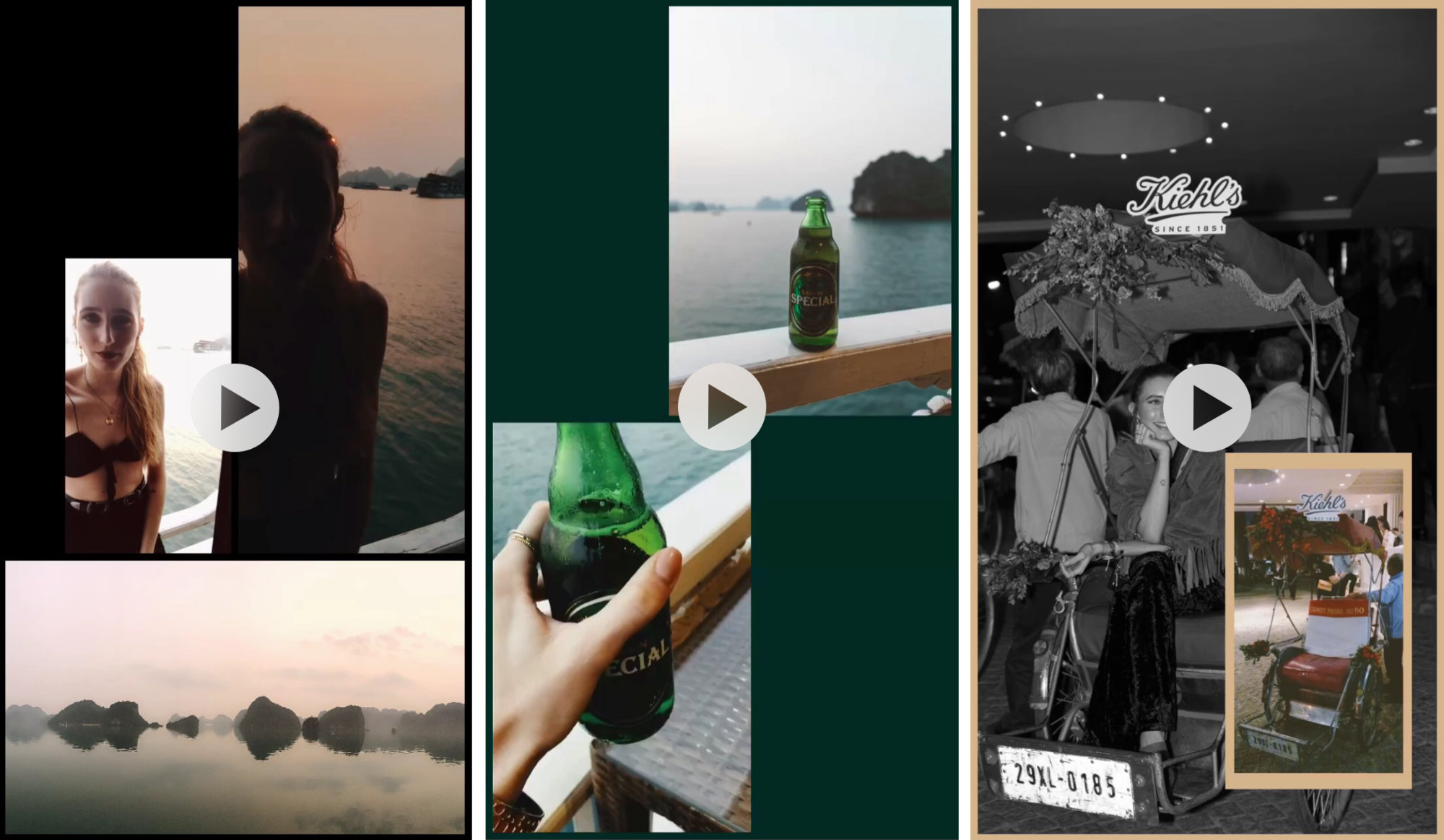 Unfold
The app I get the most questions about, because you can use some retro borders in a vintage film look. You could simply google again what you see, because the name of the App is actually written on these borders 😉 But ok now you're here and it's called Unfold. The templates are already in the right 9:16 Instagram Story size and you can choose between a lot of collage options and between a white and black option. For the retro film look ones you have to purchase the FF1 pack.
Die App zu der ich definitiv die meisten Fragen bekomme, da man hier seinen Fotos und Videos einen retro Filmlook Rahmen verpassen kann (ja Filmabzüge sehen immer noch so aus). Hier hätte man auch einfach googeln können was man sieht, denn der Name der App steht sogar mit auf dem Rahmen. Aber ok jetzt seid ihr hier und die App nennt sich Unfold. Die Vorlagen kommen praktischerweise schon im passenden 9:16 Größenverhältnis und man kann zwischen zahlreichen Optionen und einer schwarzen oder weißen Ausführung wählen. Für den retro Filmlook muss man jedoch den FF1 Pack dazu kaufen.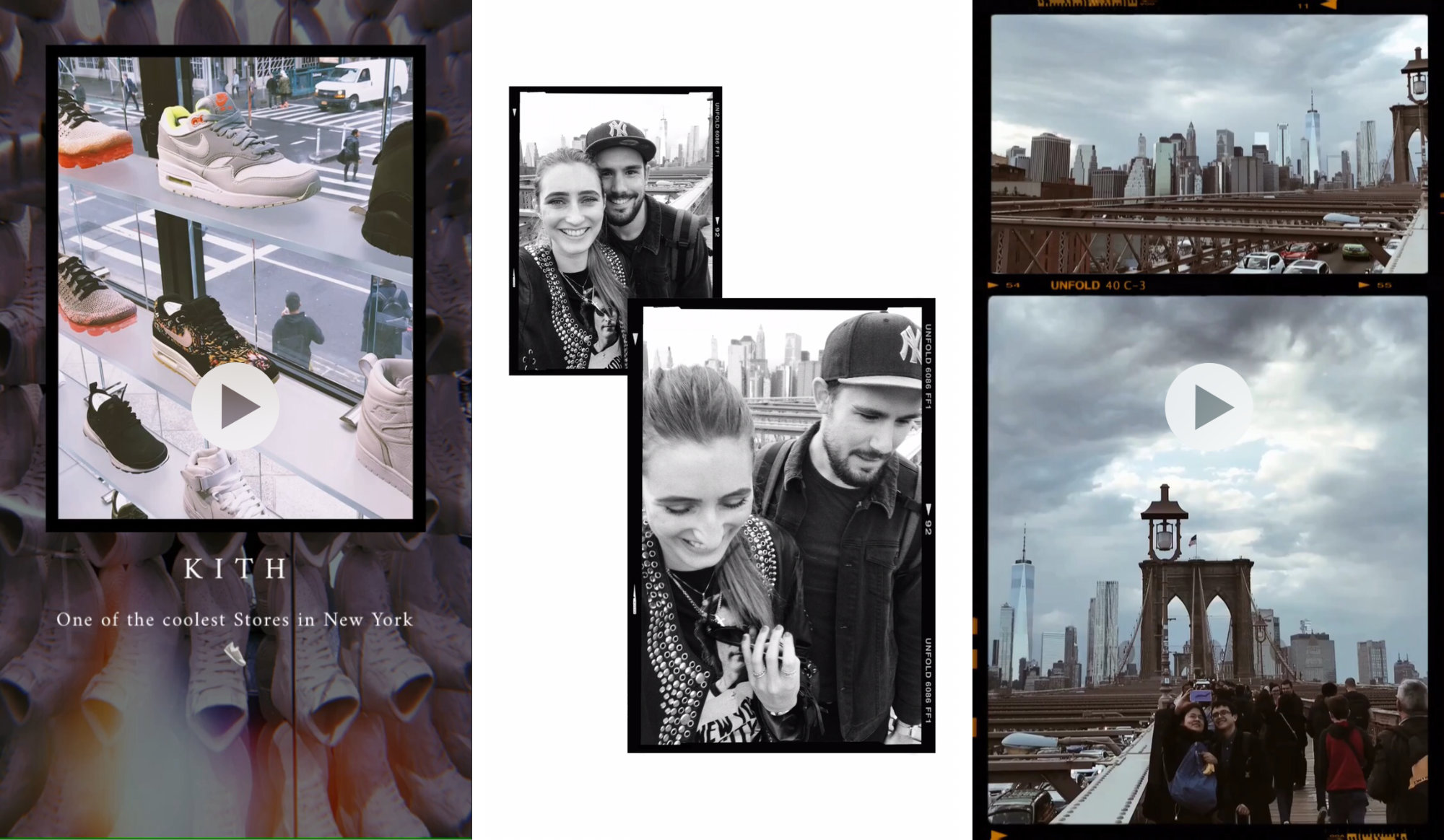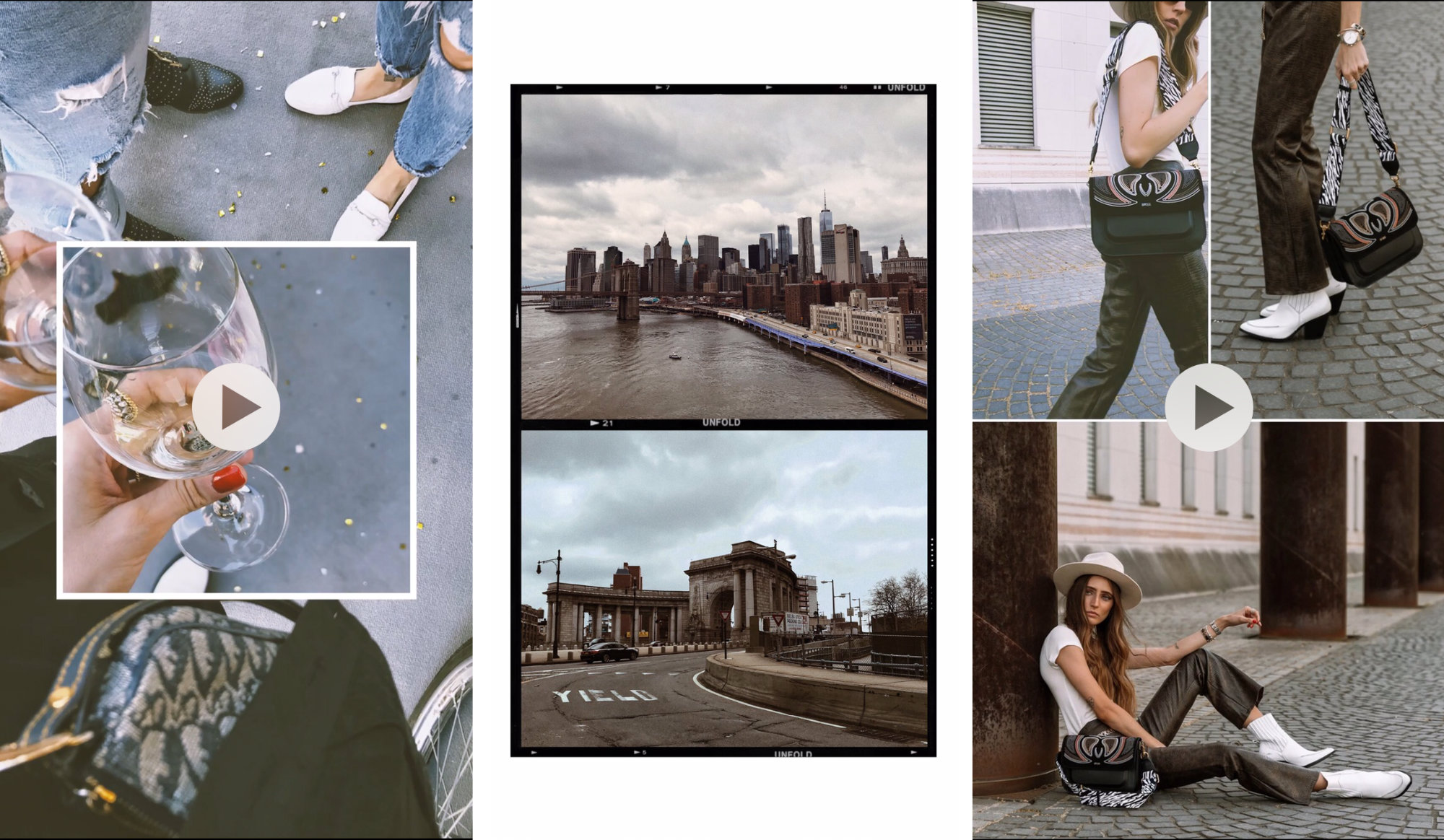 So and now I would be happy if you don't just copy my content, thanks 😉
MerkenMerken